Gooderstone Water Gardens
Gooderstone Water Gardens
Another Norfolk Gem
Gooderstone Water Gardens is yet another little Norfolk gem, just like Wolfterton Royal Station.  It is peace, tranquillity, serenity and beauty all in one!  It's amazing, and whether you love walking around and visiting gardens or not, this one will certainly not disappoint.  It will definitely appeal to everyone.  And the pictures really don't do it justice, it is a most beautiful spot.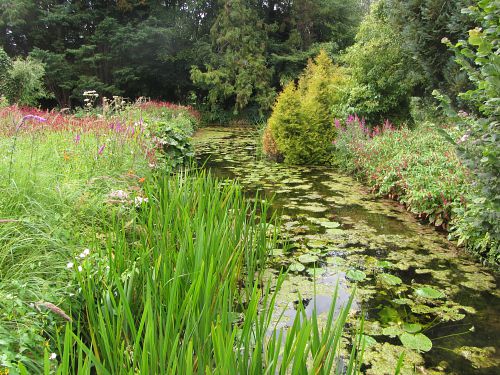 And it's fantastic for children too – there won't be a bored moment for them either, with 13 bridges to walk across and the Roundhouse to keep watch from, they'll leave happy! 
However, they must be accompanied at all times, as it goes without saying, but I'm going to say it anyway, there is a lot of water!!  I think it's a brilliant place for children to have their first experience of looking at gardens.

Gooderstone Water Gardens History
The water gardens have been around for quite some while now.  Prior to being this beautiful garden, the site was a water meadow (and if you drive along the road towards Swaffham from Oxborough, you'll see more water meadows on your left).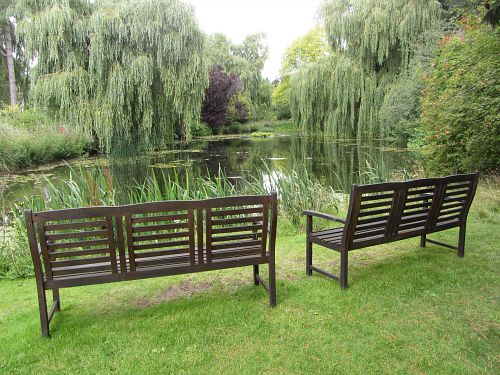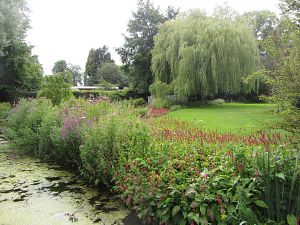 Billy Knights, a retired farmer, began the design after his son suggested as a joke that he should have a water garden.  In 1970, when he was 70, using the tributary of the River Wissey which is a natural trout stream, Billy started digging the ponds and waterways and worked tirelessly in the gardens until he died at the age of 93.
The Gooderstone Water Gardens have been open for over 20 years now.  However, there was a period from about 1997-2002 when they were closed and left neglected.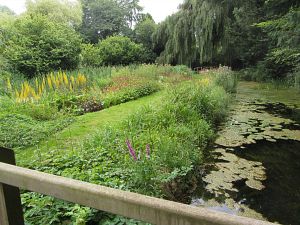 Luckily, their daughter Coral decided to restore them to their former glory, and they re-opened in 2003. 
Over the years the gardens have come to life, and with the addition of a tea room, a bird watching hide and a nature trail, as well as the 13 bridges I have already mentioned and masses of benches to rest and admire the view, this is now a place you should definitely come and visit.

The Water Gardens
What is there to see?  Masses!

When you walk  from the car park to the entrance of the gardens, there in front of you is the first beautiful pond you'll see.  It's called the Monet pond for very obvious reasons, there are lilies in the pond, weeping willows abound and there is a very attractive bridge over one of the waterways.  It's almost the spitting image of Monet's "Water Garden" painting.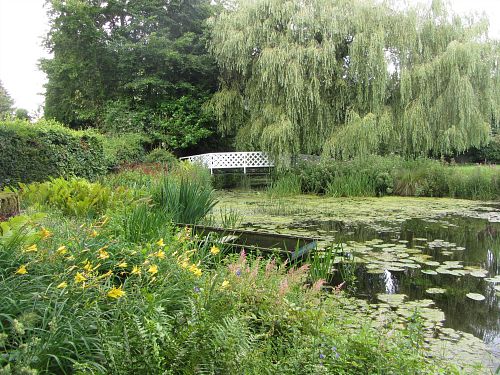 As you wander around, map in hand which you'll have been given when you paid the entrance fee, there is much to see.  Should you go right, or left, should you go over this bridge or that one?!! 
There's an
East Pond,

an Otter Pond (you'll see why when you visit!),

an Island Pond and

a Monet Pond. 

There's a scented arbour,

a summer house,

a bamboo grove and

a fern walk

as well as lots of other things such as the Roundhouse which looks down onto the site.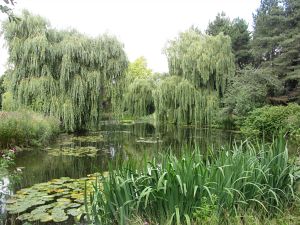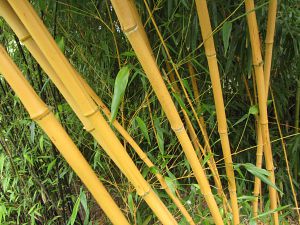 You feel as if you don't want to get lost or, more importantly, miss anything.  It's not a huge site, 6 acres, so it's very easy to go round again, or find another path if you do happen to miss one.    There are some wonderful plants here at Gooderstone Water Gardens, although I'm no expert in this, but some smell beautiful and all look fantastic.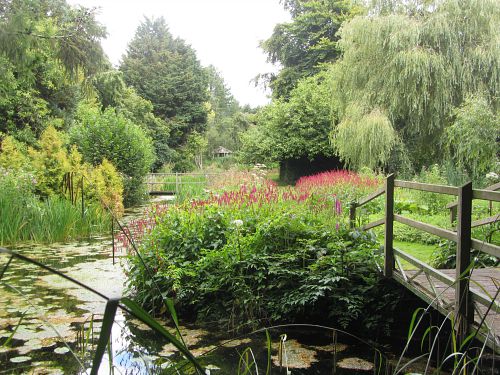 Gooderstone Water Gardens Nature Trail
In addition to the water gardens, there's also a small nature trail which takes you behind the water gardens and onto fenland.  It's a grassy path that has been cut low for your use.  I took this walk after I'd visited the bird hide, and it eventually led me back to the enchanted garden.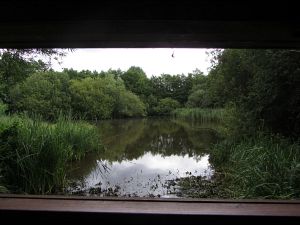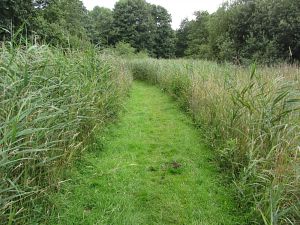 The hide, reached by a board walk, overlooks a still pond.  Unfortunately I didn't catch sight of the kingfisher, which is regularly seen from here, but I did see an egret at the far end, preening itself whilst balancing on a low hanging branch nears the water's edge!  Quite precarious.

Then I was back into the lovely garden.  It's almost like walking into a magical enchanted forbidden secret garden!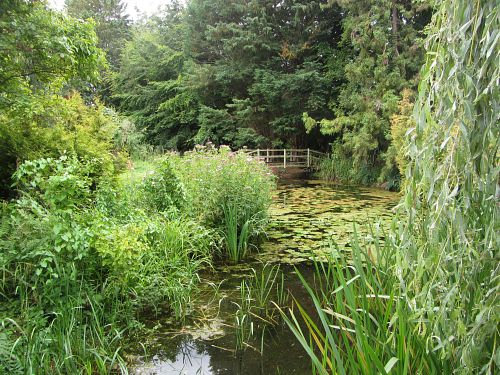 I think we're so lucky to have the opportunity to have somewhere such as Gooderstone Water Gardens in the middle of Norfolk that is quite literally a Norfolk gem!

Prices, Opening Times And Facilities

The Gardens are open everyday.  See their website for more details.
There is also small tea room which serves tea, coffee, cakes and sandwiches. 
The chance to just relax, switch off and enjoy this wonderful area of nature will be worth every penny to you. 
Dogs are allowed on leads.

---