A Guide To More Norfolk Villages

This is a continuation of more Norfolk villages.  Norfolk is so steeped in history that many of these pretty villages have stories to go with them.  I continue here to show you some more of the villages that are worthy of mention.

The villages on this page are:
---
Barnham Broom
Located 9 miles west of Norwich.   Barnham Broom is a busy village in the rolling Norfolk countryside.  One of the main attractions of this village is the popular Barnham Broom Golf and Country Club situated just outside the village.

---
Bawburgh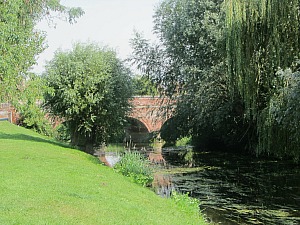 Situated 5 miles west of Norwich.  This village houses the original site of old Colman Mustard mill.  Although it is now privately owned, it still sits on the very attractive River Yare which flows through the village in very pretty surroundings.  As with many Norfolk villages, this is a nice place for a stop off or picnic.

It also has a Grade 1 listed round tower church.

---
Hethersett
Hetherset is a huge village located 6 miles south west of Norwich. 

It is mentioned in the Doomsday book of 1086 with 400 people living in the village at that time.  Today is has over 5000 people!  It's almost as big as some of the market towns. 

The most famous event for this village was in 1549 when Robert Kett, leading the rebellion, tore down John Flowerdew's hedges on Hethersett Common.  Kett's Oak is said to commemorate the spot where rebels gathered before marching to Mousehold Heath in Norwich.

---
Norfolk Villages - Old Buckenham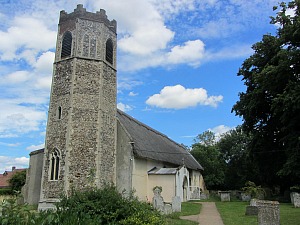 Situated 3 miles from Attleborough and 18 miles from Norwich

It's thought that Old Buckenham has the largest village green in Britain with 40 acres including ponds and playing fields.  Old Buckenham dates back to the Norman invasion when William D'Albini was given land for being butler to the King and their coronations.  The ruins of the Castle and Priory lie about 1 mile to the north east of the village

The Old Buckenham airfield is close by and where they hold an annual air show.  This was another heavy bomber base during WWII for the United States Army Air Force.  

The church is beautiful, All Saints Church, with its octagonal tower and thatched roof.  There are only a few Norfolk villages with this type of church roof.   It also has an old windmill (with the largest circumference in the UK) which was built in 1818 and is open to visitors once a month. 

---
Snetterton
Located 12 miles from Thetford, 19 miles from Norwich

Snetterton is most well-known for its race track which provides a really great day out.   If you're around the area, then Snetterton market (in the racetrack grounds) has 7 massive halls filled with everything you can think of!  Models, crafts, garden equipment, outdoor clothes etc.  Well worth a visit.

---
Rocklands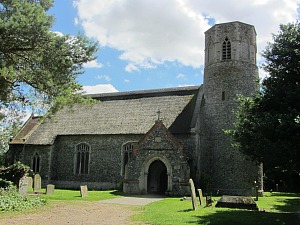 Rocklands consist of two villages; Rockland St Peter and Rockland All Saints.   Both Norfolk villages have houses of varying ages  with a few thatched cottages and peacocks wandering around the edge of the village. Years ago it had a Victorian workhouse which opened in 1836 and used to house German PoWs during WWI, but this is now a private house.

If you drive along the quite lanes, you'll come across the remains of a ruined 14th century tower in amongst the trees.    Rockland St Peters also has a wonderful round tower church with octagonal top. 

---
Caston
Located 18 miles from Norwich, 4 miles south of Watton

This is a very quiet tranquil and quintessentially English village.  It has a beautiful green surrounded by pretty thatched houses, and a church with thatched roof.   Parts of church date back to 1300.

There is a war memorial on the village green and you'll also see the base of a 15th century cross here.

---
Thompson
Located 3 miles south of Watton, 8 miles north of Thetford and 18 miles south west of Norwich 

Thompson is another Norfolk village which appears in the Doomsday book.  It's a long spread out but historic village and believed to have Danish origins.  It's a lovely quiet and secluded village but it does have an excellent pub. 

The nearest town is Watton, and it's also very close the to the Peddars Way and the Great Eastern Pingo Trail.

Back to Norfolk Villages

Forward to More Norfolk Villages