More Norfolk Villages
This is page 3 continuation of more of our beautiful and interesting Norfolk villages.  Norfolk is so steeped in history that many of these pretty villages have stories to go with them.  I continue here to show you some more of the villages that are worthy of mention.

The villages on this page are:
Pentney
Grimston
Flitcham
Syderstone
Great Bircham
Docking
Sedgeford
Heacham
Snettisham
Dersingham
Castle Rising

---
Pentney
Located 8 miles south east of Kings Lynn and 4 miles west of Swaffham.

This is one of the Norfolk villages that dates back to the 3rd or 4th centuries.  It has the remains of Pentney Abbey gatehouse, an Augustinian Priory which was established around 1130.  The Nar Valley Way passes right alongside the abbey which is a very similar building to Baconsthorpe Castle.  It was closed under Henry VIII who shut it down in 1557.

Many of the houses in the village are made from the stone from the Abbey.  The village became news in 1977 when six 9th century silver Saxon brooches were found.

It also is home to the very popular Pentney Lakes camping and caravan park located, surrounded by lakes and woodland.  And just up the road from here is the Norfolk Wildlife Trust's East Winch Common, an SSSI designated area.

---
Grimston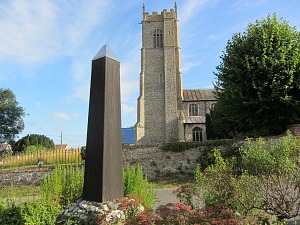 Grimston is located 6 miles north east of Kings Lynn.

Grimston and the surrounding villages of Gayton, Congham and Flitcham all have the remains of Roman villas so this area was obviously a large roman settlement.  It's a village that was built on a spring line meaning the Romans had a good source of water.  Because of this spring line, it's a long thin village.  It has lots of amenities such as a local shop, pub, surgery, butcher and a few independent shops.

The production of pottery was also prominent here and in the neighbouring village of Pott Row.  Grimstonware pottery can be seen in Norwich Castle Museum.

---
Flitcham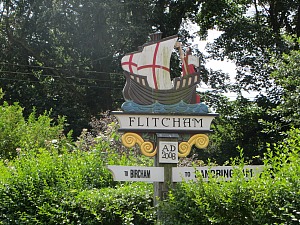 9 miles north east of Kings Lynn

Flitcham village forms part of the Sandringham Estate.  This is a lovely pretty village with the small river Babingley runs through it.  The river is apparently so cold, legend has it that it flows all the way from the Alps!  Like many Norfolk villages, a large number of houses here are built from the local carrstone and flint.

If you're keen on bird watching, the owner of Abbey Farm has opened part of his farm as a nature reserve along with a bird watching hide, all available for the public to use.

Like Grimston, this is another village with the remains of a Roman settlement, discovered in Denbeck Wood.

People of interest:  The King of Norway, Olav V was born in Flitcham in 1903.

---
Syderstone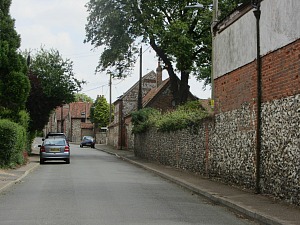 Located 5 miles west of Fakenham

This is a quiet and peaceful village which has now been bypassed by the main Docking to Fakenham Road.  It's a village full of wonderful flintstone buildings and is also one of the 124 Norfolk villages that has a round tower Norman church.

History relates that tragedy hit the village in 1944/45 when two Mustang aircraft collided, one of which crashed onto the Common. 

Syderstone is also reputed to be haunted by two ghosts. 
The first by Amy Robsart who married the Earl of Leicester in 1549.  She mysteriously died in 1560, many thought her husband murdered her, but her ghost was seen shortly after her death at the Old Hall.  The Old Hall was later demolished and her ghost moved over to The Rectory
Second – the village is also reputedly haunted by a phantom highway man!

---
Great Bircham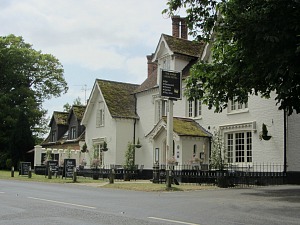 Located 8 miles from the Norfolk coast at Brancaster.

This is a pretty little village with an independent country store, a wine shop and the Grade II listed Edwardian hotel, The Kings Head.
The other notable landmarket at Great Bircham is the lovingly restored Bircham Windmill which is just around the corner from the village and is considered to one of the best windmills still remaining.  It's open to the public and you can even go right up to the top to get fantastic views over the rolling countryside with views to the coast.

This is a great place to base yourself for Sandringham House, Houghton Hall and the ancient Hanseatic town of Kings Lynn.
---
Norfolk Villages - Docking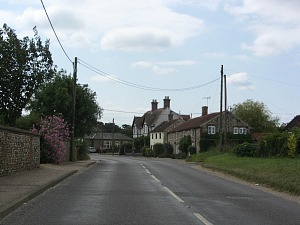 Situated 4.8 miles from Brancaster and 17 miles from Kings Lynn

Docking is one of the many Norfolk villages where you just get that feeling of knowing that you're getting closer the coast.

Docking village is one of the highest points in Norfolk (the highest being Beeston Regis near West Runton).   Historically, it was known as Dry Docking because it had no water supply of its own.  A well was built in 1760 and it cost a farthing for a bucket of water.    In 1936 water was finally piped to the village.

It's a busy village and has 6 roads leading in to it.  The main road North takes you right into Brancaster.

---
Sedgeford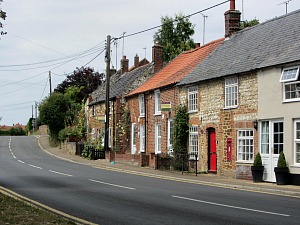 Situated 4.3 miles east of Hunstanton and 16 miles from Kings Lynn.

This is a village that's a stones thrown away from the coast, and another one of Norfolk's villages that has an abundance of pretty traditional flint stone cottages with pan tile roofs, as well as having an excellent pub, the King William IV.

Sedgeford is also right on the Peddars Way, so an excellent stopping off point for walkers or cyclists.

It also has one of the 124 Norman round tower churches.

---
Heacham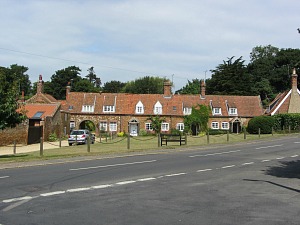 Located 14 miles north of Kings Lynn and 3 miles south of Hunstanton.

Heacham is littered with houses and buildings made from the local carrstone.  It's a very big village, long and spread out, with two beaches to its name; South and North Beach.   It's definitely one of the more busy Norfolk villages. The older and slightly nicer part of Heacham (closest to Hunstanton) has a large church surrounded by some very picturesque cottages.

It became a popular seaside resort thanks to the railway which was built in 1862.  However this was closed down in 1969.  It still remains a hugely popular resort for holidaymakers with its array of caravan parks and camping sites, hotels and bed and breakfast accommodation.    The village has ample amenities and an excellent west facing beach overlooking the wash, and which will guarantee to give you incredible sunsets.

Norfolk Lavender is also just up the road from here in Hunstanton.
The notable hotel with a golf course in Heacham is Heacham Manor.

---
Snettisham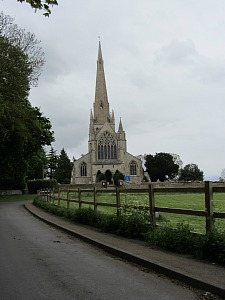 Located 9 miles north of Kings Lynn and 5 miles south of Hunstanton.

Snettisham is another large coastal village on the west coast of Norfolk, most well- known for the Snettisham RSPB site next to the beach.  The beach is the first beach you come to in Norfolk from the west.

It's a strange village in that it is split into two.  On the one side you have Snettisham beach and the RSPB site, plus a few houses and a caravan park, and on the other side is the large village.    It has the most amazing large church sitting on top of the village with a spire that you can see for miles around. 

The Rose & Crown Pub
in the village has been awarded Pub of the Year 2014.
Like many west Norfolk villages, a lot of the houses are built with the local carrstone, (this carrstone is evident in the Hunstanton Cliffs which you can see on both Hunstanton and Old Hunstanton beach.
---
Dersingham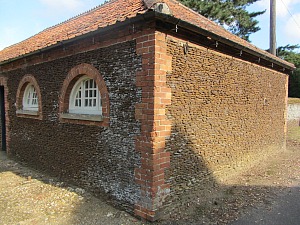 Located 10 miles from Kings Lynn

This village is next door to both Snettisham and Sandringham.  Again, the houses are built with the local carrstone (see above photo).  In years gone by, this village was supposed to be a perfect place to live as it was on the coast yet high enough not to become flooded.   It's another long and spread out village with lots of local shops.   It's a quieter option to the Norfolk villages and towns of Hunstanton or Heacham.

Nearby, on the other side of the A149 is the heathland and marshland of Dersingham Bog, managed by English Nature and designated an SSSI (Site of Special Scientific Interest).

---
Castle Rising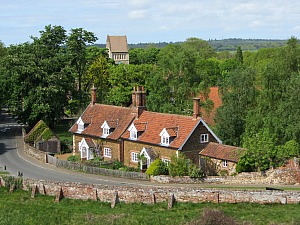 5 miles north of Kings Lynn

Castle Rising village is home to the fabulous Castle Rising Castle which is well worth a visit. 

It's another very pretty and small village full of flint stone cottages, a little tea room, a small one way system to ease the traffic flow from the castle and, once on the castle mounds, you have incredible views over the beautiful countryside and towards the Wash. 

It's one of Norfolk's villages that hasn't been expanded since Saxon times so still retains that very quiet and peaceful feel to it.  It's also close to Sandringham House, and the first beach in Norfolk, Snettisham beach

---
Click here to go back to Page 2 of Norfolk Villages