Castle Rising
Norfolk's Most Significant Castle

Castle Rising Castle is a magnificent, imposing and commanding structure, built in the 12th Century and sitting on the west coast of Norfolk.   It's one of the most important and well known keeps in all of England.  
It exudes boldness and strength, and surrounded by huge high ramparts it has commanding views over the Norfolk countryside.   
From the outside it looks so well preserved that it gives the appearance of still being completely intact, and almost lived in. Well worth a visit.

Castle Rising Castle History

This imposing castle was built in 1140AD by William d'Albini for his new wife, but I don't believe it was ever built for the purpose of defending himself so it was much more a "residence" than an actual castle, a statement of power and wealth, as was so often the case in those days.

The most famous inhabitant of Castle Rising Castle was Queen Isabella, widow of Edward II.  It is alleged that she murdered her husband and consequently used the castle as her main residence thereafter.

Interestingly, it is thought that this castle was modelled on Norwich Castle which is now the Norwich Castle Museum.  I must admit that from some angles it does look very similar.

Although it no longer has a roof, the entrance to the interior is through a black thick doorway at the bottom of one of the corners of the castle, and you're immediately faced with magnificent stone steps up to the castle keep forebuilding, or you can turn left to an entrance into what used to be the basement.
Apart from housing royalty, it was also used as a rather magnificent hunting lodge, as well as housing a mental patient in the 18th Century.
Eventually the castle passed into the hands of the Howard family in 1544 and is still owned by the family today, but managed by English Heritage.

The Castle Interior

With such well preserved  rooms, stone steps, narrow passages and walkways, you can't help but be impressed by the masonry and sheer craftsmanship as you walk around the castle interior.     The arrow slits in the walls give amazing views towards the Wash and also inland, and you can just see why it was such a prominent building in its time. 

In my view, as with all the other castle ruins in Norfolk, this castle is an exceptional place to visit, not only because of its place in English history, but also because it is such a key part of Norfolk's heritage. 

I defy you not to be engrossed by the imposing corridors and passages, the great stone architecture around one of the particular doorways and the magnificent grand hall (which it must have been in its time).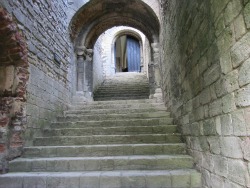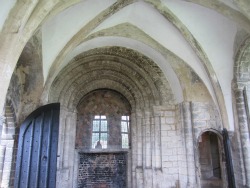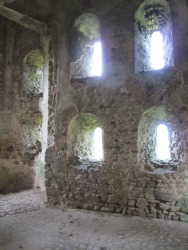 Inner Bailey of Castle Rising Castle

The inner bailey at the castle also shows the ancient remains of a Norman church, thought to have been built long before the castle and you can see the outer walls of this in great detail when wandering around within the ramparts.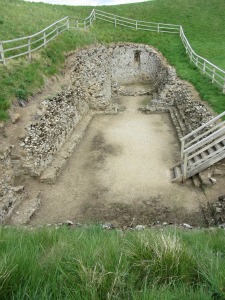 Great Day Out

This is really a great day out for everyone of any age, and even more so if you've got the kids in tow.  They'll love it as the imagination can really run wild here!  Without children, it makes for a very peaceful, tranquil and relaxing day.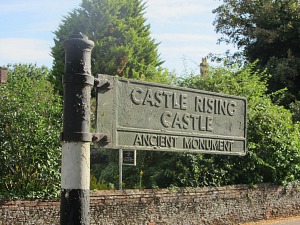 You can also take an easy walk around the top of the high ramparts surrounding the castle where your eye can see for miles, out over the village, towards the Wash and inland towards Sandringham and Grimston.
Parking is very easy, there is a large car park with plenty of space, as well as a WC.  As you walk towards the castle you come across the small gift shop where you will need to pay your entrance fee. 
Dogs are allowed on leads in certain areas.
The Village

Castle Rising is another extremely pretty village in Norfolk, very much like Castle Acre, with it's picture postcard flint cottages and a beautiful church, pub and tea room. 
It's a perfect stop on the way up to on of the many fantastic Norfolk beaches, or

Make a day of it, take your picnic and a rug and sit amongst the castle ramparts? 

The abbeys and castles in Norfolk are definitely worth visiting:
Not far away from here is Castle Acre Castle and Castle Acre Priory, again a "must see" for the sheer brilliance in architecture, as well as amazing preservation works.

Attractions nearby

---