The Pingo Trail Walk

The Pingo Trail walk is a really extraordinary and fascinating walk.  I expected to see a few Pingo ponds, but nothing like as many as there were.   This part of Norfolk has the highest density for Pingo ponds and I can guarantee you certainly won't be disappointed with what you'll see.   Pretty much everywhere you walk, there's water!

Along with the very picturesque Thompson Water, a man-made lake, this is a very beautiful walk in amongst marshy woodland and wetland, walking on part of the Peddars Way and across Thompson Common and finishing up along a disused railway line.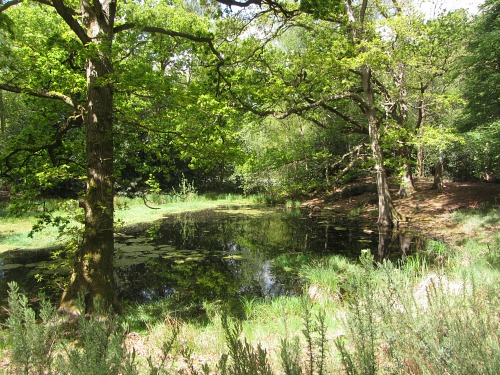 What are Pingo Ponds?
Before I get on to this Great Eastern Pingo Trail walk, let me explain about Pingos because you'll be walking amongst a bit of history here.  Also known as kettle ponds, these pingos date back to the ice age, and Pingo is the Eskimo word for "hill".  As the glaciers retreated, they left hard masses of ice which eventually had soil over them.  Then, as the climate became warmer and the ice melted away, the soil on top formed depressions, leaving a hole filled with water – hence the Pingo was formed.
If you'd like to walk the "Ice Age to Royalty" Norfolk Stately Homes walk, Explore Norfolk UK has put together a special package to take in this the Pingo Trail, as well as visiting Oxburgh Hall, Sandringham House and a couple of walks around these stately homes.  For more information, click on the link above.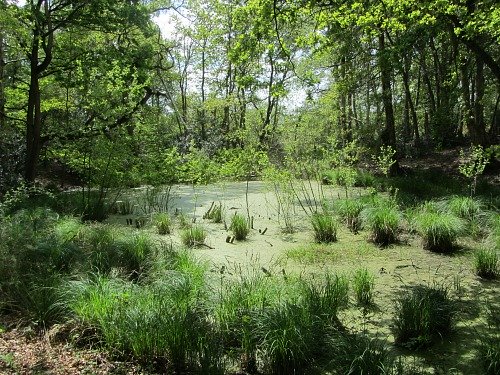 Pingo Ponds
Most of the Pingos that were in the Brecks area have now disappeared due to the land being ploughed up for farming, so the ones remaining are historically, ecologically and internationally important for the wildlife.
If you'd like to find out more about walking the Norfolk Coast Path and the Peddars Way, please feel free to contact us or take a look at our Norfolk Walking Holidays.

The Pingo Trail Circular Walk
Length: just under 8 miles
Ease of Walk:  easy and flat
What you'll see:  Pingos, long horned cattle, woodland and common land, wetland and swamps, Thompson Water, water violets
Dogs:  No dogs allowed on Thompson Common
Postcode: NR17 1DP 
OS Map:  No 229 (advisable)
For a downloadable pdf of the  The Pingo Trail map, click here.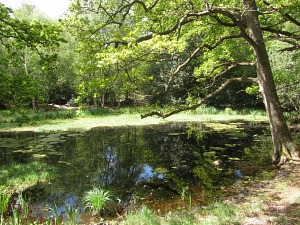 Great Eastern Pingo Trail Map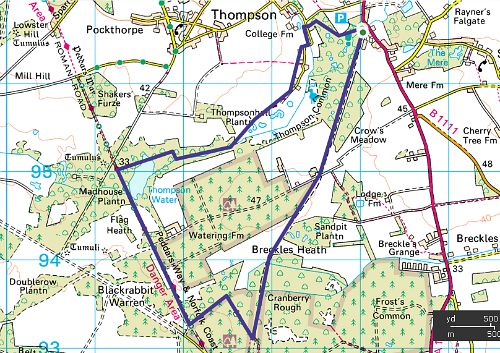 The Pingo Trail
If you want to see what's in store for you before you go, why not check out the video below!  I walk you around the trail in 10 minutes!
The Pingo Trail starts in the car park off the main A1075.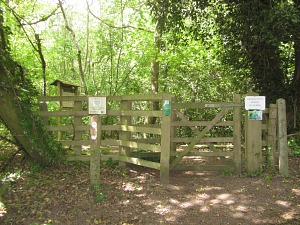 This was the old site of the Stow Bedon railway line (part of which you'll walk on towards the end).   As you drive along the main road, about 3 miles south of Watton you'll see a largish layby.   You can park here if you wish, but the actual car park is just behind here, so take the track in the middle of the layby and turn immediately right.

Most of the walk is very well sign posted.  You occasionally have to keep an eye out for way markers, but Norfolk Trails have upgraded the posts, so you shouldn't have a problem.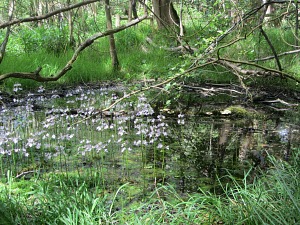 The start of the Pingo Trail is through a kissing gate and the path is very obvious along here.

It's quite exciting because you come across the first Pingo pond fairly early on as you walk through the woods and the first stretch of Thompson Common.  Some of these ponds were stagnant, others had pretty water violets.
As I came out of the first wood and faced a very open Pingo, I wondered which way I should go until I saw a sign to my right.  I skirted the pond and quickly found a well-trodden track which I followed.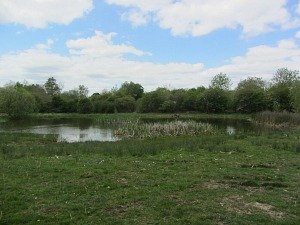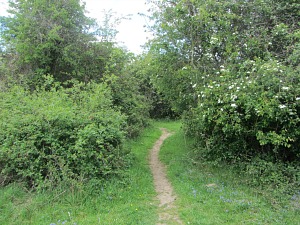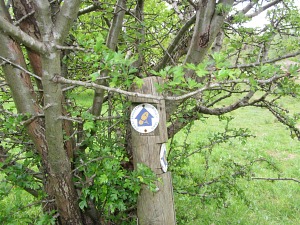 A little bit further on I another found a sign as well as some interesting long horned cattle.  Luckily they didn't seem to be bothered with me which was a great relief, as I do have a slight fear of walking through fields with cows!  They had very impressive horns though and were a lovely sight!!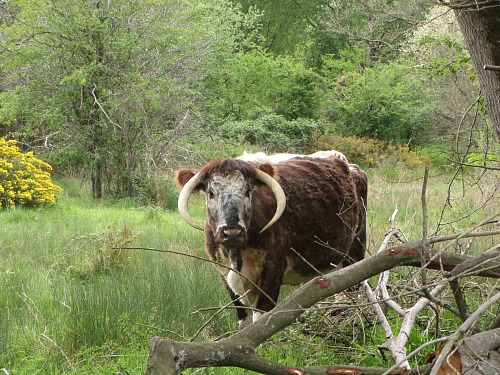 From here you continue along the path and over the common land until you reach a junction with fairly open land on your right hand side.  This is probably the one place where you need to be alert as I did slightly wonder which way I should go (this is why it's always advisable to have an OS map with you!). Here you need to go through the gate and follow the path through more woodland.  If you're chattering away, you may miss this and continue on around the woods.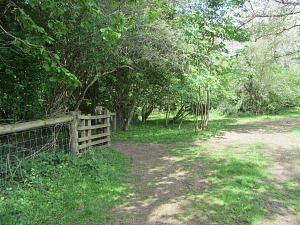 Eventually you reach a very quiet tarmac lane.  Turn left to continue along this road, past a few cottages until it turns into a track straight ahead.  Carry on along the track, passing more Pingos, and more open common land.   

I had a lovely treat watching this fox run in front of me, and then had the pleasure of seeing it again as I neared the end of the walk.  It hadn't gone far during the time it took me to walk the 7 or so miles but because the last stretch is parallel to where I was walking earlier, it had just walked across these two tracks!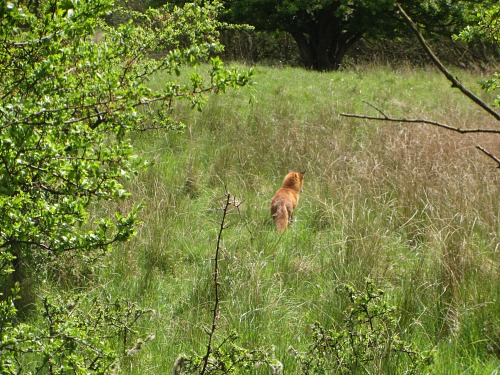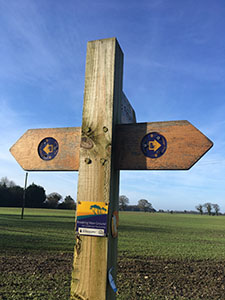 Once past this stretch of open meadow, you'll have a very pretty walk in amongst woodland and alongside a stream and eventually arriving at  more Pingos and then the wonderfully picturesque Thompson Water.

There's a small bird watching hide overlooking Thompson Water surrounded by lots of bird feeders hanging from the trees, and it's definitely worth stopping at, not least to rest your legs!  The view over the lake is beautiful and you'll probably catch sight of the resident swan just beneath the hide.  I had the joy of watching a kite scanning the area and seeing the sun glistening on the water.  
Other great bird watching walks can be found here on our coastal and inland walks page.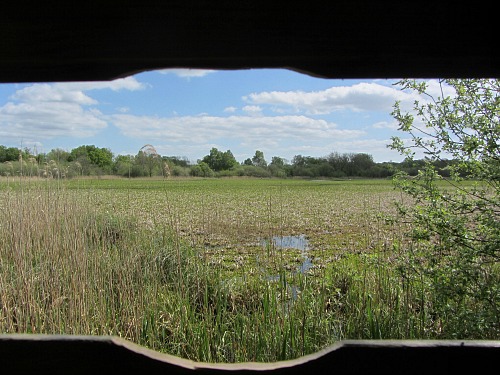 The lake is dominated and almost completely covered with a plant called Water Soldier, and although it provides ideal habitat for a lot of wildlife, it also takes the oxygen out of the water.  The Norfolk Wildlife Trust is therefore working closely with Natural England and the Environment Agency to work out the best option for this plant. 

Thompson Water is actually a man-made lake which was created in 1845 along a tributary of the River Wissey, and has nothing to do with the Pingos!

It's a lovely spot to stop before you start on the next  stretch  of the walk on a wide farm track.  This is now part of the Peddars Way Long Distance Trail.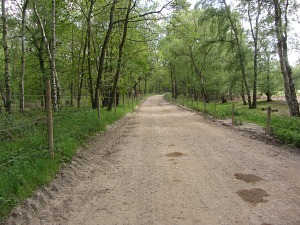 The end of this track is the third place on the Pingo Trail that I wondered where I should go.  I actually went wrong but it didn't make any difference, thanks to my OS map. Just before you reach a tarmac road, you should take a left along wooded tracks and then bear right along another track which will bring you to the disused railway.   I didn't take this left turn, but carried on and turned left a bit further along – it made no difference at all, as, with a bit of common sense, I still ended up in the same place.

I really enjoyed this next section of the walk.   You meander through Cranberry Rough where on either side you're surrounded by water and wetland, dykes and pools.  It's a fantastic sight full of water violets and trees in swamps. It would be quite fun to take a little boat and row your way around here!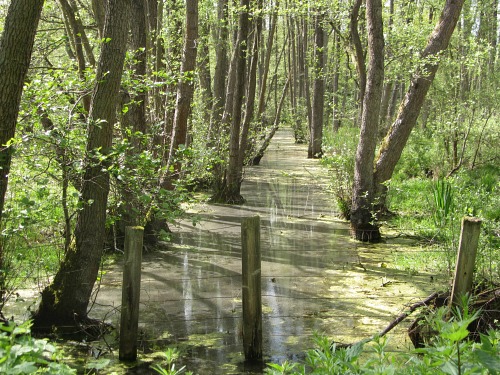 This area is a Site of Special Scientific Interest because of the pollen and the plant remains in the peat which is below all this wetland.   (West Runton beach  is also an SSSI).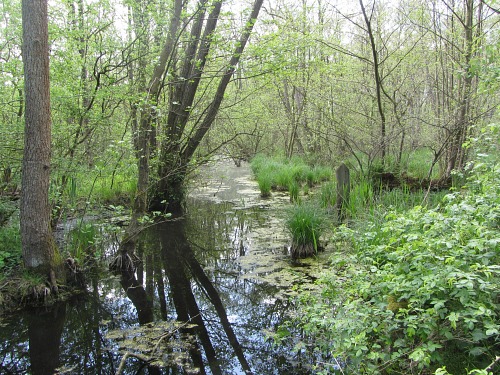 The swamps of Cranberry Rough
Once through Cranberry Rough, you then follow the straight disused Thetford to Swaffham railway track for a while, along open farmland, and this path eventually takes you all the way back to the car park.

It really is a fascinating walk with so much to see.  I just remember thinking "water, water everywhere"!   It's quite a long walk, but I would highly recommend it.  It took me about 2 ¾ hours, with a slightly niggly back, but it is definitely a walk I would do again.

Other inland walks
---