Holme Dunes Coastal Walk

Holme Dunes coastal walk is an open wilderness of sand dunes, mud flats, salt marshes, water meadows and pine forests, as well as a pretty much deserted beach, well known for its important find in 1998 of "Seahenge" (now housed at Lynn Museum). 
You'll be walking in a designated "Area of Outstanding Natural Beauty", and believe me, it is!   This particular area is managed by the Norfolk Wildlife Trust and is in partnership with the Norfolk Coast Partnership who promote conservation and help to aid public enjoyment and understanding in these designated areas.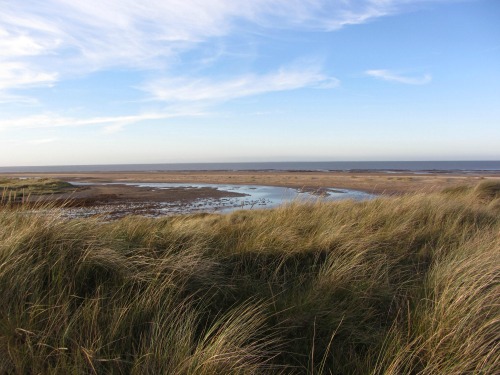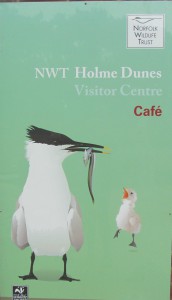 This walk can be any length, depending on where you want to walk to.   If you only want a short stroll, then you walk from the start by Holme beach car park (crossing over part of Hunstanton Golf Course) and walk to the Norfolk Wildlife Trust Nature Reserve tea room and back again, or for longer, you could carry on through the pine forest to Thornham.  Don't forget - you can always get the Lynx Coastliner No 36 bus back to Holme.

The beginning of the walk is board walk or compacted path which makes it easy for walking.

There are also various other circular walks around here, one going to Old Hunstanton, one around Thornham,  and the other around the village of Holme.  This map, produced by permission of NCC and OS show these other walks.

Holme Dunes Walk

Length:  Approx 3-5miles return (about 1.5 miles to NWT tea room or  2.7 miles to Thornham)
Ease of walk:  easy walking
What you'll see:  sand dunes and beach, walking alongside the golf course, board walks, information boards, bird watching, walking within the Norfolk Wildlife Trust Nature Reserve, tea room.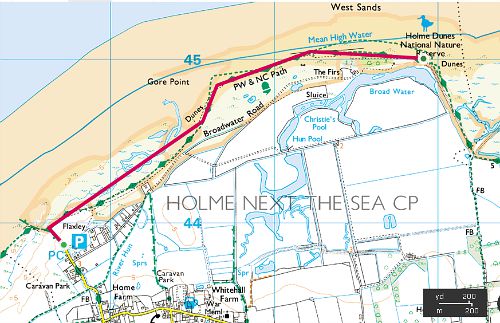 The beginning of my walk starts at where the Peddars Way joins the Norfolk Coast Path.   You can find more details on walking either or both of these National Trails at our Norfolk walking holidays page. 
Another option would be to park in one of the many car parks at Hunstanton and follow the Norfolk Coast Path which will join this walk at Holme.  (You then catch the Coastliner bus back to Hunstanton when you've decided how far you wish to walk!).  Mileage from Hunstanton to Holme is approximately 2.6 miles, and to Thornham 5.5 miles.
You have two options with this Holme Dunes walk.  You can either choose an easy pleasant return walk with a cup of tea at the half way point for those less energetic folk!  Or you could walk from Holme to Thornham which is a little bit further, have lunch in Thornham and then return, or catch the Coastliner back to Holme.  
As with much of the Norfolk Coast, the views are beautiful, and if you walk to Thornham, this boathouse is what awaits you as you approach the village.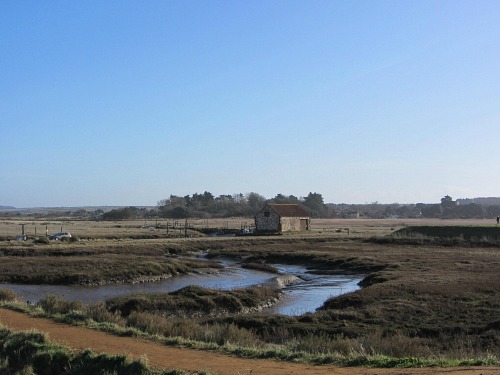 The Boathouse at Thornham
Start: To reach the car park at Holme-next-the-Sea, turn down Beach Road and drive all the way down until you reach the car park on the right hand side.  Here there is a WC and informative maps.  Start walking by turning right out of the car park and walk straight over the golf course towards the sea. 

Before you get to the sea, you come to a fairly large well-trodden junction where you want to turn right, and walk alongside the golf course, on an easily marked path which then turns into a very obvious gravel path and then board walk which you just follow all the way to the pine woods and the Norfolk Wildlife Trust visitor centre and tea room.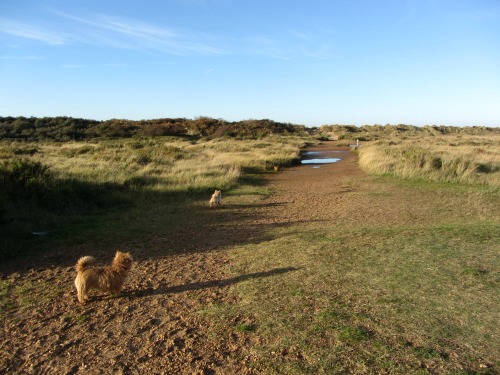 Along the way you'll come across information boards telling you about the various bird life and lay of the land, an old pill box (such as the likes on East Runton beach and Cley beach) as well as black peat beds on the beach which are the ancient remains of a forest, as the years have gradually eroded the coastline. 

Lots to keep you amused at Holme Dunes, and don't forget your binoculars!  The wildlife is incredible along this part of the Norfolk Coast Path.  You'll probably see redshank, curlews, egrets and much much more.

Once you reach the pine forest of this Holme Dunes reserve, you could decide whether you want to continue on to Thornham.   The remainder of this walk is along a sea wall  with salt marshes to one side and water meadows to the other side and fantastic views to go with it! 
Once through the pine woods however, you'll see the entrance to the Holme Bird Observatory on your right. Here they carry out all sorts of work on migrating birds, including ringing.  You need to be a member to enter, BUT, you can also buy a day permit which gives you the option of spending an hour or two watching the incredible wildlife whilst also on your walk.   Weather permitting, you can see them at work on ringing the birds.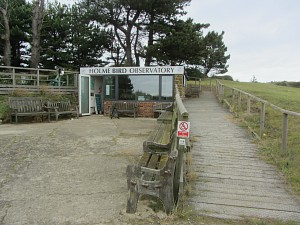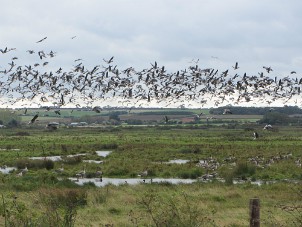 If you're keen to see more wildlife, then the Cley Marshes circular walk is another great walk for bird watchers.  It's also managed by Norfolk Wildlife Trust and is one of the top sites for bird watching the UK.  It's an easy 3 mile walk, apart from the pebbled beach, but you can visit the centre, get a ticket and spend hours in the hides along the walk, or just enjoy the barren atmosphere that presides on this particular part of the coast.  There is more detail on the Cley Marshes Circular Walk here.

---