Seahenge

"Seahenge" was a 4000 year old Bronze Age timber circle discovered in 1998 on the quiet and often forgotten North Norfolk Holme beach.

But it caused a huge amount of controversy both locally and nationally, when English Heritage agreed to fund the Norfolk Archaelogical Unit to remove the timbers from the beach rather than leave them in situ.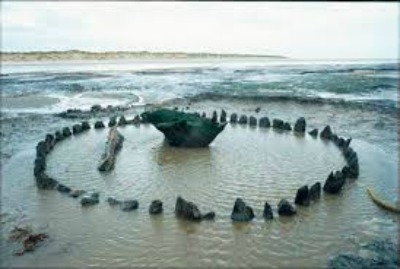 What is Seahenge?
Seahenge was so called by the media as it resembled Stonehenge in Wiltshire. 

It's a huge tree stump that was buried upside down with its roots upper most, and surrounding this tree stump were 55 timber posts, which had been cut from smaller oaks in the surrounding area.

It must be remembered, of course, that 4000 years ago Holme beach was a salt marsh, not a sandy beach.

Some say the upturned tree stump was put there so dead bodies could be laid on top and birds and animals could then pick away at the flesh and bones.

Gradually, over 3000-4000 years (!) the sea has encroached the land and covered the peat beds which were naturally preserving the timbers.
The exact purpose of the timber circle has never quite been determined.
How was Seahenge discovered?
As has been seen recently with the December 2013 tidal surge, and then the more widespread storms and wet weather of January and February 2014, many coasts have eroded, revealing original landscape that has been hidden for years due to shifting sand and other matter.
The beaches on the east coast of Norfolk were particularly damaged during the 2013 storm surge, but are gradually being returned to their former glory.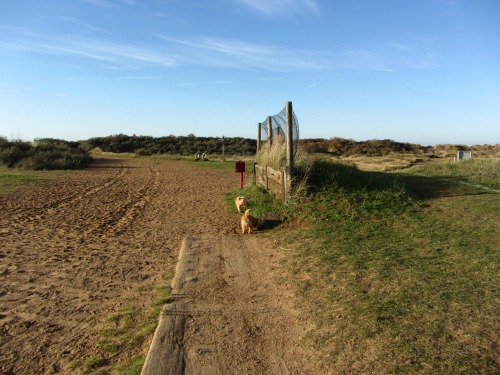 Holme beach was no exception to this (although it had nothing to do with the tidal surge).  From the ever shifting sands, John Lorimer came across what he thought was an upturned tree stump, as well as having found a Bronze Age axe head around the same time.  He informed Norwich Castle Museum and excavation began.

WONDERING WHAT TO DO IN NORFOLK?
Download your free copy of the "Quick Guide To Norfolk Beaches" and join our newsletter to keep up to date with 4 different tips every month for enjoying what Norfolk has to offer. 
Why such controversy over Seahenge?
Controversy surrounded the excavation for various reasons:

Many locals were up in arms when it was decided to lift the timber circle from the beach because they felt they hadn't been consulted on such an important historical find, and feared it may end up being displayed in somewhere like London.  Little did English Heritage and the Norfolk Archaelogical Unit know how faithful Norfolk folk are!
Some objectors were completely oblivious to the damage that the sea could cause to the timbers, which was one of the reasons for moving it.
Others, the druids, objected on religious grounds
Other groups felt it would bring the tourists to Norfolk if it was left on the beach and didn't want it disturbed.  Norfolk is a county rich in history, and this would have been another great feather in its cap.
the Norfolk Wildlife Trust  were opposed to the timber circle remaining on the beach because it lay on the edge of the Holme Dunes Nature Reserve and they knew that crowds of people visiting the site would cause great disturbance to the feeding waders and other wildlife.  (5000 people visited the beach shortly after the discovery).

How were the timbers excavated?
Once English Heritage agreed to fund the excavation, archaeologists moved in.  It was a very time consuming process, working within the restrictions of the tides, usually only 2-4 hours a day.  And the protestors didn't help either.
However, if it had been left to the elements, "Seahenge" would have gradually deteriorated, so excavation was a necessity.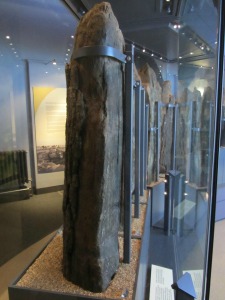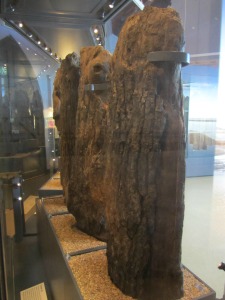 Once the timbers were excavated, time was of the essence.  Having been protected by the peat, they quickly began to decay due to the salty sea water, as well as the twice daily wetting and drying that occurs with tidal water.

The timbers were taken to the Bronze Age Centre at Flat Fen in Peterborough, placed in fresh water tanks and cleaned.

Laser scanning technology recorded every detail.  The timbers were then moved to the Mary Rose Trust in Portsmouth where again they were "cleaned" and vacuum freeze dried.

Where can you see the Seahenge replica?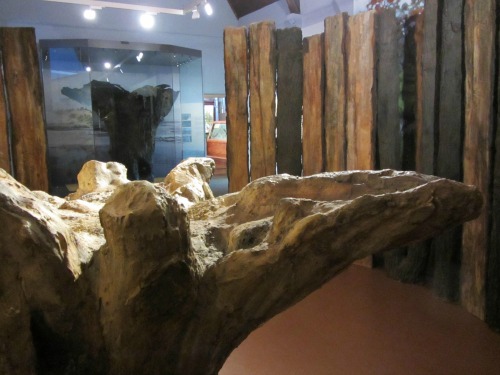 If you're lucky enough to be in Norfolk, you can visit Lynn Museum in King's Lynn where they have the original upturned tree stump, some of the original timbers and they have also made a life size timber semi-circle Seahenge replica to give you an idea of the original size that this circle would have been.

You won't however, find any traces on Holme Beach!  Howevver, there is an excellent and easy coastal walk should you want to explore the surrounding area and this takes you right past the site of the discovery.  There is also a large information board here explaining everything about Seahenge.

Wondering What To Do In Norfolk?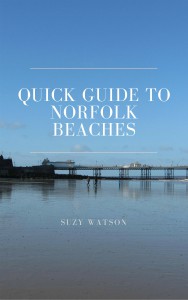 Get your free copy of the "Quick Guide To Norfolk Beaches".
JOIN OUR NEWSLETTER and keep up to date with 4 different tips every month for enjoying what Norfolk has to offer.
Each month will bring something new! 

Just let me know where to send your "Quick Guide To Norfolk Beaches"download by entering our email below, or visit the Newsletter page for more information.