Our Beaches In Norfolk

Our beaches in Norfolk are absolutely fantastic, and I know that you're going to love them.  
Most are ideal for enjoying when on a holiday, or a day out
Some are perfect for sea fishing
Others are just below steep eroding cliffs  so need to be kept away from
Some are wonderful for wildlife and walking
Here in Norfolk we are incredibly lucky to have a vast sandy coastline that stretches from Snettisham (although this particular beach in Norfolk is not a sandy beach, but still a beach) all the way to Great Yarmouth and Hopton-on-Sea and beyond into Suffolk.  

Most of this coastline in Norfolk is beautiful, particularly the North Norfolk coast.  However, quite a lot of it is also prone to coastal erosion, such as Happisburgh and Trimingham.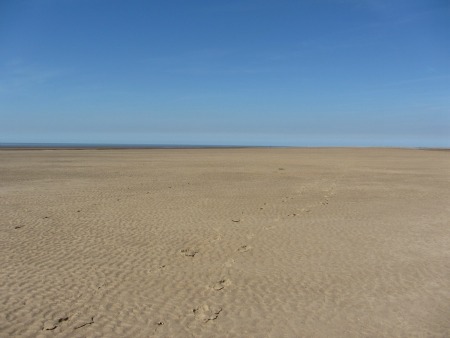 Norfolk's Wonderful Beaches
Before the 18th century, beaches weren't used as we use them today.  The first beach resorts were opened in the 18th Century for the aristocracy, and then the use of beaches as leisure resorts only became popular in the 19th Century.  
Some of the North Norfolk beaches such as Burnham Overy Staithe, Holkham and Wells-next-the-Sea have swathes of golden sand with wide open skies.  When the tide is out you can literally see and walk for miles.  For the many times that I've visited Wells beach, more often than not the tide is out, and I never reach the sea!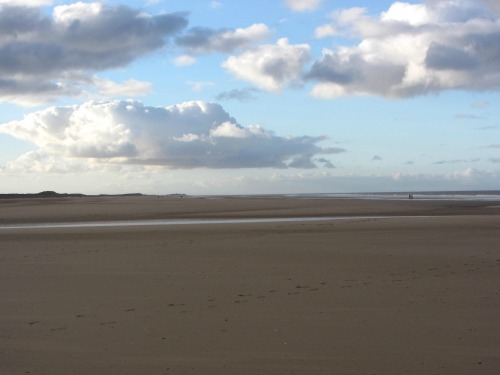 Holkham Beach
Dog Walking Beaches in Norfolk
And apart from enjoying the beach with family, many of us love the wide open spaces these beaches provide for walking our beloved dogs.  
Dog walking on the beaches in Norfolk is a very popular past-time.  Holkham and Wells have to be the two best beaches for dog walking because you can walk for miles.  One other beach that is excellent for dog walking when the tide is out is Old Hunstanton.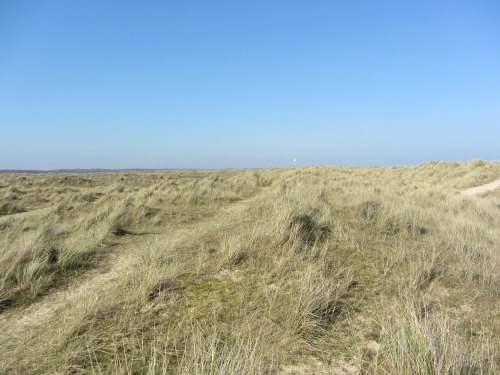 Winterton Dunes
Beaches in Norfolk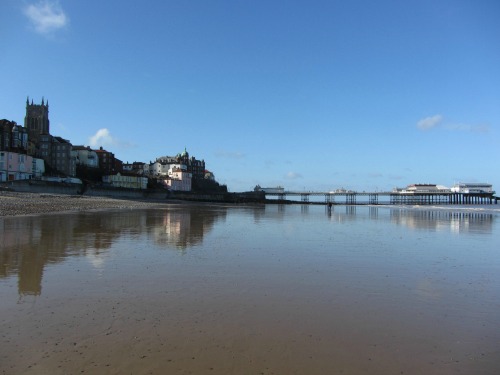 It's obvious - it is Cromer beach!
Fossil Hunting and Watersports
But what about a Norfolk beach such as West Runton where the remains of the famous Steppe Mammoth were found back in 1990.  How would you distinguish this beach if you were walking along it, from its neighbour, East Runton.  Both have cliffs, both are fairly pebbly until the tide is out and you can't really distinguish one from the other.  Having said that, East Runton has an old pill box half buried in the sand, so if you knew this, you'd know where you were.
Activities such as kite surfing, wind surfing or beach buggying are popular on Brancaster beach and Old Hunstanton,  Informed decisions about tide times on certain beaches in Norfolk is of paramount importance.  
Time and tide wait for nobody, so just keep walking!