Titchwell Manor Hotel

Titchwell Manor Hotel, on the North Norfolk coast, has one of the most beautiful views across the marsh towards the sea. 
And that, along with a three AA Rosette chef and a hotel that happily welcomes your pet, what more could you ask for?  This is a really lovely and very dog friendly hotel right on the coast of Norfolk.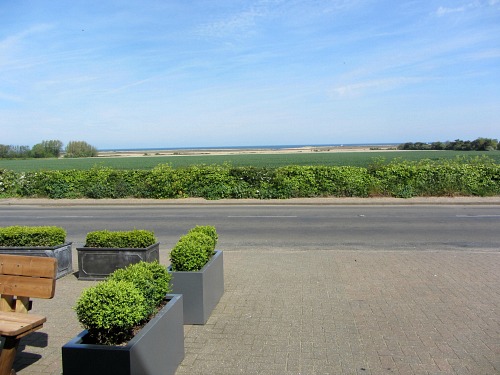 This lovely luxury hotel has been transformed from a Victorian farmhouse in 1988 by the current owners, Margaret and Ian Snaith, with their son Eric, the Head Chef, and has been rapidly gaining in popularity due to the excellent food, as well as the development that they have undertaken in recent years.

Titchwell Manor
Titchwell Manor
is an amazing place to stay, whether you are with your pet or not.
They have a wonderfully modern Conservatory Restaurant (where dogs aren't allowed for obvious reasons), and a very relaxed bar and casual dining lounge (known as the Eating Rooms) where they are allowed.  And when the weather is nice, a beautiful terrace with a fabulous view over the marshes.  Nothing beats this view in my opinion.   It's simply stunning.

The Dog Friendly Titchwell Manor Hotel
As you walk in to the reception, there ahead of you in a cabinet are little packets of dog treats.  The first sign that this is a pet friendly but luxury hotel! 

Then there are 10 dog friendly rooms, all on the ground level and mostly out in the herb garden courtyard.  These are lovely contemporary style bedrooms, beautifully fresh and light. 

The best thing about staying here for the dog lovers is that they provide dog beds!  Nice cosy beds and depending on the size of your dog, they will arrange for the correct size of bed to be in your room. 
It's the little touches like this that make your stay much more pleasurable and enjoyable.

| | |
| --- | --- |
| | They also provide dog bowls, towels and a few rules!  These are set out for you on an A4 sheet of paper, so no worries about forgetting where your beloved four legged friend is allowed.  |
The owners are very relaxed about having your dog to stay.  It means a lot to them to know that you are happy because you've got your pet with you. 
The fact that they provide a map with various walks, towels to dry off your wet dog from a wonderful sea walk, and dog treats shows that they understand how much it means to you to bring your dog with you.

You can also relax in the walled garden with a drink or two (although you are asked not to let your dog use it as a convenience), and if you've brought the children along, then they can enjoy a cleverly hidden sandpit, what a lovely thought.
Titchwell Manor thinks of everything! You can read the reviews here and check availability.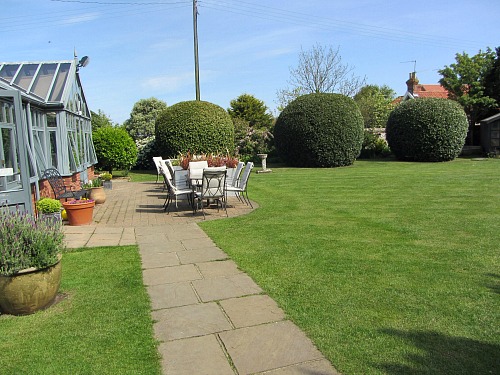 Fine Dining

This hotel gets rave reviews about its food.  Magazines, Trip Advisor, Twitter  – you name it, the reviews are excellent.  Fine dining at its best.  Its nice to know you can bring your pet with you and enjoy this fabulous food.

The Head Chef, Eric Snaith, is the winner of three AA Rosettes, the EDP Best Restaurant and Pub Dining 2013, EDP Food and Drink Chef of the Year 2012 and Master Chef of Great Britain.  Need I say more!

You can have an amazing choice of menu in the smart new conservatory overlooking the walled garden (without your dog!), or you can enjoy more informal meals in the more casual dining areas where dogs are allowed as well.  Or even alfresco when the weather is being kind to us!

What Attracts Visitors To Titchwell?
Its more the beauty of the surrounding areas rather than the actual village of Titchwell that bring people from far and wide.  
Nature loving birders and walkers will find this the most perfect place to come, as Titchwell RSPB Nature Reserve is a stone's throw away from this hotel, and NWT Cley Marshes is also not far away. 

The beaches.  We have the best beaches in the UK!  Brancaster, Holkham, Old Hunstanton, to name a few.They are amazing, the tide goes out for miles and you can walk until your hearts content.  The Norfolk Coast Path also runs along the back of Titchwell Manor.
Fine Dining.  You'll easily get that here at Titchwell Manor Hotel, and also at many of the other fine dining restaurants close by.
Golf.  There are so many golf courses on the North Norfolk coast, The Royal West Norfolk, Brancaster, being the closest to here.

Titchwell Manor definitely covers all your needs;
dog friendly,

exquisite food,

beautiful views and

relaxed atmosphere all in one! 
You really mustn't miss out on this wonderful luxury pet friendly hotel. All you need to do is check availabilty
and then book your place to stay
and enjoy the break you thoroughly deserve.
Explore Norfolk › Dog Friendly Accommodation › Titchwell Manor