The Lobster Inn, Sheringham

The Lobster Inn is definitely one of the best dog friendly pubs with accommodation in the middle of Sheringham, North Norfolk.  There aren't many dog friendly pubs to stay at in Sheringham so this one is a real "catch".    

The Lobster Inn also has 3 beautifully renovated fisherman's cottages called The Smugglers, which can be taken on a B&B basis just next door to the pub and a two minute walk from the beach, or as self catering cottages.  The pub is extremely flexible in your requests!

And add to that 
the converted stable block which has a real wow factor to it and which you can take as a whole, perhaps with extended family, or a group of friends,
The Smugglers, self catering cottages
the many differing ales on tap, 
great service offered to you as a guest, 
the delicious food in the pub,
the proximity to the beach (very close!)
a stone's throw away from the Poppy Line Railway (on which you can take your dog)
just a short walk away from the theatre
on the doorstep of Sheringham Park and the Norfolk Coast Path (lovely walks here)
What more could you ask from a dog friendly pub in North Norfolk?!    It's a perfect place to base yourself for cycling (they have a secure lock up for your bikes) or bird watching as it's not too far from Cley Marshes Nature Reserve, one of the UK's best bird watching sites.
Run by Graham Deans, The Lobster Inn is one of those pubs that remains a great "pub"; great ales, wonderful atmosphere, busy and vibrant, yet has modern and very up to date accommodation.  And the converted Stables and The Smugglers just add an extra dimension to this establishment in the middle of Sheringham. 

It's always best to ring for room reservations as, depending on the time of year, you can be guaranteed very good prices.  Discount prices are given in the winter.
Tel:  01263 822 716
 The Lobster Inn is a very  traditional 18th Century Coaching Inn; it has two open fires which roar away in the winter, it has panelled walls in the lounge, a lovely old wooden bar  and another slightly more modern one in the sung area.  The bedrooms, on the other hand, are very modern, light and well decorated.
The Lobster Inn is a relaxed, but at the same time lively, vibrant and busy pub, particularly on the weekends (Friday and Saturday its open until 12am), which is completely understandable as it's in the middle of Sheringham.  Having said that, all the rooms are sound proof, and the newly converted stable block is set apart from the pub, so this living area is definitely quieter here.
You can contact The Lobster Inn by ringing 01263 822 716
The Dog Friendly Lobster Inn Bedrooms
The Lobster Inn has 5 good sized rooms in the pub, one of which is a single room.  3 of these are dog friendly and Graham can provide dog bowls for you should you wish.  He also has dog treats behind the bar!
However, it is advisable to bring your own dog beds which I know your dog would probably much prefer anyway. 
2 rooms are kept completely dog free for those that suffer allergies, or just don't want to be in a room where dogs have been.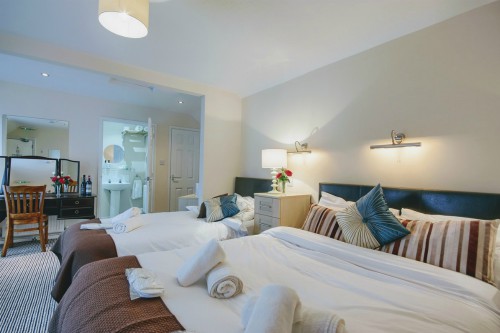 This particular family room above (Room 1) has the added bonus of opening up through a huge window onto a balcony, where you'll just catch sight of the sea, and has rattan style chairs and a table where you can while away an evening, listening to the sound of Sheringham, with a glass of something in your hand!  

The Stables at The Lobster Inn
This is a building set slightly apart from the pub, reached by walking across a courtyard.  The original flint stones walls have been retained on the back walls of all the rooms, and the flooring throughout is wood, which makes it an excellent choice for dog friendly accommodation.   This is a fantastic space if you have dogs, but also if you have extended family, or you wanted to visit as a group of friends.  

This large room can also be completely changed into a dining area for large parties as well.   So if you're thinking of having a party, or a large dinner, look no further than here!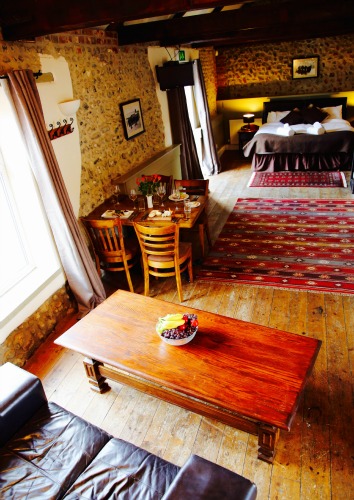 The Stables Suite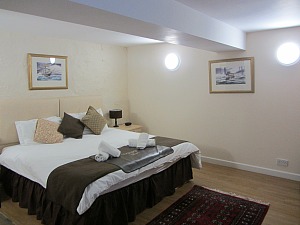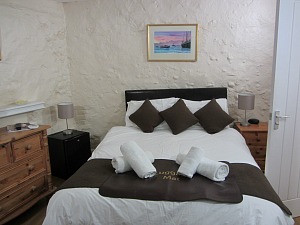 The Stables has 2 double room ensuites downstairs and a huge 10 meter suite upstairs  (with a real wow factor) which is set up as a double room, but the beds can be changed to any set up you require - single, twin or doubles, – perfect for groups, family, and dogs!  It also has a kitchen unit with cooker and sink.
With its own dining table, you can have your takeaways here, or (as you'll see below), you could even order room service.  Or maybe you just want to cook for yourselves! You can also relax on the comfy leather sofa and watch the smart TV, all linked up to the internet.  If you need to get emails (argh, holiday please!) you can get them through the TV should you wish!  Or log onto your Netflix account and enjoy a film or two.  
The Stables, taken as a whole, can accommodate up to 10 people.
Contact The Lobster in by ringing 01263 822 716
The Smugglers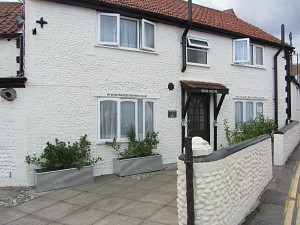 The Smugglers Cottages are an addition to the pub with six separate rooms available.  These rooms are on a B&B basis or on a self catering basis and have been completely renovated.  They used to be three 1930's  fisherman's cottages full of character and are adjacent to the pub and literally a 2 minute walk from the beach - perfect.
Here you have  a couple of family rooms with a twin or double, and one single.  All other rooms are doubles which can also be made into twin or doubles with super king size beds and modern bathrooms with showers.  If you don't like to climb stairs, one of the rooms is on the ground floor with just 4 steps up to the bedroom.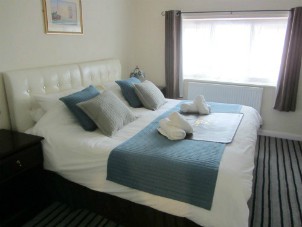 The Lobster Inn Room Service
One of the great things about the Lobster Inn is that they do room service – no, they are not a hotel, but they are willing to go the extra mile.  So if you chose to have breakfast in your bedroom, they'll deliver it to you.  The same applies to the evening meal.  If you don't feel like going down to the pub, then they'll happily bring it upstairs to you.  Not many pubs with accommodation would offer that!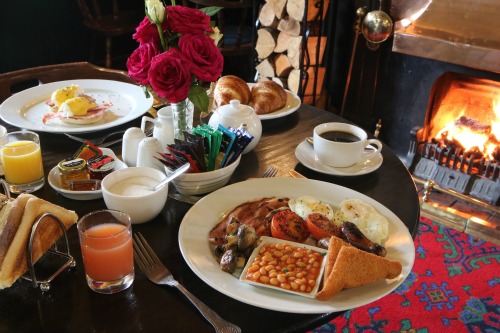 Graham is also very accommodating on breakfast timings.  If you're walking the Norfolk Coast Path and want to get off early, he'll happily give you an early breakfast, or if you've been to a party the night before, he will make breakfast a bit later – there is no strict set time for breakfast.
And apart from room service, he is also happy to organise packed lunches, which is a real plus in my opinion.  If you want to go out for a long walk, or just go and visit somewhere, then what better way than having the hassle taken away from you, and being given a packed lunch.
Pet Friendly Dining
Yes, you can bring your dog down to the bar area when you eat.  Dogs are allowed everywhere in the pub, as there is no formal "restaurant" here  
The food is excellent, lots of it, locally sourced and produced and served by happy staff.  
And if you like beer, then this is a first rate pub for that as they have numerous ales on tap.  They also have 60 malt whiskeys for you to enjoy too!
The lounge is adorned with old lobster pots and fishing nets, a reminder of how important this trade was, and very much still is, in and around Sheringham.  In the winter months you can enjoy your meals with a regular quartet playing away, and in the summer, you can tap your toes along to the jazz bands, usually outside in the award winning beer garden.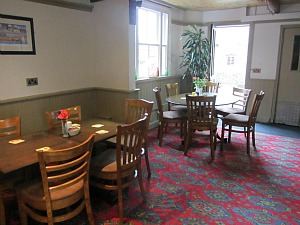 Breakfast is in the breakfast room, away from the lounge area, with a door facing onto the courtyard, open in the summer if nice and warm.  This has a lovely relaxed feel to it, and as I said above, you can either have it here, or ask for it to be brought up to your room.
Outdoor areas
Whilst in the winter you have the lovely open roaring fires in the cosy warm pub, in the warmer months, you've got the award winning beer garden, full of beautiful plants and beer tables, a regular jazz band playing and the general hubbub of life going on in Sheringham.  There's also an outside bar, perfect for those long lazy evenings in this Victorian seaside town.
For you as the guest staying in the pub, you have your own side door to walk out of, onto the paved beer garden.  So whether it's late at night or early in the morning, when you let you dog out, you won't need to disturb anyone and you can wander off down to the beach.  Just turn the latch and you're outside!   Don't forget that Sheringham beach has dog restrictions during the summer months, but you can let them onto the beach once past the promenade.
If you're staying in the Stables, there is a small gated courtyard you walk out onto, again you don't have to disturb anyone, which is always nice to know.
Why not book your stay at The Lobster Inn now by picking up the phone (yes, something not many of us do anymore!) and calling 01263 822 716
The man behind the pub!
What I also love about this pub is the owner  (not literally!).  Graham Deans is a real community man.  Not only does he organise the extremely popular 1940's weekend with the North Norfolk Railway, which brings in 40,000 people to Sheringham, he also helps to organise the Classic Car Show which takes place in North Norfolk, the Cromer and Sheringham Lobster Festival, and is closely associated with many of those who are involved with the Sheringham Carnival.  
A man whose heart is in the community of Sheringham and all it has to offer.
What attracts visitors to Sheringham
In a word, many things.
It is the traditional Victorian seaside town
When the tide is out, the beach is fantastic
The Poppy Line railway, in the middle of Sheringham, and runs heritage steam engines to Holt
The Norfolk Coast Path runs through Sheringham all the way to Sea Palling
Sheringham Little Theatre
The Mo Sheringham Museum
The Carninval in the summer
The local nature reserves near by, such as Holkham and Cley
 The National Trust's Sheringham Park, with gardens designed by Henry Repton
The nearby National Trust properties of Felbrigg Hall and Blickling Hall
The Dog Friendly Lobster Inn, Sheringham
If you're looking for a lively dog friendly pub in the middle of Sheringham, whether you're a walker, cyclist, bird watcher or just a holiday maker with your dog, then this is definitely an excellent choice.   
Enjoy your stay!