The Loft, Hingham, Norfolk
The Loft, Hingham, Norfolk is your chance to experience a very unusual self-contained and self-catering stay on a working stud farm in a quiet and rural part of Mid Norfolk. 
Surrounded by fields, horses, stables, dogs and extremely lovely, personable and relaxed owners, your trip here will be one to remember.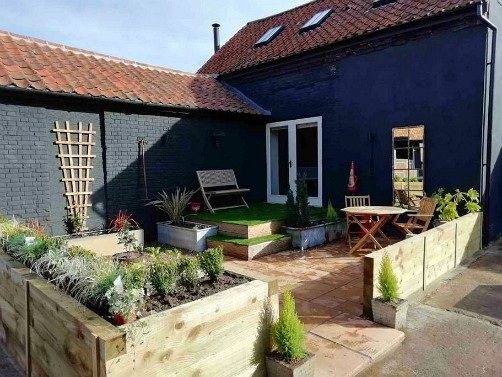 The private terrace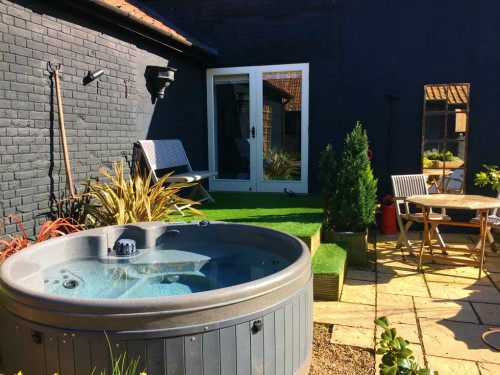 With the addition of a jacuzzi
Summary of The Loft, Hingham, Norfolk
Sleeps 2 with super king size bed
Located on a working stud farm
Converted hayloft and stables
Self contained and self catering
Private terrace with jacuzzi
Dog friendly
Surrounded by open countryside and horses
5 min drive from Gerogian town of Hingham
10 min drive from Wymondham
Close to historic city of Norwich
one of 4 properties on Manor Farm Stays
This property was new for 2019 and Alice and Charlie Mason, the owners, have taken great care to make sure that your stay here will be very memorable.   This accommodation has been lovingly restored from two stables and a hayloft and is completely separate and private from the main house.  
The approach to the property is along a pretty tree lined drive, and arrival at The Loft is through the stud yard.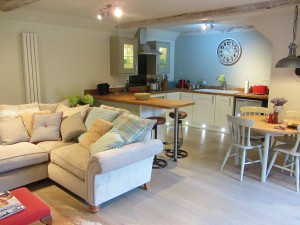 And lest you forget you're on a stud farm, you're soon reminded when you arrive at The Loft, as the entrance is through one of the stable yards and the accommodation is surrounded by spare stables.  Don't worry though, this whole stud is obviously kept incredibly clean, as you can imagine.

You can find the contact details here
"We couldn't have asked for a better short break away!  Such brilliant and accommodating hosts where nothing was too much to ask.  ..... we enjoyed cycling around the beautiful local area and making use of the BBQ we were kindly lent.  Will definitely recommend to our friends - 10/10.
*********
Alice and Charlie are amazing hosts.  Extremely friendly and welcoming and adorable friendly dogs.  The Loft is absolutely beautiful.  Beautifully located in a peaceful rural setting with easy access to the village and beyond.....
*********
Alice's place is idyllic!  It's in a beautiful spot, it's cosy, classy and comfortable....... we'll certainly be back for a longer stay soon.  Thanks.
Car parking is incredibly easy and is just outside The Loft front door.  Once parked, you walk through your own private terrace with outdoor tables and chairs and into the accommodation.  This outside area is a lovely quiet area to have a drink or even a meal.
You walk straight into the open plan ground floor area which comprises a fantastic light and airy spacious sitting area with log burner and the kitchen area along with a dining table which is perfect for the two of you.
The Sitting Room/Kitchen At The Loft, Hingham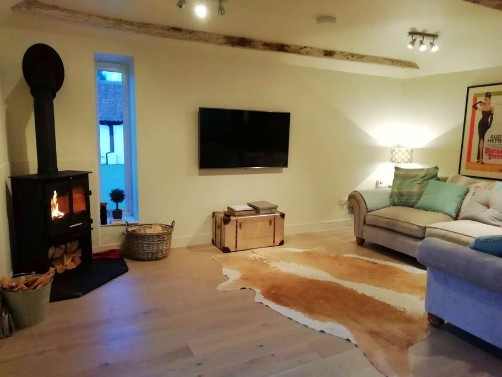 This sitting room has a wonderfully relaxed feel to it, with it's large L shaped sofa, wooden flooring, log burner and logs and large TV.  The sofa is cleverly set up so that it cuts off the kitchen area, but still allowing you to have constant connection with whoever is in the kitchen.
So with the fire going and a good film on the Smart HDTV, you can cosy up and enjoy the evening in this lovely private accommodation.  You'll be given a constant supply of logs for the log burner so no getting cold here!
You'll also find OS maps, walking books and information on the local area.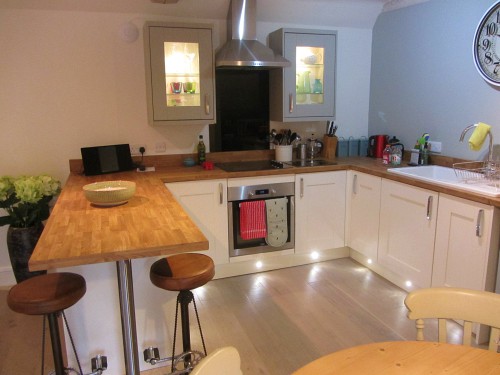 The kitchen wants for nothing. It has a breakfast bar which is always a useful place to eat, and you even enjoy your meals sitting on some very cool bar stools (well I think they are anyway!).  They have bicycle pedals on a cog as the foot supports (they don't move though!).  If you feel like being a bit more formal, you can sit at the dining table.  

You'll have use of the coffee machine, a Nutri Bullet, oven, hob, and microwave.
Milk and orange juice are in the fridge, as well as a bottle of red and white wine, crisps, biscuits and dog treats ready for your arrival!
---
Manor Farm Stays
Manor Farm Stays, Hingham, comprises The Picture House, The Loft, The Woodland Boat and Jimmy's Shed, all located on a working stud farm, and can be grouped together for versatility and would sleep 8 people (4 couples). 
Contact Alice Mason on:
Email:  alicekatemason@gmail.com

Landline:  01953 851 303

Mobile:  07766 076 522
---
The Bedroom At The Loft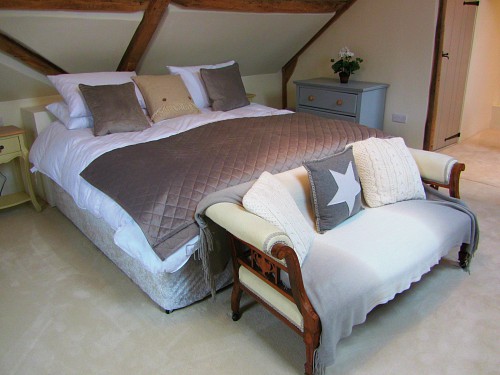 Walk up the stairs, maybe choosing a book on the way up and there at the top is the wonderful spacious bedroom with the original oak beams, a free-standing bath in one corner and an electric log burner in the other corner. 
This is a luxurious room and you'll have a lovely stay here.  It has a very relaxing atmosphere. 
The bed is a super king size bed with a feather mattress topper and sumptuous feather duvet.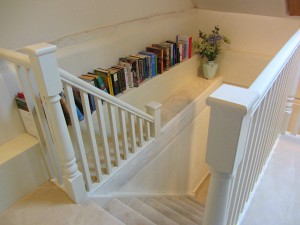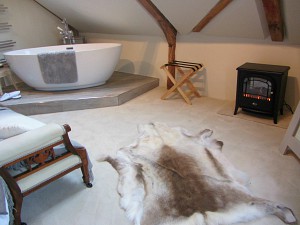 Next door to the bedroom is a separate room with a vanity unit and loo along with a selection of toiletries, hair dryer and first aid kit.  You also get the added bonus of bath robes to use, so time to really relax.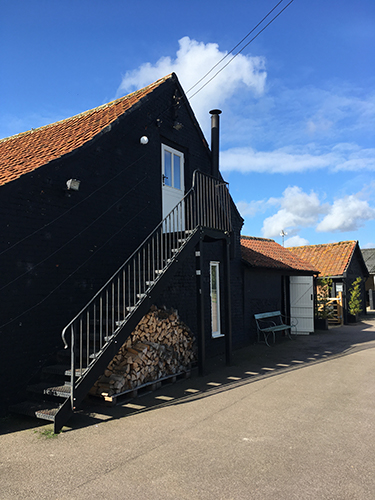 As this bedroom is now the converted hayloft, Alice and Charlie have kept the  door which leads out to the wrought iron steps down to the outside of the building, or you can  stand on the top and just admire the horses and view of the Norfolk rural countryside.   
You can contact Alice here for availability
The Stud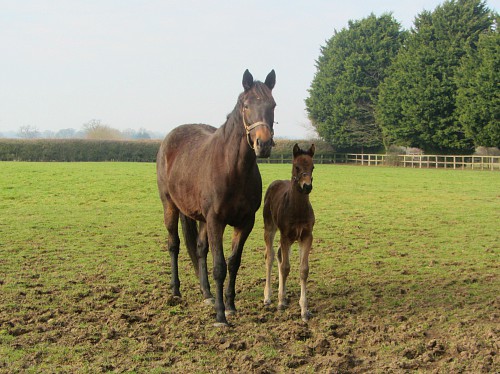 This is a working stud so you'll see horses grazing in the fields, maybe even foals being born if you stay at the right time!  The entrance to The Loft backs onto 5 stables, some of which may well be used during your stay.
Alice and Charlie live in the main house across the yard and are very happy to show you around if you would like to find out more about the stud and the horses they have.  If, however, you like to be private, that is absolutely no problem either!  
The Dog Friendly Loft at Hingham

CONTACT DETAILS FOR MANOR FARM STAYS (The Loft, The Woodland Boat, Jimmy's Shed and The Picture House)

Prices for:
The Loft - £175 per night
The Woodland Boat - £170 per night
Jimmy's Shed - £170 per night
The Picture House - £170 per night
Email:  alicekatemason@gmail.com
Landline:  01953 851 303
Mobile: 07766 076 522
You can also book via Airbnb but don't forget that they charge a service fee so you'll always get a better deal by speaking to, or emailing Alice.  Let her know you found her through this website, Explore Norfolk UK.
---
Hingham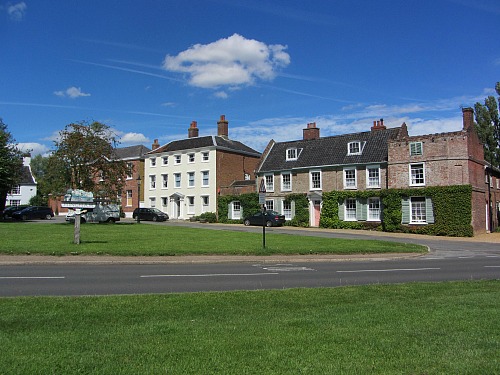 The Loft is a 5 minute drive from the very pretty Georgian village of Hingham which is steeped in history.  It has a few independent shops, a community pub (which even has doggie dinners that you can buy if you bring your dog),  a small supermarket, a large church and some lovely Georgian houses on the green.  It also has strong connections to the USA.   You can read a bit more about Hingham here.
Alice and Charlie obviously know the area well and will be more than happy to suggest some places to eat and visit in and around Hingham.  The historic town of Wymondham is also very close by, and Norwich is a short drive away.
---
Apart from everything else on offer in this fabulous Loft accommodation in Hingham, if you like/love anything equestrian, this is an incredibly exciting and interesting place to come and stay.
Manor Farm Stays
Manor Farm Stays, Hingham, comprises The Picture House, The Loft, The Woodland Boat and Jimmy's Shed, all located on a working stud farm, and can be grouped together for versatility and would sleep 8 people (4 couples). 
Contact Alice Mason on:
Email:  alicekatemason@gmail.com

Landline:  01953 851 303

Mobile:  07766 076 522
MANOR FARM STAYS PROPERTIES
---