The Peddars Way Blog Day 2

Thompson to Swaffham
11.5 miles

I had no idea what today would bring apart from the fact that I knew it was going to be very much a continuation of a walk in the countryside.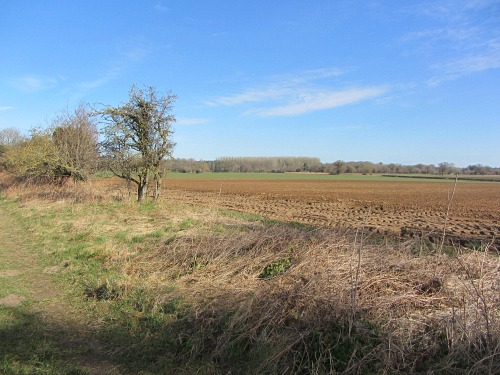 I started where I left off, just above Thompson Water, (close to the town of Watton) and meandered through the woods.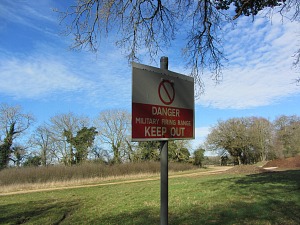 This stretch of the Peddars Way long distance trail runs alongside the MOD training zone and it was very evident today.  I could hear booming fire from the tanks in the distance, and further along, once past Lt Cressingham, the red flags were up and they were obviously training with machine guns as the rat-a-tat-tat was not far away! 

The walk to Little Cressingham was very pleasant and yet again peaceful, in amongst woodland and fields, sheltered from the wind at times, and at other times, when the open spaces appeared, I definitely needed my scarf.    I enjoyed this part of the walk very much.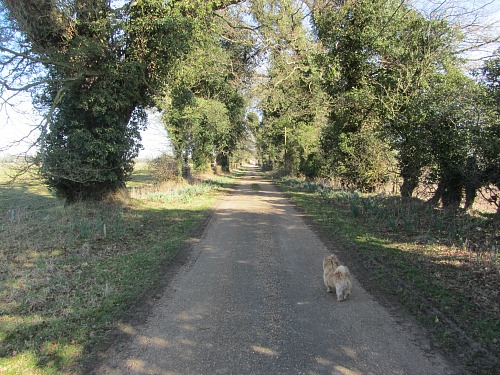 The next stint wasn't quite as interesting as there was a great deal of walking on roads, albeit very quiet lanes, but after a while, I found there wasn't that much to look at apart from yet more fields (and the pretty round tower church just outside Little Cressingham, and actually there's another round tower church very close by in Watton).    However, it did make me realise that this is hard farming country, with tractors busy drilling, corn being shifted in huge lorries and manure being spread on the fields.  Life goes on whilst I was enjoying myself.  Nevertheless, it was incredibly peaceful yet again.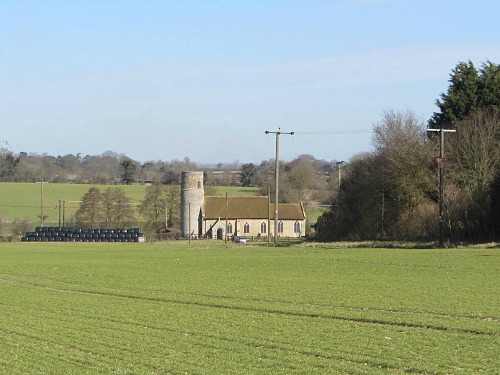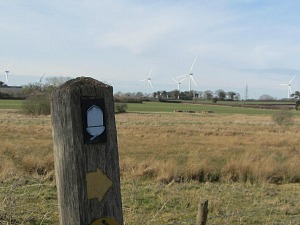 From Little Cressingham, (the second village I have passed through so far), the wind turbines at North Pickenham become more apparent and stay in view until I'm almost in Swaffham.  And at one point, on the brow of the hill outside North Pickenham, I also spotted the other two larger turbines in Swaffham.  I find these two much turbines more appealing than the smaller versions.

As I approached North Pickenham, I finally came off the road for a while to walk behind the hedge and eventually I crossed over the small River Wissey approaching the village.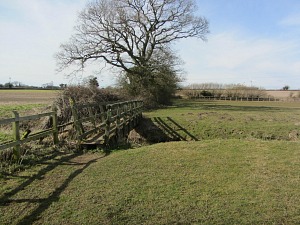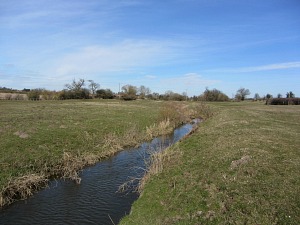 Into North Pickenham I went, and out again on the tarmacked road until I arrived at the start of Procession Way, a wooded track leading all the way to the busy A47.  I was glad to get off the tarmacked road at last and onto woodland track.  This was actually quite a pretty stretch, quiet and yet again very peaceful.    I knew I was nearly there and my legs seemed to be reinvigorated.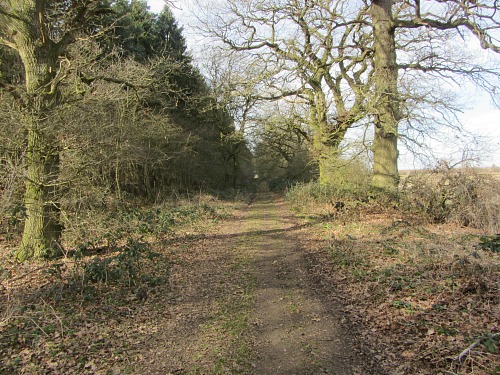 I took the turning on this track to Swaffham and finished my second day of the Peddars Way.

Today felt a bit more laboured than the previous day, maybe because there was a lot more road to walk on rather than woods and heathland and pingos!   But having said that, it was still very pleasant countryside walking.

Day 1 Knettishall Heath to Thompson
Day 2 Thompson to Swaffham
Day 3 Swaffham to Harpley Dams
Day 4 Harpley Dams to Holme