Norfolk Coast Path Blog Day 6
Mundesley to Sea Palling
10 miles
Well, this was going to be my last day of this most amazing Norfolk Coast Path and I was slightly sad at the prospect as I had thoroughly enjoyed the whole walk.  This Norfolk Coast Path trail has been one of the most beautiful walks I have done and I've loved 97% of it.  The 3% was walking through the caravan parks which you'll have seen from my previous day's blogs!
Since writing this Norfolk Coast Path Blog up to Cromer, more path has been opened and  I have been able to walk the whole of the Norfolk Coast so Day 7 and Day 8 follow!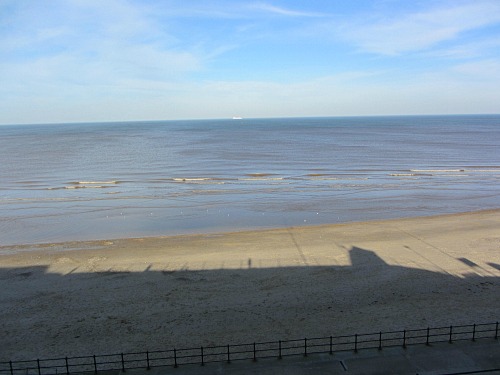 So today I started by walking down to Mundesley promenade, the sun glistening onto the sea.  For this stretch, if you pick the right tide times, this whole stint can be walked along the beach.  However, for me today, the tide was at its highest so there were a couple of deviations I had to take.

I had to start on the promenade and then as soon as possible I walked down to the beach and dallied between walking in front of and behind the wooden sea defences.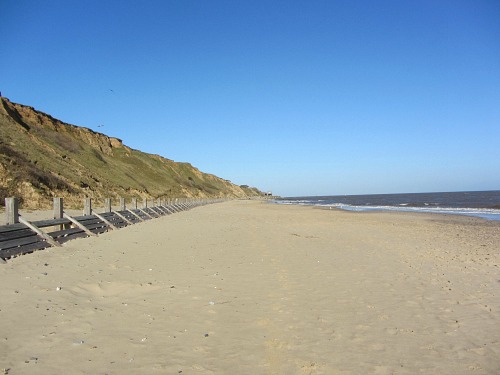 There were times when I had to get behind them as the sea was crashing right up to them.  You will always be able to walk behind these defences as the tide doesn't come right up to the cliff face here.    And to my right was the severe cliff face, full of evident erosion yet again.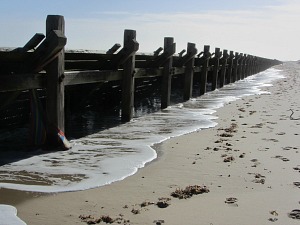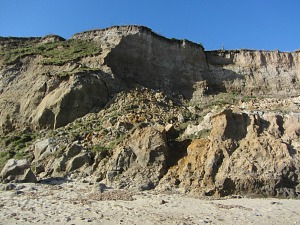 Reaching the end of Mundseley beach was pretty obvious as I looked up to the cliff face and saw the tops of street lights, and down below were noticeable cement bags or something on those lines.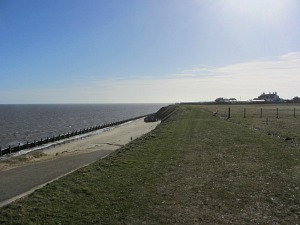 This was where I had to take my first deviation because I could see that I just couldn't get around the cliffs due to the sea coming right up to them.    A few permissive paths later as well as a dose of common sense I ended up where I was supposed to, on Bacton beach.  

Actually this stretch needs a bit more common sense than anywhere else I've walked so far along the Norfolk Coast Path.  An occasional waymarker made me feel a bit more relaxed, but they weren't very forthcoming in some instances.  I thought that if I follow my nose and follow the sea then I won't go wrong, and I didn't!

Erosion is so bad along this stretch of Norfolk Coast that I spent some time walking along ugly concrete sea defences from Bacton to Walcott.  Although not hugely attractive, I did realise that these were of utmost importance, and they did the job they were intended for.  At least I was still near the sea.  For a coastal trail, that's where I wanted to be, whether it's on sand, cliff or sea defence!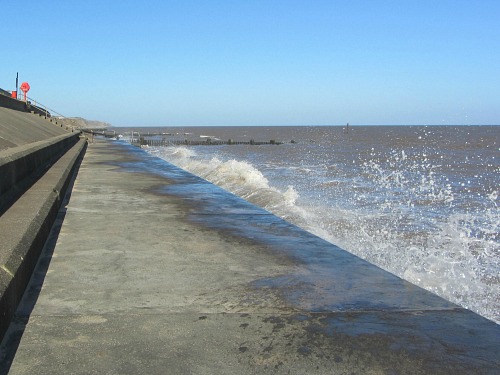 At one point my heart sank again as I went through yet another static caravan park and even a little coastal village which was like a caravan park but with brick houses!  These are very obviously unavoidable, which is fair enough, but for me, it's the vast expanses of sand, salt marshes and cliff faces that do it for me, not walking through caravan parks.  Enough said!

Having passed these sites, I was now heading towards a huge church, a few pills boxes and the top of the iconic Happisburgh lighthouse.  I could see this siloutte from way back in Walcott.  I love this lighthouse and just wanted to see it in all its glory.  It sits on the horizon and is pure magic, probably the best lighthouse in the UK.   You can go up to the top when it's open too.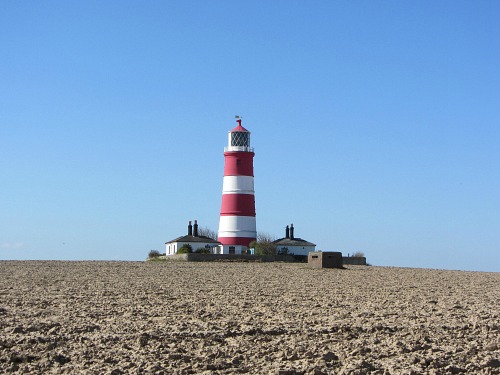 I did take a moment to sit at one of the picnic tables and admire the view out to sea, as well as the lighthouse of course!   This was about half way for my walk, so I was happy to stop here.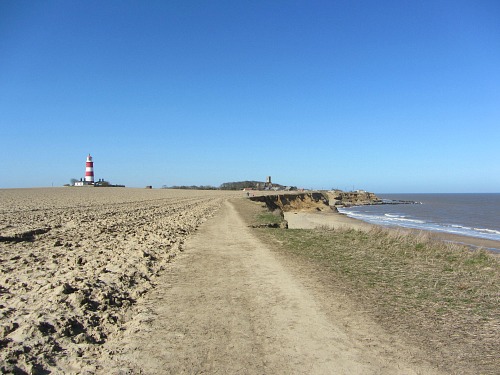 Once I'd had my fill of the lighthouse, I continued on towards my final finishing post, Sea Palling. This was all fairly straight forward, a little bit of track around Cart Gap and then onto the sea defences once again until I reached the wonderful golden sands of Sea Palling with the purpose built reefs standing proudly just out to sea, protecting this small village.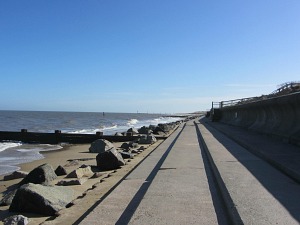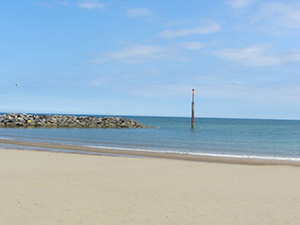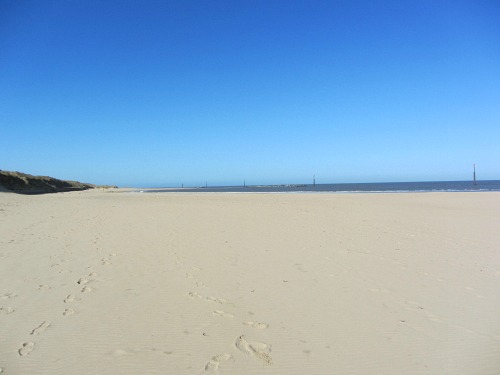 Day 1 Hunstanton to Brancaster Staithe
Day 2 Brancaster Staithe to Wells-next-the-Sea
Day 3 Wells-next-the-Sea to Cley
Day 4 Cley to Cromer
Day 5  Cromer to Mundesley
Day 6 Mundesley to Sea Palling
Day 7 Sea Palling to Caister
Day 8 Caister to Hopton