Norfolk Coast Path Blog Day 2

Brancaster Staithe to Wells
11.6 miles
Day 2 started well, with bright blue skies again, making it wonderful for taking far too many pictures!  As I set out from Brancaster Staithe Quay, I saw a couple of men working hard at a machine.  I couldn't resist going to see what they were doing.  They were friendly fishermen, grading mussles.  They willingly told me what they were doing, how they sort out the mussles, then put them into purification pools and eventually sell them, locally and as far as Lowestoft.  This was a great start, true Norfolk fishermen earning a living with some of the best seafood on the coast.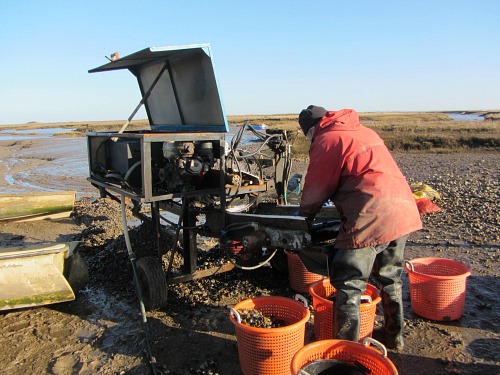 On I continued, and I was very glad I had the binoculars to hand.  The wildlife on this stretch of the walk was incredible.  I saw copious amounts of redshank and, my favourite, the curlew.  There was a whole host of them, wading on the muddy creeks, digging deep with their extremely long beaks.  Wonderful to watch and a real time waster, but a good one at that.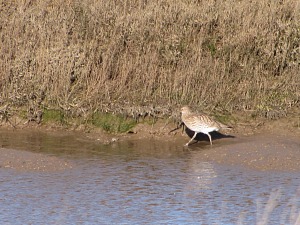 The Deepdale Marshes produced yet more wildlife in the form of Brent Geese.  They were on display, just like yesterday, and the noise coming from them was a real treat to behold, watching them let the thermals take them serenely down onto the meadows.  It really was a magical time, and no one else around to speak off.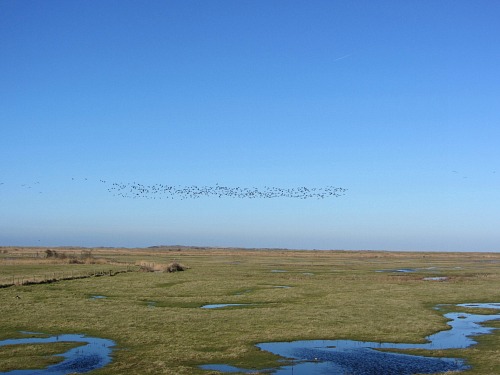 I could see the Burnham Overy Windmill coming into view, the six storey windmill with its sails sitting splendidly on the horizon.  I was nearing my lunch stop.  I decided today to have a packed lunch, so carried on walking around to the quay and sat on a bench, watching the wading birds digging in the mud flats, the little rowing boats tipped onto their sides waiting to right themselves when the tide came in.  It was pure bliss!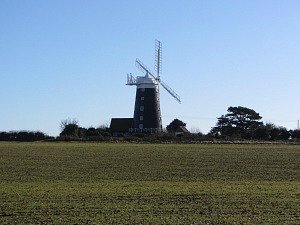 Norfolk Coast Path Blog Afternoon Day 2

This next stretch of walk is quite a popular one as its very flat easy walking.  As I got further out to the sand dunes, I took a moment to look behind me at the wonderful view of Burnham Overy Staithe in the distance, looking very much like the typical flint stone fishing village perched on the edge of the harbour.   It was very picturesque.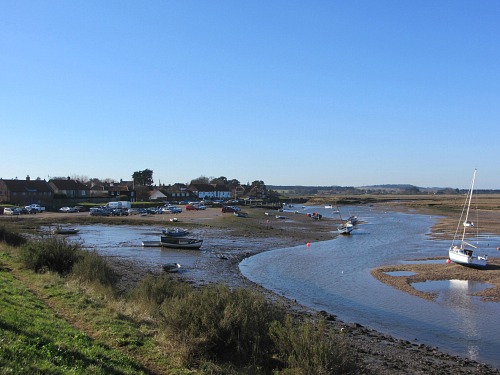 This stretch is also very popular for bird watchers as it teems with all sorts, from wading birds to owls – too many more to mention!  But if you stop and ask any of the birders what they're looking at, they'll happily tell you, or may even let you look through their large telescopes (if that's the right word!).  I was lucky enough to be shown an incredible short eared owl on this stretch, it really made my day, it was beautiful.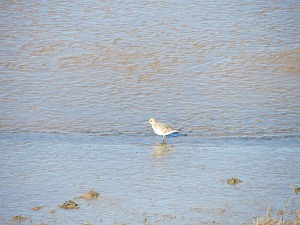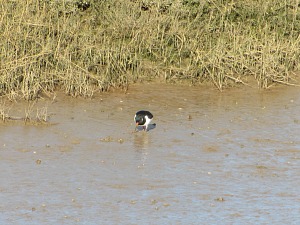 Finally I arrived at Gun Hill, after having watched a display of knot doing their usual spectacular, as well as yet more geese honking away, along with a few pink footed geese still left.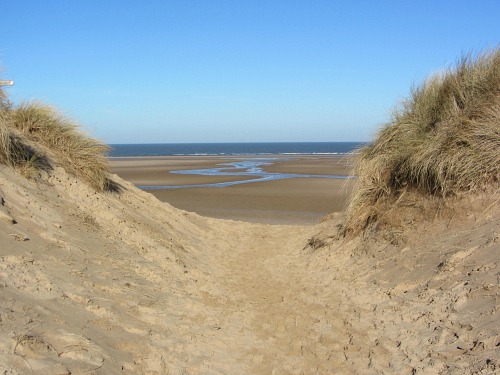 The gap in the dunes opens up into the most amazing scenic view of the beach that goes for miles towards Holkham and Wells.   Bizarrely there is a lone Norfolk Coast Path Trail marker in the sand dune! (This has now been updated to a more modern wooden sign).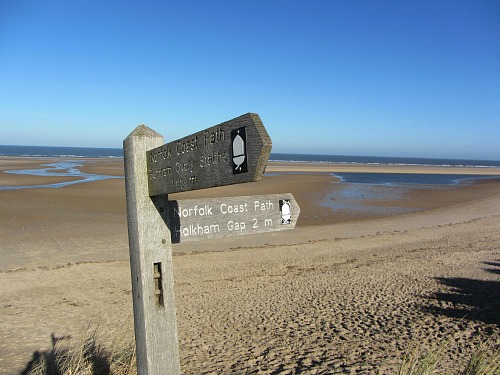 I wandered up and down and in amongst the sand dunes to eventually reach the beach and walked along here towards Holkham for a while.   I did have a little lie down in the dunes with the sun warming my face, and rested my legs, it was heaven! 

Onwards I then went.   I decided to continue along the beach, finding the hard sand slightly easier to walk on, rather than on the landward side of the dunes.  I just love seeing the huge open wide beach, huge skies, amazing.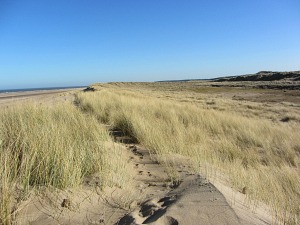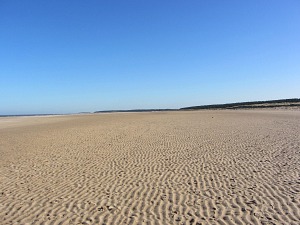 After a while I did head inland to walk amongst the sand dunes and then the pine forest and eventually arrived at the Washington Hide on the Holkham Nature Reserve to rest my legs again.  Nothing was really forthcoming in the way of birdlife from beyond the hide, but never mind.   The weather was still fantastic which was lovely, and I carried on to St Anne's Drive, behind the pine woods and walked all the way to Wells beach.  The café in the car park was crammed with people, so I decided I'd make it into Wells town to find a good cup of coffe and a flapjack, Wells Deli provided this for me.  

Finally arriving in the town of Wells-next-the-Sea, I realised that I was a million miles away from the start of my walk this morning, Brancaster Staithe being the quiet unassuming fishing village where life goes on with or without visitors and nature comes out in force.  Here at Wells, it was humans out in force!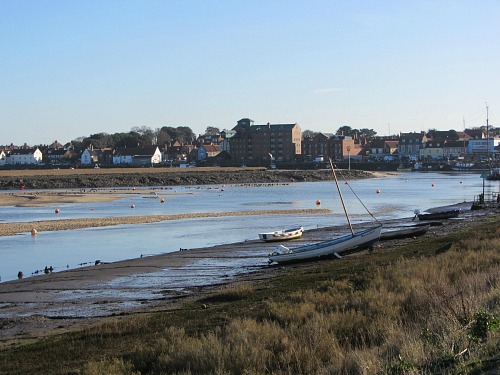 I'd completed Day 2, an extremely enjoyable walk with wonderful views and wildlife yet again.  My favourite stretch today was the bit from Brancaster Staithe to Deepdale Marshes, the swathes of salt marshes and the little boats tilting on the mud just summed up North Norfolk to me.

Day 1 Hunstanton to Brancaster Staithe
Day 2 Brancaster Staithe to Wells-next-the-Sea
Day 3 Wells-next-the-Sea to Cley
Day 4 Cley to Cromer
Day 5  Cromer to Mundesley
Day 6 Mundesley to Sea Palling
Day 7 Sea Palling to Caister
Day 8 Caister to Hopton