Norfolk Coast Path Blog Day 3

Wells to Cley
10.5 miles
I started off early today with the wonderful morning sun glistening on the high tide in Wells Harbour, surrounded by fishing boats and all sorts of other sailing boats bobbing on the water.  I ambled along the East Quay, past a few bed and breakfasts and the Wells Sailing club, following the track which took me in amongst the fishing sheds with lobster pots and fishing nets stewn around about.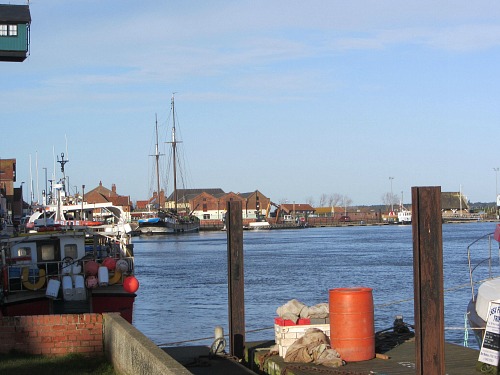 Up I went onto the sea wall and followed this, occasionally stopping to look back towards Wells and the beautiful picture it gave me.  It was quite windy today so I didn't spend too long loitering, although I did end up stopping and starting quite a bit as the wildlife was yet again fantastic – that's three days in a row!  A cetti warbler was showing off to me, hopping from branch to branch, and then I had the magnificent sight of a barn owl intent on finding its prey.  It flew right in front of me, what a majestic bird, and so beautifully patterned.  I was really pleased to have seen this.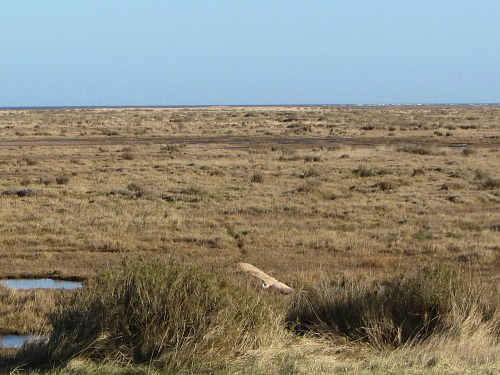 This stretch of the Norfolk Coast Path is fantastic.  Miles and miles of salt marshes with the resident egrets sheltering from the wind behind the sea lavender and curlews rummaging in the mud, lots of Brent geese, a few oyster catchers and redshank, so much to keep you occupied.  I can never get enough of this seamlessly endless flat stretch of marsh that opens up in front of your eyes, and it's only broken up by huge blue skies.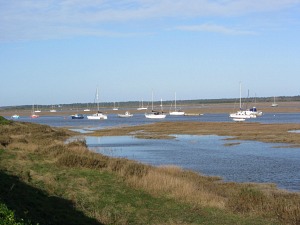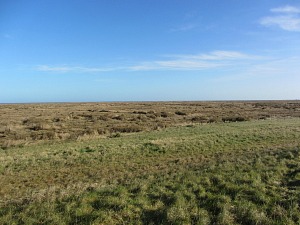 This path meanders along the edge of the marshes all the way to Skiffkey, where you could stop for a coffee and cake!  I carried on as it was seemingly getting windier by the minute!  The stretch from Stiffkey to Morston brings you right down to the edge of the beautiful creeks until you eventually come to some smaller paths heading towards the Quay.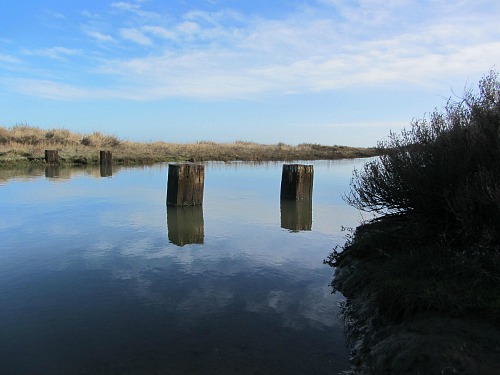 What amazed me was watching the speed with which the tide was going out, almost rushing water heading towards the sea.  Quite frightening if you veer off track into the marshes (not a good idea), and so easy to see why people get stranded here, as well as on the Norfolk beaches.

Rounding one corner from Stiffkey Marshes, there in front of me was Blakeney Point and the iconic blue Old Lifeboat House.  What a sight, and I even saw a few seals on The Point.  It kept me enthralled until I reached Morston Quay.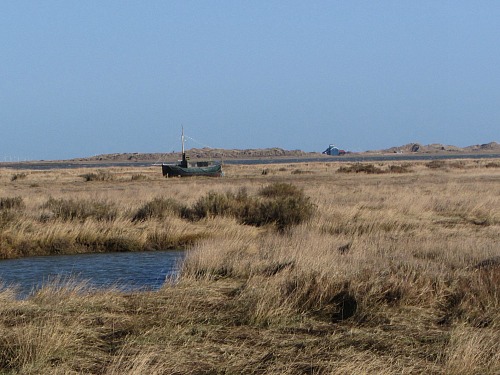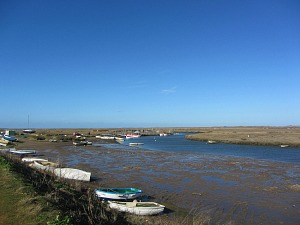 I knew this quay quite well, having taken a few boat trips to see the seals and to go onto Blakeney Point, so I carried on without a rest.  But the views up the creek are wonderful and there are a couple of benches where you can take in the landscape whilst enjoying a little break.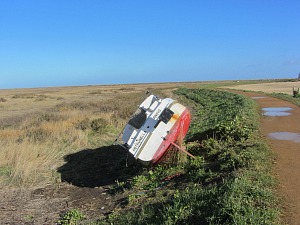 The next stretch was easy walking from here to Blakeney.  I ended up chatting to a local resident who was walking her dog.  She never tired of the views, I'm not surprised!  We were wondering why there were so many derelict boats out in the marshes and why they weren't taken away to the ship graveyard?  One boat nearby had obviously been stuck on the bank since the tidal surge in December 2013.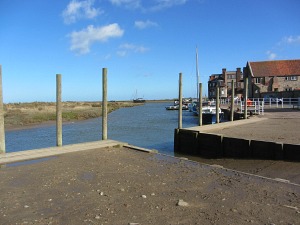 We soon came off the coast path into Blakeney with its picturesque quay and the Blakeney Hotel sitting resplendently overlooking the marshes.  I was going to stop and wander into Blakeney, but if truth be told, it was so cold and windy I decided to continue on to Cley – I could see Cley windmill from the sea wall, it was too tempting, I felt it was calling me! 
The next stretch from here to Cley is called Blakeney Freshes, and this is a popular walk, and there were a few people out today. It's very easy walking with wonderful views either side of the wall of the sea defence.  It didn't take me long to walk from Blakeney to Cley, the windmill the focal point of this stretch.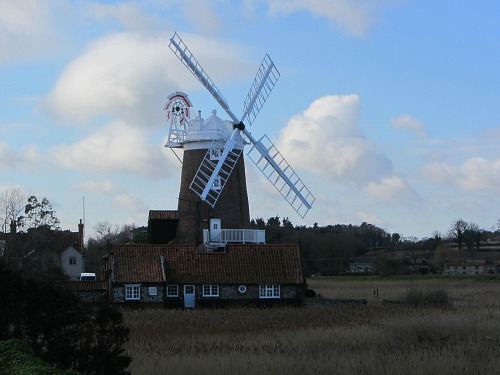 Finally I arrived in Cley, a very pretty flint stone village where I could have picked up some delicious potted shrimps but instead had a good sandwich and drink in The George.  A very windswept but beautifully sunny day full of fascinating wildlife yet again, and some views to absolutely die for along these stunning salt marshes.

Day 1 Hunstanton to Brancaster Staithe
Day 2 Brancaster Staithe to Wells-next-the-Sea
Day 3 Wells-next-the-Sea to Cley
Day 4 Cley to Cromer
Day 5  Cromer to Mundesley
Day 6 Mundesley to Sea Palling
Day 7 Sea Palling to Caister
Day 8 Caister to Hopton
---
Wondering What To Do In Norfolk?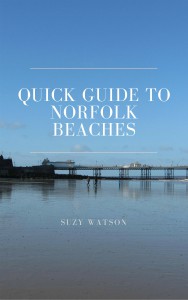 JOIN OUR NEWSLETTER and  keep up to date with 4 different tips every month for enjoying what Norfolk has to offer.
By signing up to our free newsletter, you can keep up to date with all the many and varied attractions this wonderful county has to offer.  Each month will bring something new!  You can also get a free download of our "Quick Guide To Norfolk Beaches"

Just fill in the form below, or visit the Newsletter page for more information.