Watatunga Wildlife Reserve
Watatunga Wildlife Reserve
Watatunga Wildlife Reserve is a completely fascinating new nature reserve in the heart of rural Norfolk, equidistant between Downham Market and King's Lynn just outside the village of Watlington. 
It is set up for the primary purpose of protecting endangered deer, antelope and birds, but also has excellent guided tours which take you around the reserve to view some extraordinary animals that you wouldn't normally see in Norfolk!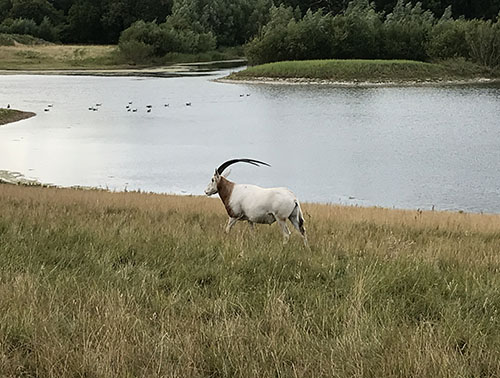 About Watatunga 

Watatunga opened in July 2020 after many years of planning by the owner and local farmer, Ed Pope.  Having a love of wildlife and a fascination for Africa together with recent trips to Africa, Ed became very aware of the fact that habitat and hunting were endangering some of these incredible animals, and hence Watatunga was founded. 
Although more of the well-known animals such as elephants, tigers and rhino's get lots of media coverage, these deer and antelope rarely make the headlines, so Watatunga Wildlife Reserve is a place where these lesser known animals can begin to breed successfully with careful and specific breeding programmes in place.
Watatunga is managed by a very dedicated and knowledgeable team, and you will definitely come across some of them when you take one of the guided tours.  You can see more about the team behind the conservation work and the running of the reserve here.
Although it's a conservation reserve, Ed, his family and his co-workers are now giving the general public the chance to come and visit, see and learn about the work on an amazing tour of the reserve and believe me when I say you'll be in for a treat.  
The reserve concentrates mainly on the conservation of ungulates, birds and ducks.
But what, you may ask, are ungulates?  I certainly had to look it up!  The word means large animals with hooves.  But these aren't any deer or antelope, they are endangered, and many of the ungulates at Watatunga are from Africa and other subcontinents such as India.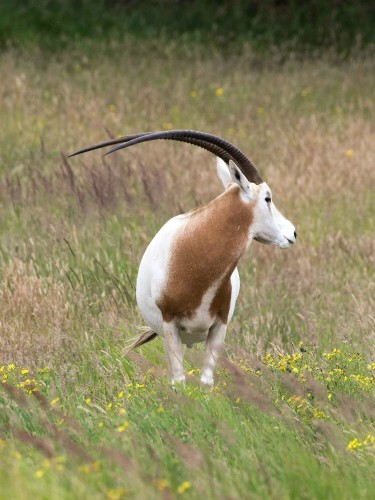 Scimitar Horned Oryx
Watatunga's Conservation Work

Watatunga Wildlife Reserve is set in 170 acres of lovely meadow, woodlands and wetland and is home to Europe's largest collection of deer and antelope.  Their aim is to encourage young people to go on to further education and become involved with the "conservation for tomorrow" so are collaborating with universities and research organisations as well as running breeding programmes.  
Their forward thinking means they are also engaging with schools in the hope of bringing the curriculum to life and encouraging young children to learn about these animals and their threatened habitats and hopefully move on to further education in these scientific areas.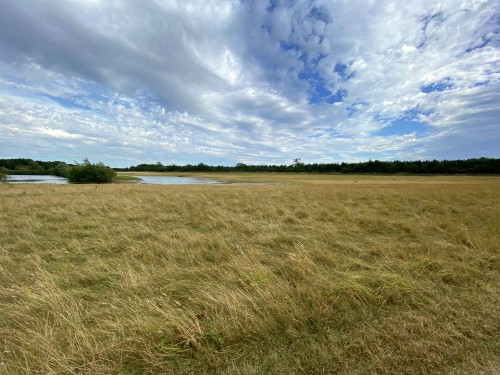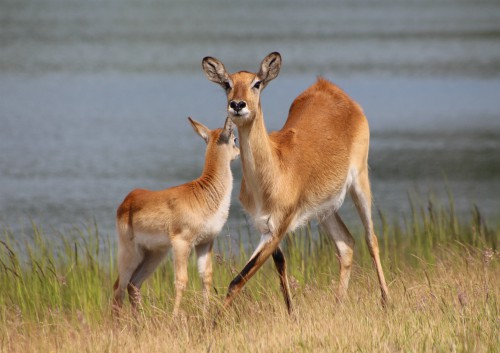 Kafue Flat Lechwe
As well as ungulates, you'll also see some wonderful bird life (and more to come over the years) such as storks, rare pheasants, ducks and the amazing Great Bustards.

Silver Pheasants
The Great Bustard certainly stole the show when we went on our tour!  This is the only place in Norfolk that you'll see an example of this wonderful looking bird.  The last one in the UK was shot in 1832 and Ed is currently involved with the international collaboration to reintroduce this bird back into the UK.  You'll get a good explanation about the life of the Great Bustard when you tour the reserve!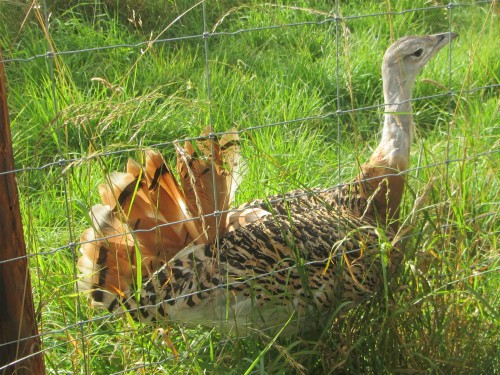 The Great Bustard
Where Did The Name Watatunga Come From?

I was intrigued to hear where the name Watatunga came from because it's certainly not a very Norfolk name!  It's the combination (portmanteau) of two words; Watlington, the village where the Watatunga Reserve is situated, and the Sitatunga antelope which is from South Africa and which they have on the reserve.
Watatunga Guided Tours

The only way to see these endangered species on the reserve is to book one of Watatunga's amazing guided tours which you can read more about here.  These tours last for 1 ½ hours and are excellent, something completely different in this county and extremely informative.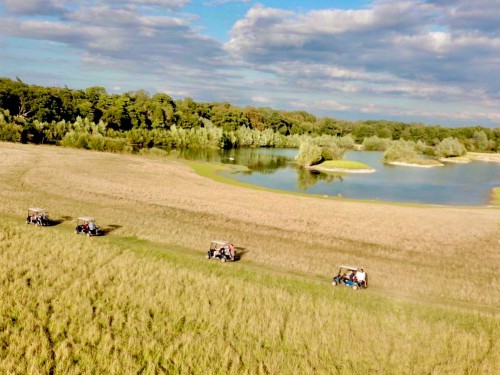 Due to Covid-19 restrictions, it has been necessary to start the opening tours with golf buggies, which, incidentally were great fun.  However, they do have 2 safari trailers which they will be using when they get the go-ahead to use.
Your guide for the tour gives a brief introduction before you start off which is very informative and tells you exactly what you can expect.  The important thing to remember is that, nature being what it is, you never know what you might see, even if it's a swimming swamp deer!  And obviously it depends on what the animals feel like doing the day you go for your tour, but generally you should see a very good number of unusual ungulates, birds and ducks.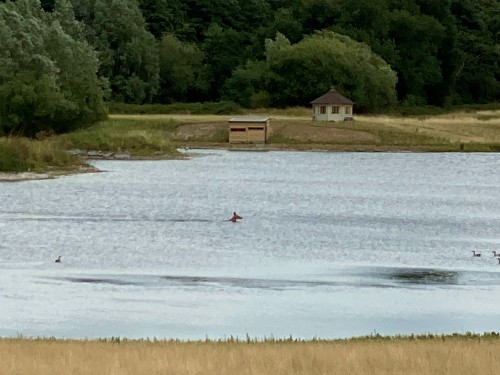 The swimming Swamp Deer!
Our tour guide was the incredibly knowledgeable Dee!  The guides here at Watatunga really do bring the tour to life and also get across to you the importance of what this Watatunga Wildlife Reserve is trying to achieve in terms of proper conservation i.e. breeding with the right stock and getting the genetics right. 
It's really informative and friendly but not like a science lesson!  When you hear about how one particular species should have horns curling right behind their ears but have been "bred" in other places without the proper genetics so the horns are not where they're supposed to be, it really gets you thinking.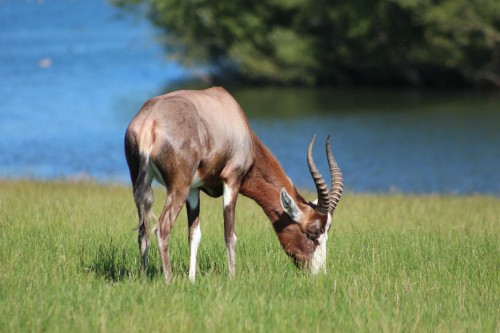 The buggies have a speaker system so you can just sit back, relax, watch and listen to everything being said.  You're also equipped with a little booklet in the buggy which tells you about each of the animals on the Watatunga Wildlife Reserve.  This was actually really helpful, it's like putting a name to a face!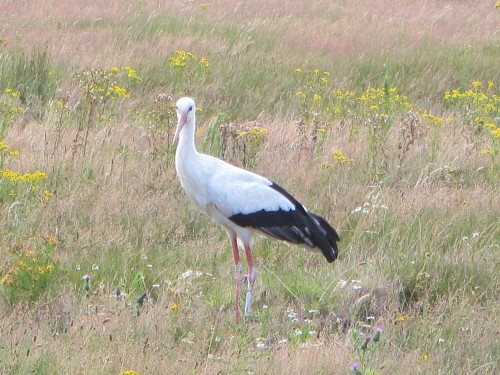 Stork
There's no guarantee that you'll see every animal that they have on the reserve, but you'll definitely get a good look at most of them, that's for sure!  And even if you think you can't see something, the excellent tour guide Dee will spot something anyway!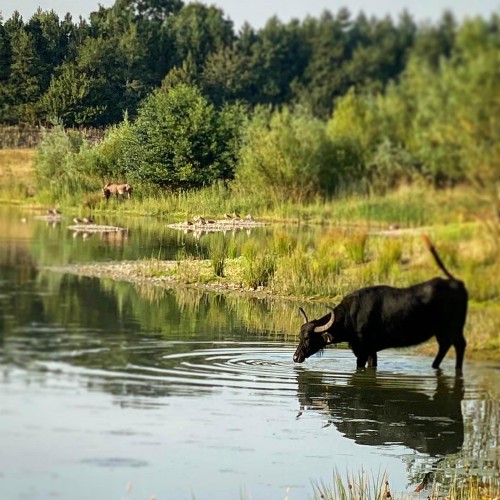 Water Buffalo
At present, the tours are arranged in the morning and the late evening in order to give you the best chance of seeing the animals.  All you need to do is go over to the booking page and you can choose a slot.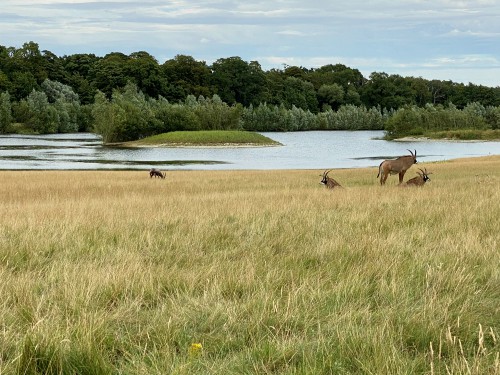 You'll see that all the animals are completely at home in their natural environment and they are all allowed to roam unrestricted.  
Coming on a Watatunga Wildlife Reserve guided tour is also a fantastic chance for photography and to catch some stunning photos of animals not usually seen in Norfolk.  Unfortunately, I am not an expert photographer, but I have seen some incredible photos taken by others, particularly on their Instagram page.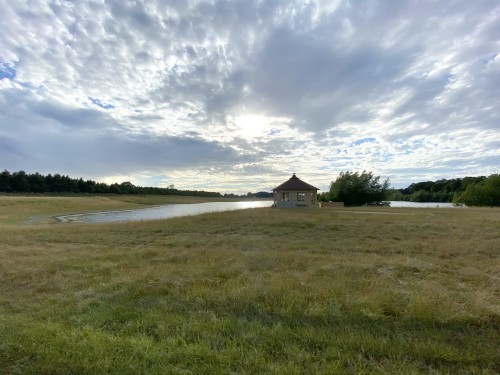 Private Tours are also available, and over the next few years they will be expanding their facilities in and around the reserve which will be an excellent addition to this already fascinating reserve.
The White Stork
The animals I was very lucky to see were the Water Buffalo, Mouflon, the Roan Antelopes, the Swamp Deer (who swam across the lake), the Scimitar Horned Oryx which became extinct as it was hunted for its horns, the Lechwe deer, Blesbok and Romel the Great Bustard as well as some others.

Contact Information

Watatunga Wildlife Reserve is only open to visit via guided tours or private tours.  You can send them a message here on their contact page or go to guided tours page to book a tour.
For prices and bookings, please click over to the Watatunga website here.
Self catering accommodation is also available which you can find here on their website.  If you book the accommodation, you also get your own private guided tour of the reserve. 
The reserve is situated just outside the village of Watlington, half way between King's Lynn and Downham Market.  
Watatunga Wildlife Reserve
Taking a tour of Watatunga Wildlife Reserve really is an amazing opportunity to watch and learn about some wonderful but endangered species and to have a most unusual morning or evening out!   It is certainly something you just wouldn't expect to see in Norfolk.