Pensthorpe Waterfowl Park
Pensthorpe Waterfowl Park

Pensthorpe Waterfowl Park, or Natural Park, was not at all what I was expecting!  I can't quite put my finger on it, but I think it's because I was expecting to go to a dedicated Nature Reserve full of birds you usually see at a Nature Reserve!  
My thought, as I was walking around, was that it was a mix between a zoo, a farm and a nature reserve, all a bit strange, so be prepared for the unusual.   I wasn't expecting to see exotic and unusual wildlife such as flamingos, cranes and red squirrels!
Conservation is of huge importance here.  If you understand that, you'll understand the significance of Pensthorpe Waterfowl Park.
It's one of the great Norfolk outdoor attractions, and was the winner of Norfolk's best large visitor attraction 2014 at the EDP Tourism awards.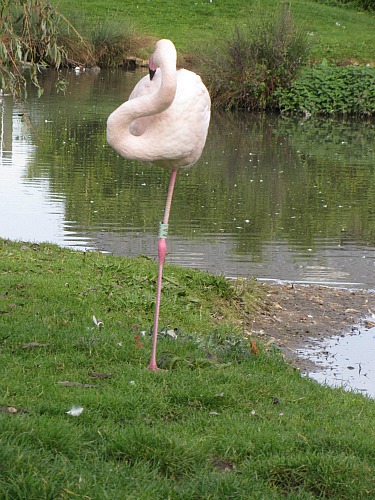 The Flamingos at Pensthorpe
Pensthorpe Waterfowl Park 
There is so much to see and do at Pensthorpe Waterfowl Park that you can easily spend all day here.  You'll find most of the places of interest below: 
Pensthorpe Conservation Trust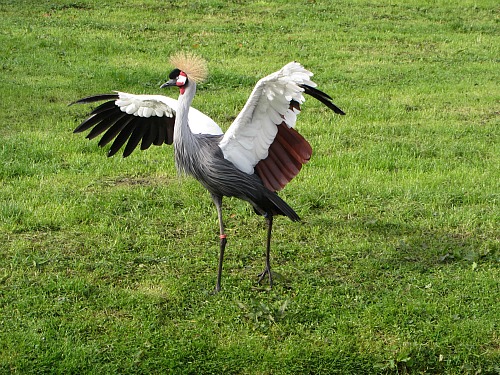 East African Crane
Pensthorpe Waterfowl Park is the home of the Pensthorpe Conservation Trust, and I think, first and foremost, you have to remember this when visiting here.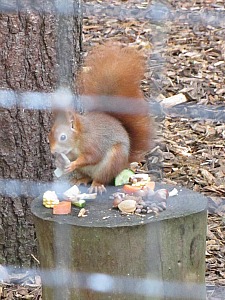 Set up in 2003 and continuing the work of its predecessor (the Pensthorpe Waterfowl Trust) the work they do is very obvious as you walk around the reserve.   The Trust particularly focuses on the endangered species associated to wetlands areas, which is exactly what this area in Norfolk is.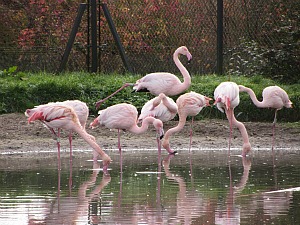 Many of the species you'll see here are globally endangered, and Pensthorpe work hard to bring these species back by captive breeding.   Red Squirrels  are one example, Cranes  are another, both of which you'll see at Pensthorpe, along with many other species.  This is an incredibly important site for conservation and captive breeding, and many of the animals are here for that purpose alone.   You can read more on the Pensthorpe Conservation Trust here.
Mill Pond
Pensthorpe Waterfowl Park is an area covered in meres (lakes which are broad in relation to their depth).  Starting at the visitor centre, you'll walk out onto pathways which take you around the whole of the reserve meandering in and around the many meres, woodlands and Conservation areas.  
Mill Pond is the first mere that you'll come across which is teeming with a whole host of ducks and geese.   Waterfowl are definitely in abundance here which is wonderful, especially if you bring along children.  They will love feeding them, or watching them walking around on the paths, or swimming in the water.  They're all quite tame and don't dash off the moment you reach them!
Here's something for the children - you can buy bird feed at the shop and spend ages feeding the ducks and geese, many of them very unusual.  Mill Pond is also where the warden carries out the evening feed which is when the water becomes covered in hungry waterfowl.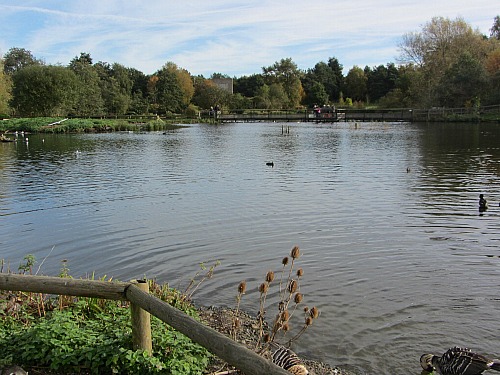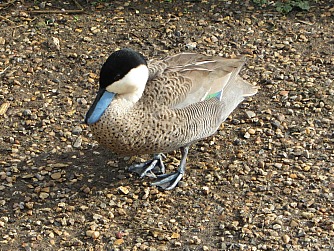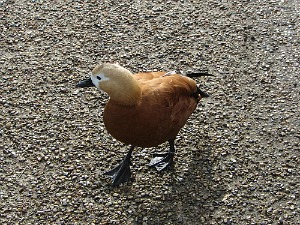 There are information boards dotted all over Pensthorpe, a great resource for adults and children alike.   You definitely need them, as what you will see are not your everyday bird or wildfowl species!
Unusual Species at Pensthorpe Natural Park
Having visited the Mill Pond, I would then suggest you walk round in a huge circle and walk for a long as you're able!  You'll come across all sorts of interesting nature. 
Red Squirrels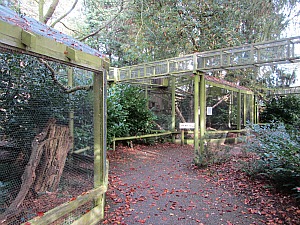 This is of particular interest to Pensthorpe Waterfowl Park as their numbers seriously declined when the grey squirrel was introduced into the UK.   The captive breeding of these squirrels is part of a national breeding programme.
Here they run around a wonderful wooden enclosure, jumping up onto the wire to greet you, and then running away again. It's really lovely to see them looking so healthy and vibrant. 

Cranes
These are extraordinary birds, and you'll get a very good chance to see lots of different ones here at Pensthorpe.  The Eurasian Cranes (or Common Crane) were extinct in the UK in the 17th Century, but thanks to various projects, they are now breeding again (but in small numbers). There are in fact wild cranes at Pensthorpe.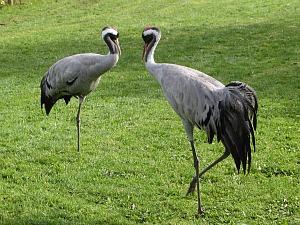 Manchurian Crane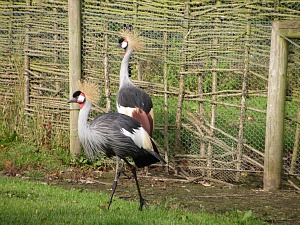 East African Crane
You'll have a chance to see all these Cranes close up from one of the 3 Crane hides.   Each hide has different species of Crane walking around in their own enclosure, and one of the hides showcases the very ugly Ibis!!
Longhorn cattle
I was fortunate to see these cattle on my visit to Pensthorpe Waterfowl Park because I took the Wensum Discovery Tour, and the Longhorn cattle were in one of the fields we drove into.  These fields are shut off to visitors who don't take the tour.   This traditional breed of cattle, who graze off the meadow areas, are part of the ethos of Pensthorpe using wildlife friendly farming.  Another place you'll also see Longhorn cattle in Norfolk is if you walk along the Pingo Trail near Thetford.
Flamingos
This will be one of the highlights, as you usually only get to see these in zoos, but here at Pensthorpe Waterfowl Park they are in the middle of Norfolk!  The colour of their beaks is amazing, it's almost like pink plastic, and the noise they make as they search for food in the water is incredible. It's an incessant swishing sound, very unusual.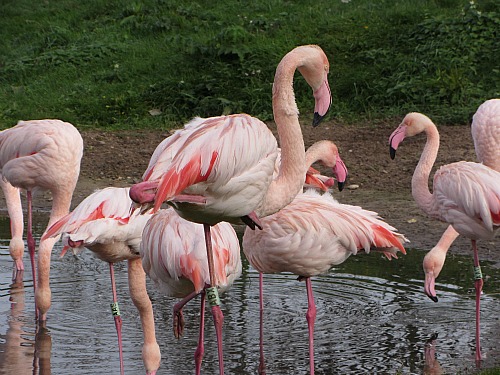 Millenium Garden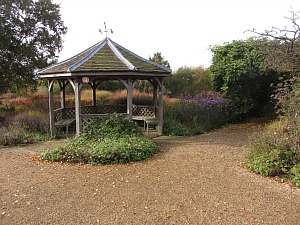 As you finish your visit to the Conservation Area, you can then wind your way through the Millenium Garden.  As with any garden you visit, if you're a gardener I'm sure you'll find something to look at, but if not, it's a pleasant area to walk through, or you could spend some time sitting in the pagoda and admiring the surroundings.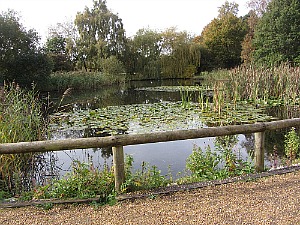 The Millenium Garden at Pensthorpe Waterfowl Park sits on the edge of one of the lakes, and reminded me a bit of Gooderstone Water Gardens, with the lily pads and willow trees.  I suppose the best time to visit the garden would be in April/May/June time when the colours would be wonderfully vibrant.

Woodland Walks, Bug Trails and Hides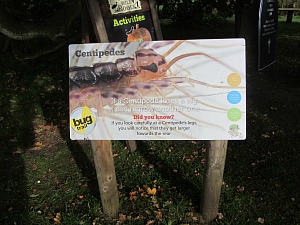 I'm a bit old for Bug Trails (!) but as far as I could see, this is a great idea for children.  There are lots of information boards dotted around the Reserve, and I have to say I did learn from one of them – if a centipede loses its leg, it can grow another one!  Perhaps they're not just for children then!
Wandering through the woodlands is a very pleasant and peaceful stroll.  You can stop off at one of the bird hides in amongst the woodland and watch the birds eating from the feeders.  I saw a nut hatch, one of my favourites, along with pheasants, marsh tits and blue tits and a few others.   

Continue wandering along the paths, or take a diversion to see the hides on the west side of the reserve, where unfortunately for me, there was very little to see that day.  Perhaps that's why I felt I had to stop at another local Nature Reserve, Sculthorpe Moor on my way back.  But if you don't visit nature reserves, then this hide is a great opportunity to experience what it's like to watch the birds in their natural environment.
Adventure Playground and Hootz House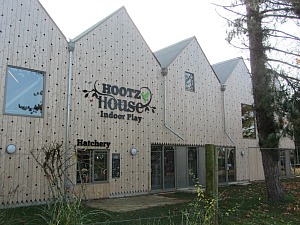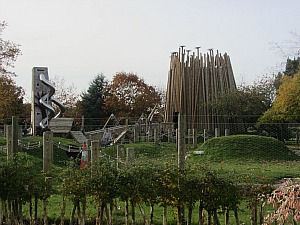 The children's indoor playhouse, Hootz House, and adventure playground, Wild Rootz, is perhaps one of the greatest draws to Pensthorpe Waterfowl Park.  Your children can spend hours playing outside in the fresh air on the many modern and fun play equipment in a fenced area.  
For Hootz House, you need to decide what time you think the children want to enjoy this facility as it's on a timed schedule which you have to book into when you arrive.  I believe this is done to reduce Hootz House becoming too crowded.  Whether you think this is a good idea or not, I'll leave to you.  
The Wensum Discovery Tour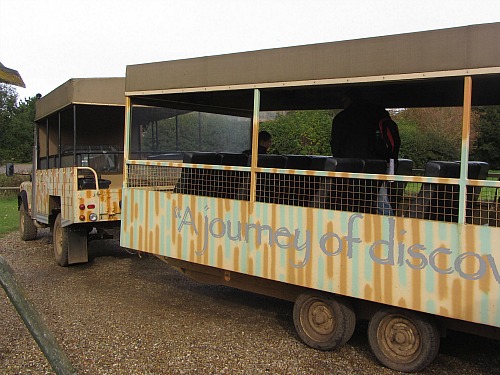 This is an interesting one – should you go on it, or not?  
For me, the thing I gained most from this was seeing how keen the owners were on conservation, rather than the enjoyment of being driven through the fields and woods of the farm.  Although the trip through the fields did put the whole size of Reserve into perspective.
To begin with, before you start the tour, you're given a talk about the village of Pensthorpe and how important it used to be and then about the work they do now.  You then get driven around in a safari type wagon through areas not open to the public.    
If it's cold I suggest you wrap up warmly!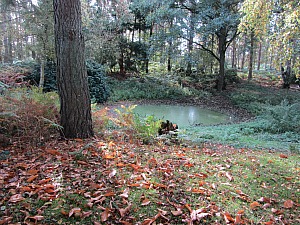 I do feel it's geared much more towards the adults, even though children are given a sheet to tick off the animals or creatures they see.  

You do however get a very good view over the Wensum Valley, you drive past an ice age pingo pond (of which you can see more on the Pingo Trail) and get to see the Longhorn Cattle.  
Refreshments at Pensthorpe
Finally, refreshments!  
The actual courtyard and the building itself has been converted beautifully, one of the outer walls of the restaurant being the remains of the church that once stood in its place.  If the weather is nice, it's a great place to sit outside, however, for a family, it may be an expensive day out, so during the warmer weather a picnic could be a very good idea!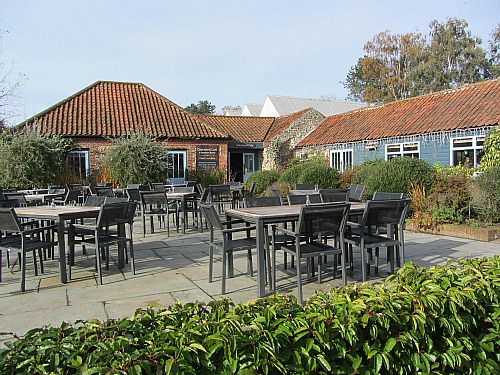 I think, in summary, if you're talking about value for money, Pensthorpe Waterfowl Park is a great place to spend the whole day, but only if you do a bit of research before you go, and when you're there, take the time to explore the whole Reserve, enjoy feeding the birds, and take some time out for them to enjoy the play areas, then it will be a day well spent.
If you're thinking about visiting for a couple of hours, then I would suggest you won't really benefit from all that is here at this incredible wetland area of Norfolk.
Opening Times and Admission Prices
Events
Pensthorpe put on many events during the year and here you can see more things to do and plan your day.
Opening Times
The Courtyard Café is open from 9am, with lots of tasty options, offering the very best in local Norfolk produce.
The Gift Shop is open daily from 9:30am.
Main meals are served between 12pm-2:30pm; snacks and refreshments available all day.
The Park is open daily. Last admission one hour before closing.

10am-5pm (1st March-31st December - WildRootz closes at 4:30pm) 
10am-4pm (1st January-28th February - WildRootz closes at 3:45pm)
For admission prices - click here to take you over to the Pensthorpe website.