Banham Zoo, Norfolk

A Great Day Out
Banham Zoo in Norfolk is a fantastic day out for old and young alike.  With over 2,000 species, it will keep you entertained for hours, you'll learn lots and there's plenty of space for everyone!
Arrival And What's On At Banham Zoo
Parking is a-plenty and it is free!  You won't be stuck for parking places, but if you're visiting in the school holidays, it may be worth pre-booking your ticket for entrance to the zoo as this does cut down your waiting time in the queue.  It's also a bit cheaper to book online as well, always a bonus!
Once you arrive at the payment kiosk and entrance, you'll be given a map which, if you're like us, you'll refer to many times during the day!   You can download the Banham Zoo map here so you can get a head start with working out where you might like to go first!
Throughout the day you'll find a huge variety of excellent and informative displays, events and talks from sea lion feeding talks to birds of prey displays, all of which you'll be told about when you arrive.   You can also check  them out here.
There are so many animals that it actually doesn't matter which way round you go, back or forth, as at some stage you'll eventually work out where you are and which animals you've seen (!) but it's definitely worth holding on to the map for the day, just to get your bearings.

The Zoo sits in 50 acres of grounds just south of Attleborough in Mid Norfolk.   Due to the vast acreage, there is ample space for everyone, and never once did we feel crowded.  I went on a busy summer's day with my 20 something-year-old daughter, and we never felt like we were craning our necks to see anything, or bumping into people and we both LOVED it!  
The whole zoo also is pathed or tarmaced so it's excellent for pushchairs and wheelchairs.   The only place where it probably isn't suitable is the woodland walk – self explanatory.
And if you don't feel like walking too far, then you can catch the fun Safari Roadtrain (not adapted for wheelchair use) which will let you explore the grounds of the zoo whilst just sitting and enjoying the passing attractions!
The Animals
I'm not sure where to start on this one, there are so many.  
In fact there are over 2,000 species at Banham Zoo.  
They all live in wonderful environments, lots of space to roam around where needed and there are excellent viewing areas, especially for seeing the larger animals such as the tigers, leopards, giraffes and camels etc.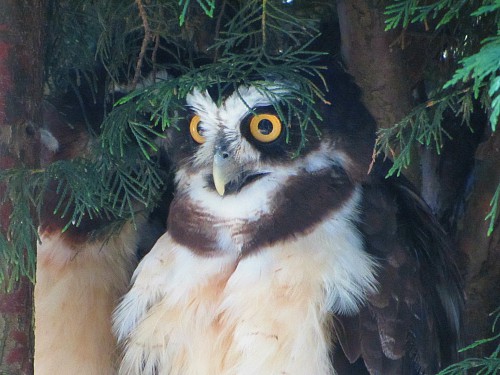 Giraffes at Banham Zoo
The giraffe enclosure is one such example of how excellent all the viewing platforms are at Banham Zoo.  This one allows you to get up to the same level as the heads of the giraffes and has a fantastic walk-way where you really do get an amazing view of them.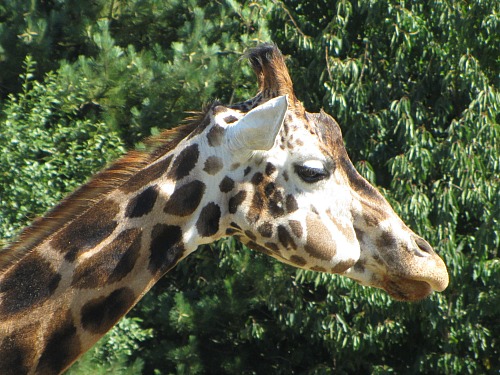 Lemurs, Penguins, Marmots, Meerkats And More...
You'll have time to wander through the lemur enclosure and the penguin enclosure, or watch the marmots running around in their massive enclosure.  You can also get up close and personal to those amazing meerkats!  It is brilliant!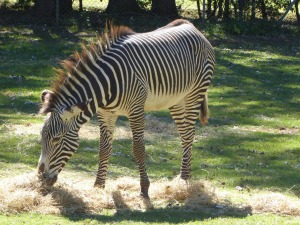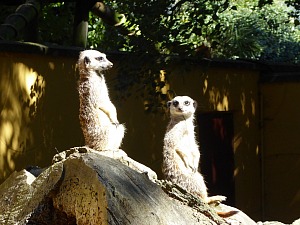 And if you thought you'd never get a chance to see a camel, a kangaroo, an emu or a zebra, well get on down to Banham Zoo!  
The stunning pink flamingos are also languishing in their pool, and a Ugandan crane next door would like to join them but unfortunately is on the other side of the fence in his own enclosure.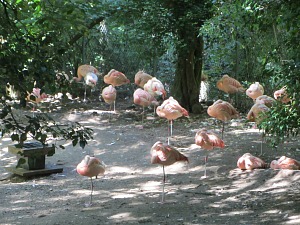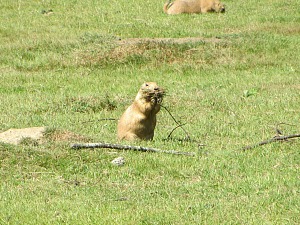 The tigers and leopards were basking in the sun the day we went, but we still managed to get a good look at them, and the monkeys were busy over our heads scuttling along the metal caged bridge!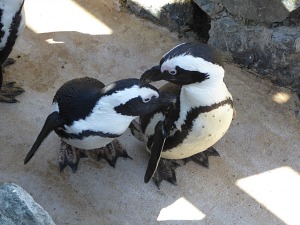 Bird Of Prey at Banham Zoo
As for the owls and birds of prey – well we got very close to them too, watching them move their heads in time to us moving our heads which was very amusing, and seeing the bald eagle having a bath in the water after he'd taken part in his Birds of Prey display.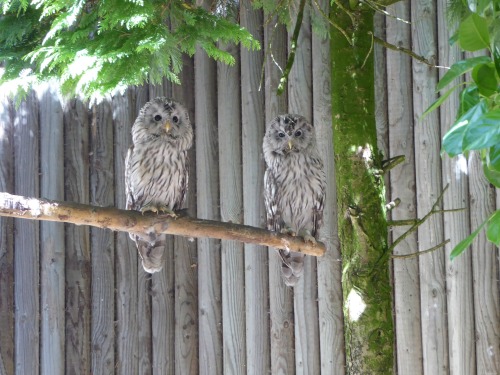 There is so much to see here and so much space for both the animals and you, the visitor.  All the animals are so well cared for and the volunteers and staff are really helpful, friendly and knowledgeable too.  They were very willing to talk to us and give us information and to give us their time.
You'll also get a chance to see domestic animals such as those adorable guinea pigs, kune kune pigs, and llamas, and some of these are in Farm Barn where you can stroke and touch them - always a bonus to be hands on, whatever age you are!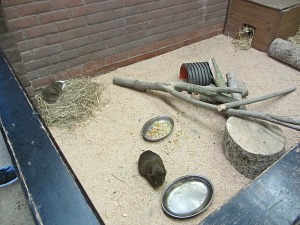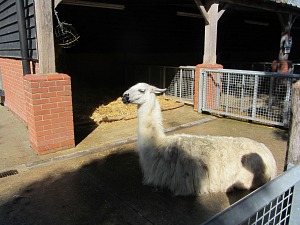 Eating at Banham Zoo
There are various snack shacks and cafes to eat around the site, and one main building called the Parrot Pavilion which is covered - great for the shade or rain!  It will depend on what time of year you go as to whether the snack shacks are open so bear this in mind.   I have to say I didn't think the food was amazing, but it was OK.  Think fast food and you'll be OK and they do have a children's menus as well.  
They also cater for gluten free as well as having healthy options such as soup.
 Or alternatively, what you could do is bring a picnic and sit on one of the many tables around the zoo.  If you're coming with a family, this may be a cheaper option.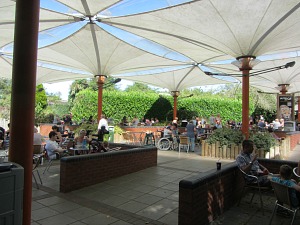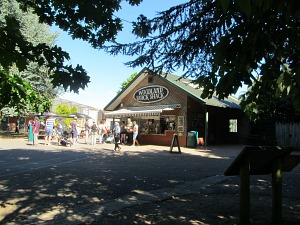 Fun activities for the children, and adults!
Apart from all the animals that you'd expect to see at a zoo, you'll also have some time to be amused by other attractions.
There are zorbs (those huge round balls you get in and roll around in!), there is a high ropes course called Sky Trek, you'll almost be on the same level as the giraffes with this; both of these are additional charges and are seasonal, as well as having some restrictions (for more information on this you can visit the Banham Zoo website.

And if your children are really wanting to let off steam, then take them to Tarzan Towers which is an adventure playground which is free.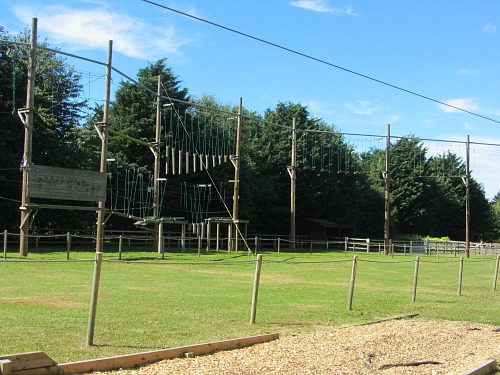 Sky Trek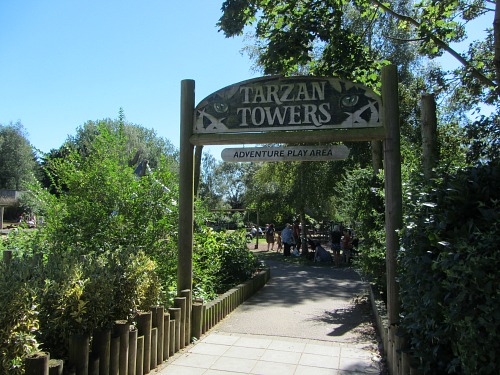 Conservation at Banham Zoo
In order to get the most out of Banham Zoo, it's important to remember that it is a conservation zoo.  Established in 1968, Banham Zoo is an active member of the worldwide conservation effort which is why you'll find it such an excellent zoo to visit.  
Conservation is hugely important for many animals worldwide, particularly the endangered animals and with places like Banham Zoo taking part in the European Endangered Breeding programmes, many of these animals will survive.
Another excellent conservation park in Norfolk is Pensthorpe Wildfowl Park.
Banham Zoo is also a ZSEA Zoo (Zoological Society of East Anglia) which is a registered charity operated on a not-for-profit basis.  So by you visiting the zoo and having a wonderful day out, you are also supporting the conservation of the animals in their care and also the animals in the wild.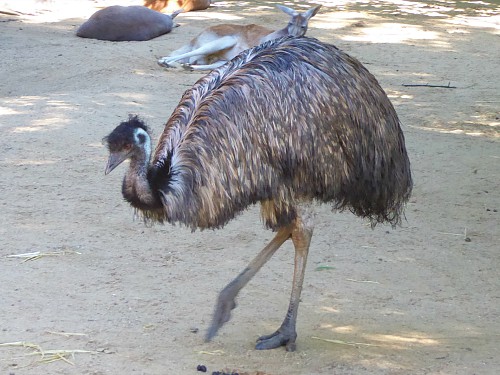 Opening times and costs
As a conservation zoo and with the amount of animals they have here and the work that the volunteers and staff do on a daily basis, it's incredible value for money (I think) and you really do get your money's worth because you can easily stay all day. 
There are a variety of ticket options as well as annual passes.
Banham Zoo is open daily except for Christmas Day and boxing day
For more details on opening times and prices visit Banham Zoo website as times and prices may alter
Parking is free