Google Street View comes to the Norfolk Coast Path and Peddars Way
Google Street View is about to find its way deep into the Norfolk countryside as it takes its 15 sided camera to our two wonderful National Trails, the Norfolk Coast Path and Peddars Way.  It's not enough for this technology to just be on our streets, it's now reached our beloved green and pleasant land!

Yes, you will finally be able to walk both these trails from your computer!  Not what most people would want to do I don't suppose, but is this is a good thing, or have we now become too bound by our computers, smart phones and technology?
As of March 17th, all our National Trails in the UK, of which there are 15, will begin to be Google Street Viewed.  This means that you will literally be able to explore these trails from the comfort of your own home.  
Yes, of course you can already Google Earth it, so what's so different?  
Well, Google Street View will give you a view from ground level.  You can skim along the path as if you were walking it.  Great for those that may feel they need a walk with a cup of tea in their hand sitting in their armchair!  And yes, I do have some pros for the technology too!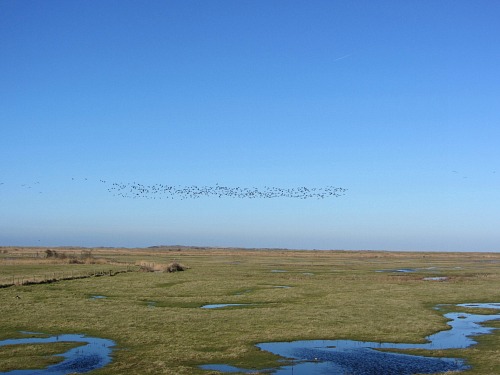 Sponteneity In Walking
Our two National Trails in Norfolk are The Norfolk Coast Path and the Peddars Way.  Both are beautiful and diverse and very different in their own ways.  
The Peddars Way is an historic trail which runs from Knettishall Heath in Thetford to Holme-next-the-Sea and is 46 miles long and follows the old Roman Road.  Parts of it are arrow straight, other parts are through open countryside and woodland.  The Norfolk Coast, also 46 miles long, obviously runs along the Norfolk Coast, taking you along some of the most fantastic beaches, reed beds, salt marshes and cliffs.  
Now, for the first time, you'll be able to see exactly what these trails are really like to walk, from the warmth of your home (as I write this, it is cold outside!).  As a walker, I love to get the map out, maybe even an odd guidebook or two, and plot my walk.  Then the fun begins on the actual walk, maybe longing to see what's around the next corner, or what view I'm going to get over the sand dunes I'm approaching, and so on.  I don't always walk long walks, but if I had looked at Google Street View for the intended walk, I'd already know what to expect.   That's where I think this technology takes the fun out of exploring the walk.  What happened to discovering our countryside with our own eyes and seeing things for the first time?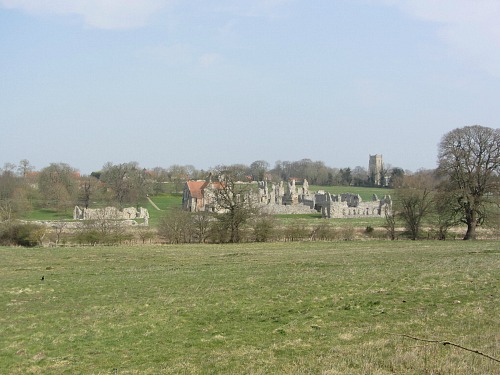 However, to counteract this argument, if you were only intending on taking a short walk, maybe with a dog, or small children, you may want to know in advance exactly what your walk will entail.  Will there be stiles, will the lay of the land be hard going, will there be hills (in Norfolk, probably not, although you'd be surprised!).  So this is where Google Street View will come into its own.
As with all technology, it has its pros and cons.   The 15 National Trails will be walked by trail rangers and volunteers who have a large 23kg pack with a tall Google Trekker camera  (loaned free from Google) and computer equipment mounted onto their back.  Walking the trails will take a long time, as they are only able to cover a few miles every day.  The camera is a large circular ball with 15 individual cameras mounted in it, and the first trail to be finalised is the North Downs Way, with the Cleveland Way next.  
Another Pro of Google Street View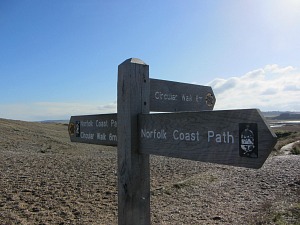 Let's take another example, and I think one which clearly shows where this technology would come in very handy.  Suppose you wanted to walk from Cley to Weybourne (approx. 6 miles) and that you were a visitor to Norfolk.  It's a nice sunny day and you fancy a walk along the beach, but you have no idea what it will be like (unless of course you have the Norfolk Beaches Handbook!).    You turn your computer on and Google Street View the Norfolk Coast Path, Cley, and Weybourne.  What you see is a mass of shingle beach, absolutely useless for your little dog and small child.  So you then decide to look at other parts of the trail.  Burnham Overy may be a better choice for example.  So from this point of view, the National Trails Google Street View can only be a good thing.  
A Major Con For Having Google Street View
No photo or image from the computer does justice to quite how wonderful these trails are.  You won't get the honking of the skein of geese flying over Deepdale Marshes, or the chirping from the yellow hammers.  You won't see the Curlew feeding in the mudflats, and you won't get the noise of the sea or the wind on the cliffs.  And you won't see the primroses on the banks, or the trees coming into bud, but I feel that's probably stating the obvious.  
But perhaps that's the point; you look at a photo or image and then  decide to walk?  If you had looked up the walk beforehand, you may not have realised it was quite so lovely, and therefore not have bothered to even consider it.  So it may be an excellent way of getting those groups of walkers out and into our countryside.

But where has the mystery and discovery and the imagination gone to?  The computer screen??    With Google, we are already losing privacy from every angle, and this only reduces the remoteness and the unknown of these paths that already existed.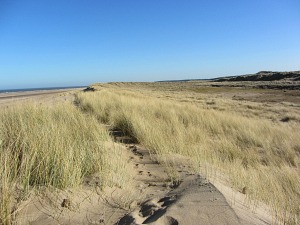 Google Street View A Boost To Tourism?
It may also be a boost for tourism in the county.  If people from outside Norfolk and the UK begin to realise what wonderful countryside we have, then that can only be a good thing to the tourism industry, which is the largest sector in this county.   And this applies to all over the UK as well of course.
But I don't really buy into the selling point that those who are older or who were once more active and may have walked a trail, can reminisce about their walk.  But there again, maybe they will?  Or the disabled who can't get out?     I wonder if anyone would walk the whole 93 miles of the Peddars Way and Norfolk Coast Path via Google Street View?!  It would seriously test my patience, but as one of my Facebook Comments added, if you follow a path for 40 plus miles, you really do need to get out more!  A point I wholeheartedly agree with!  Whether this  will bring more walkers to the National Trails, I have no idea.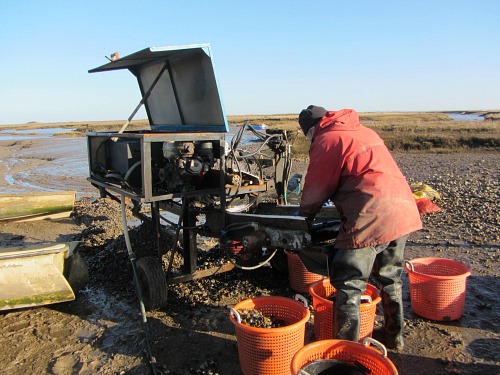 Don't think Google Street View would have this!
Finally, if it really does get some people out of their homes and onto the trails, and if they explore a little bit of Norfolk they never knew existed (or whichever trail they are on), then that can only be a good thing.  So although it will NEVER replace the spontaneity of a good long trail, or replicate the experience, especially for those hardened walkers, it may be good for a few who are brave enough to try something new.
For more on walking the Norfolk Coast Path and Peddars Way, you can visit our Norfolk Walking Holidays page here.
Short interview for ITV Anglia on Google Street Viewing the Norfolk Coast Path and Peddars Way
Some of the comments were edited, as I feel there are both pros and cons for this technology, as you will have seen above.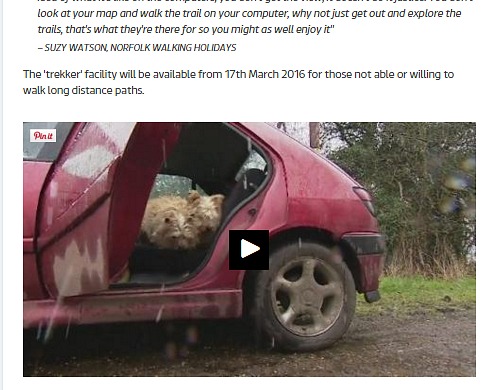 ---