Norwich Cathedral

Norfolk's Favourite Building
Norwich Cathedral is the most magnificent, stunning, inspiring and breath-taking example of a place of worship that I have come across, and it's no wonder that it rates as Norfolk's favourite building.

I've visited a few cathedrals in my time, but this one really does beat them all!
I'm almost lost for words as I marvel at the cathedral architecture and craftsmanship, and my mind always wanders back to how on earth these magnificent buildings were created.  No cranes in those days so no wonder it took 100 years to build.
And if you're visiting Norfolk, or resident in Norfolk, and you want to escape the hussle and bussle of the busy city, you just can't miss the opportunity to look around this impressive cathedral. I'll run out of superlatives to describe it soon!

Situated in the middle of Norwich UK, it's the most complete Norman Cathedral in England.

As you amble around the enclosed cloister, the silence surrounding the cathedral encompasses you, and you move into a world of peace and tranquillity, away from everyday pressures, mobile devices and anything else that usually disturbs you, and you can at last sit in quiet contemplation.

Norwich Cathedral Cloister
The cloister is, in itself, striking and that's the first part of the building you'll come into contact with.

It is actually the largest monastic cloister in England. 

Wonderful arches taking you all the way around the cathedral building, with coats of arms painted on the walls, roof bosses and large wooden doors leading you into the cathedral.  There are places to sit within the cloister, no need to rush around - take your time.

The cloister is actually two stories high, and at the time housed 100 Benedictine monks.  The building work started in 1096, about the same time as Castle Acre Priory, and, like Castle Acre Priory, was also a Benedictine Priory.

The Cathedral Interior

As you walk into the Nave of the cathedral, the first thing you are faced with is the striking vaulted cathedral ceiling – it's amazing.   It's staggeringly high and very beautiful.  But it's not quite as beautiful as the ceiling in the Eastern arm, which you'll see as you walk around.  That is a site not to be missed.  Photos are great, but actually seeing it for yourself is quite another site.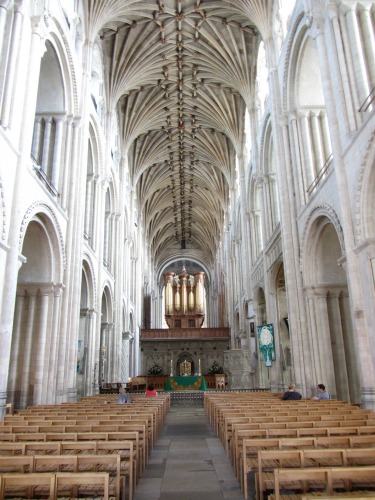 The Eastern arm has sculptured columns, wonderful stained glass windows and the amazing vaulted high ceiling leaving you with in complete awe.  It's really worth just taking a moment to sit and view this spectacular site.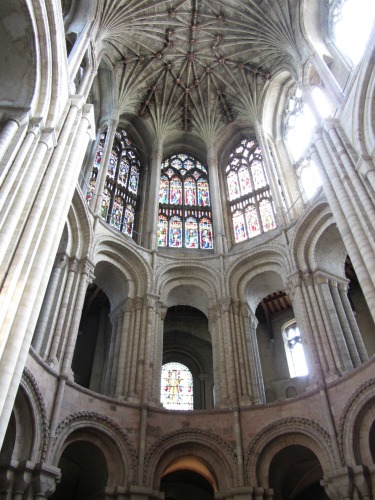 The Cathedral Art Collections
It's a cathedral that hides so many treasures such as the paintings, art, collectibles and bosses.  The bosses which are on the vaults and in the cloister are very well documented as they're unique in number and quality.

You don't have to walk around the Cathedral on your own.  You could take a guided tour by one of the many guides who are volunteers, and, I am reliably informed, are excellent and the knowledge they share with you will make your visit even more interesting.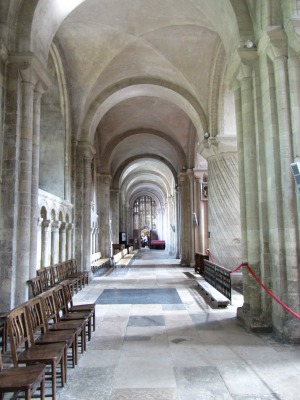 Other distractions at the Cathedral!
Cathedral Gift Shop

There's an excellent gift shop which is located within the Nave, full of locally sourced gifts, postcards and so on.  I don't think I need to expand on that!

Art Exhibitions
Norwich Cathedral often hosts exhibitions from local, national and international artists.  This is housed in the Hostry, next door to the Refectory.  Spacious and well set out, you can spend your time browsing the art and then maybe nip into the Refrectory.

Cathedral Cafe

If you've spent some time wandering around and your feet need a rest, then drop in to the Refectory which is a modern addition to the ancient building.  It fits in very cleverly without ruining the aesthetic appearance of Norwich Cathedral.  It might be a cup of tea and a scone, lunch or even just a refreshing drink!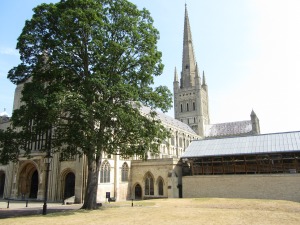 Herb Garden
| | |
| --- | --- |
| The Herb Garden is located within the Close.  It's a small city garden but well-tended (again by volunteers) and is closely mirrored on the herbs grown by the Benedictine monks. | |
Cathedral Close
The serene Cathedral Close is also worth a stroll around.  Immaculately kept lawns and houses tucked away from the busy city of Norwich.  Enter the arch (below) from Tombland, and join another world.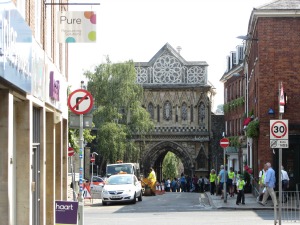 Norwich School, a Cathedral school, sits within the Close, but if you wander further down the hill and away to the east of the cathedral, you'll venture upon some lovely Georgian houses overlooking another green where you can amble around the back of the cathedral and admire some of the architecture, or Edith Cavell's gravestone.
This cathedral is definitely worth taking the time to visit and you'll certainly be impressed with what you see.

Norwich Cathedral, or another Cathedral - which is your favourite?
Do you have a great story about this? What did you find most inspiring about Norwich cathedral, or do you have another favourite cathedral which you think is magnificent. Share it! And show us some photos too!
What Other Visitors Have Said
Click below to see contributions from other visitors to this page...

Explore Norfolk › Places to Visit › Norwich › Norwich Cathedral