Houghton Circular Walk
This Houghton Circular Walk is a wonderfully peaceful rural countryside walk in Mid Norfolk and takes in a stretch of the historic Peddars Way which is a Roman Road, as well as walking alongside the fields and pretty woodlands of the well-managed Houghton Hall Estate. 
Although you won't see Houghton Hall on this walk, it is located very close-by and could easily be visited before or after your walk.  (You would need to check opening times as the Hall is not open every day).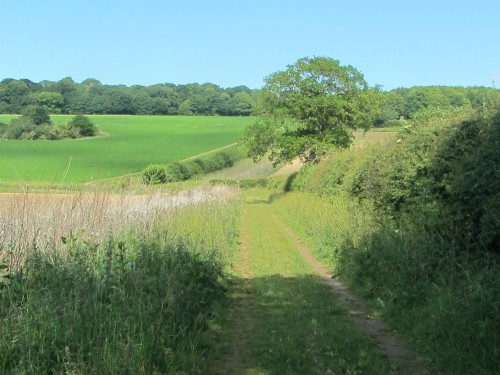 The area around here is well-known for discoveries of Bronze Age earthworks which include three tumuli that are prominent along this Peddars Way stretch.  You'll catch a glimpse of these when you start the walk. 
These tumuli, or barrows, are actually ancient burial grounds!  They are supposed to be some of the best-preserved tumuli in the country.  At the start of this Houghton circular walk there is an information board which explains how these mounds came to be; always an interesting read!  
This Houghton circular walk is also well signed thanks to Norfolk Trails so you should find it fairly easy to navigate your way around.
In case you don't know, The Peddars Way is one of the 15 National Trails in the UK and one which you can walk as a long-distance trail.  It starts just outside Thetford and ends in the dunes at Holme-next-the-Sea.
Houghton Circular Walk

Length:  4.5 miles
East of walk:  easy with one slight incline
What you'll see:  three Bronze Age tumuli along the Peddars Way, lovely stretches of paths alongside the fields, woodland and quiet lanes.  During the spring and summer months you'll see some lovely wild flowers
Dog friendly:  Yes, if you don't mind a little bit of road walking on quiet lanes
Grid Reference:  There is no postcode so you will need the grid reference 758285
OS Map:  250
Houghton Circular Walk Map
Route Directions
The best place to start this Houghton circular walk is on the grassy verge at Harpley Common where the Peddars Way crosses the small lane near Amner. You'll see this on the OS map.   
Unfortunately there is no postcode for this but if you were heading from Amner to Houghton, you'll spot the Peddars Way signs and the grassy verge.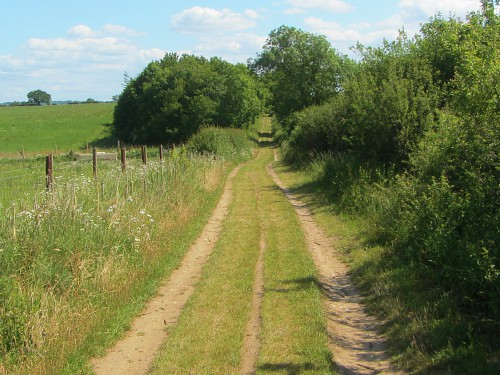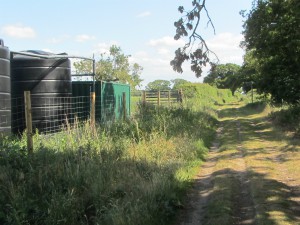 To start the walk, follow the Peddars Way south where you'll see the tumuli on your left behind a post and wire fence. Continue along the peaceful and very straight trail until you come to the first wooden signpost which says Public Bridleway to the left and the Peddars Way straight on. You'll also see a large wide grassy track and some farm storage canisters.
Turn left down this winding wide path until you reach a narrow lane. Cross straight over this lane, following the circular walk signs, to climb up the slight incline besides the field. The path is obvious but keep the hedge on your right as you head up towards woodland. At the top of the hill, follow this obvious path around to the right and walk through the small wood.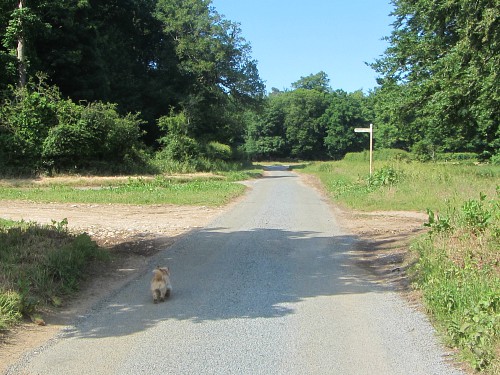 Eventually you come out of the wood onto grassy track where you reach a small lane. Don't go onto this lane, but turn right here to walk back down another wide grassy track enclosed by hedges either side. This path eventually brings you down to another lane.
Turn left to walk along this quiet lane, (ignoring the first left signed to Bircham) until you reach a grass triangle. Bear left here and walk along this road, cutting through woodland until you reach a small white lodge with a white fence on the right hand side and a gate with wide track on the left (signed Bunkers Hill).
Turn left through this gate to walk along the tree-lined gravelled track, continuing through another fence and gate and following the track round to the left.
When you reach a T junction of tracks, bear right. This is fairly obvious because the left hand track takes you to a piggery which is private. Continue along the track until you spot a small house in the middle of the woods – it looks like a Hansel and Gretel House!
Just before you reach the house, you'll notice a gate in the fence (and signed). Turn left through this gate and cut straight across the field towards the corner of the wood. Here you'll spot another gate.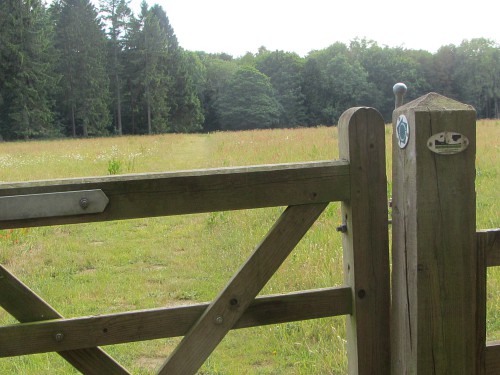 Walk through this gate and follow the path through the woodland until you eventually reach another lane.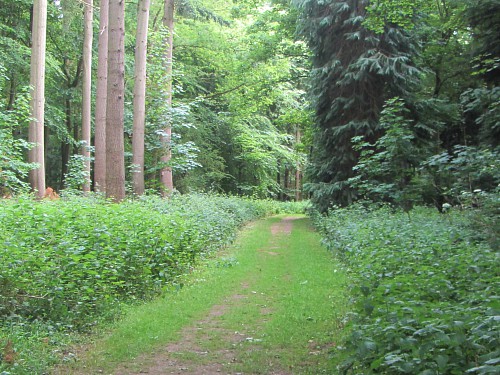 Turn right here and walk up the slight incline to return to your car which will be on the left hand side.
I hope you enjoy this Houghton circular walk, I know I certainly do and I return to do it again and again.    You can find more coastal and inland walks here.