Uncover Coastal Bliss and Ancient Wonders
In this September issue you can discover a wonderful beach which is the perfect spot for a relaxing stroll or just a quiet stop for soaking up the sun (if we're lucky enough to get any this year!). You'll be able to read about a unique walking trail that takes you through an ancient landscape shaped by ice, thousands of years ago. And if you want to get a taste of what awaits you on Norfolk Coast Path walking holiday, make sure to watch the video which shows you what it's like to walk along a stretch from Burnham Overy Staithe to Holkham. Finally, take a look at Deer Cottage, a delightful accommodation nestled in the heart of Norfolk.
- Thornham Beach
- Burnham Overy Staithe to Holkham on the Norfolk Coast Path
- Pingo Trail
- Deer Cottage, Thompson


---
The beauty of Thornham beach lies in its untouched and unspoilt nature. The beach is surrounded by the breathtaking landscape of Norfolk's creeks, sand dunes, water meadows and salt marshes. No crowded tourist attractions or noisy amusement parks here. Whether you're looking to take a leisurely stroll along the shore, birdwatch, or simply relax and soak up the sun, Thornham beach has it all.
---
Burnham Overy Staithe to Holkham along the Norfolk Coast Path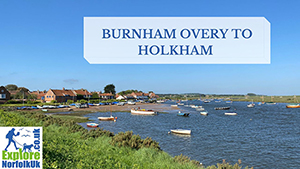 Here's a new video I filmed recently which shows you just what it's like to walk along the Norfolk Coast Path National Trail. This stretch is one of my favourite stretches and I take you from the picturesque creek at Burnham Overy Staithe all the way to Holkham with some stunning scenery along the way.
Click here to enjoy a walk with me along the Norfolk Coast Path.
---
Pingo Trail circular walk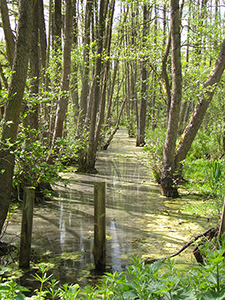 The Pingo Trail is a very popular 8 mile circular walk just outside Watton in Mid Norfolk. If you stay in Deer Cottage (which you can read about below), this is the perfect walk to take. Why not pack up a picnic, put your walking boots on and join the path from the house. The trail takes you past historic ice age pingo ponds, swamps, pine woods, a stretch of the Peddars Way National Trail and an old railway line. There's such a diverse range of landscape on this walk which is what makes it so special.
---
If you're looking for a rural retreat away from the coast, then do take a look at Deer Cottage, just on the edge of the pretty village of Thompson, Mid Norfolk. This is an annexe of a house which is extremely private, quiet and secluded. It sleeps 2, has a hot tub in the garden and you may even spot some deer, but it's not dog friendly.
Book to stay at Deer Cottage for an extremely relaxing and peaceful holiday.
---
Thank you for reading this newsletter, and if you know anyone who may be interested to receive this, please feel free to forward it on to them.
Best wishes,
Suzy
P.S.