Deer Cottage, Thompson
Deer Cottage, nestled in the heart of Thompson village, offers the perfect escape from the hustle and bustle of everyday life.
This delightful holiday cottage is a truly rural retreat, located in the picturesque countryside of central Norfolk surrounded by trees and fields, and really does provide a peaceful setting for total relaxation and rejuvenation.
Summary of Deer Cottage

Deer Cottage sleeps 2 people with one double bedded room, and if you're looking for accommodation which is dog free, then this is the perfect cottage. No dogs allowed here. 
It's on one level, so no stairs.
There is a hot tub for use all year round, a wood burner for the chillier times, and outside seating. 
And it's just a short walk from the local thatched pub.  
Unwind in the comfort of Deer Cottage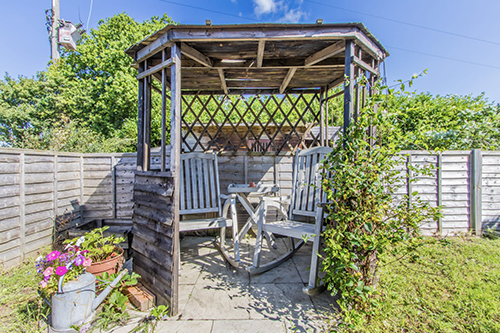 Deer Cottage is owned by Tina and Greg, who couldn't be more hospitable.  From the moment you arrive, you're treated to a fantastic welcome basket filled with goodies, and they're also on hand to give you information about the area and offer recommendations if you want, and will answer any questions you may have, and ensure that your stay at Deer Cottage is nothing short of exceptional.
And with its warm ambience, this is the perfect holiday cottage for both winter and summer breaks.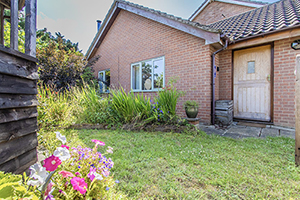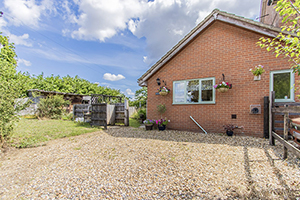 What does Deer Cottage offer you?

Deer Cottage offers everything you could want from holiday cottage. From the minute you walk through the stable door you'll really appreciate the cosy and inviting atmosphere.
The Kitchen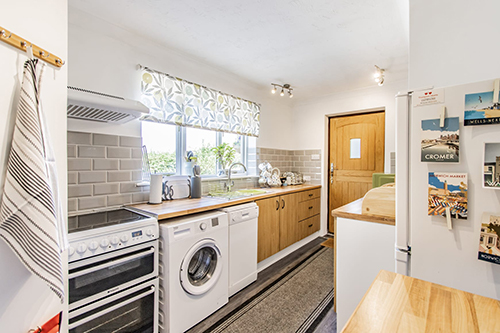 There is a lovely modern well-equipped kitchen with lots of storage space for all those delicious bits of food you bring along with you (or get delivered before you arrive). 
No washing up on this holiday as there's a dishwasher and a washing machine so no worrying about scrubbing the dishes or having piles of dirty clothes! 
The Living Room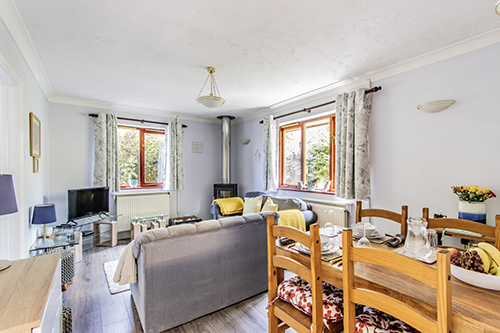 Here you'll wander into a relaxing room, with two sofas where you can sit and watch something on the smart TV whilst enjoying the warmth from the log burner in the winter months, (or even in the cold summer months that we sometimes have!)   You'll also be able to enjoy your meals from the dining room table, play a game, or simply just relax and read a book.
The Bedroom And Bathroom

Deer Cottage has one double bedroom with ensuite bathroom.  The bedroom looks out onto the pretty cottage garden full of flowers and the seating area underneath a wooden gazebo. It's completely private, surrounded by shrubs and trees.  The bathroom has a bath with an overhead shower.
Indulge in relaxation with a private hot tub!

You're in for a surprise here as you'll have the luxury of the hot tub which can be used all year round.  This is a great bonus to Deer Cottage, and what better way to spend an evening, relaxing in the hot tub and then enjoying a drink or evening meal sitting on the outdoor furniture, looking up at the sky. 
Again, this is all very private secluded patio area surrounded by lush greenery and trees.  You may even catch sight of a deer!
Cycling

This is a fantastic place to bring your bikes. The cottage has safe storage for the bikes, and is right on the National Cycle Network 13.  There are lots of places to explore; cycling along the Peddars Way, the quiet lanes and even going over to Thetford Forest. 
Discover the charm of historic Thompson village

Thompson Village is steeped in history, with its roots dating back to the Domesday Book. It's dotted with wonderful thatched cottages and a 17th Century thatched pub which you'll have to visit!  It's been a pub for 300 years! 
And like many Norfolk villages, it has a wonderful church, parts of which date to the 14th Century.
Experience the Pingo Trail Walk and Pingo Ponds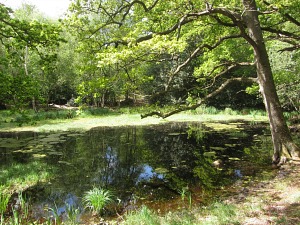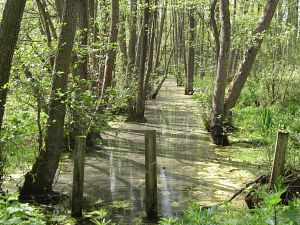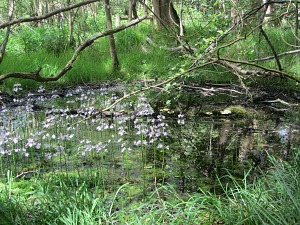 If you're a nature lover and would like a good walk, then the Pingo Trail walk and Pingo Ponds are not to be missed. The Pingo Trail is an 8 mile circular walk which is just on the doorstep and you'll come across the Pingo Ponds, which are natural water-filled depressions formed during the Ice Age.  The historic Peddars Way, one of the 15 UK National Trails, is also right on the doorstep.
The surrounding area

While Deer Cottage offers a peaceful retreat, there's also plenty to explore in the surrounding area. Just a short drive away, you'll find the vibrant city of Norwich, with its stunning cathedral, historic buildings, and bustling market. A visit to Bury St Edmunds is a must. It's home to a wealth of historical landmarks, including the magnificent Bury St Edmunds Abbey.
A trip up to the North Norfolk Coast can't be missed off either!  Or even the Norfolk Broads.
Enjoy a peaceful holiday at Deer Cottage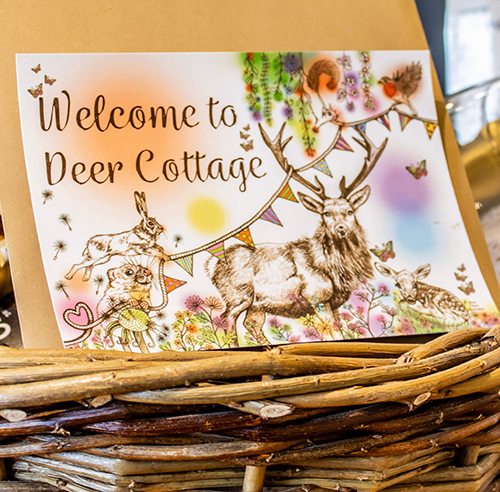 If you're looking for a holiday getaway that combines tranquillity, rural private surroundings, a hot tub and places to explore, then Deer Cottage offers the perfect escape. 
You can check availability and contact Tina via the details below.