The Old Chapel Pentney

The Old Chapel in Pentney is the perfect getaway for a totally relaxing and restorative holiday. 
Surrounded by a paddock and mature trees, this wonderful holiday house offers a completely private sanctuary for rest and rejuvenation.
There are countless reasons why you should take a closer look and consider choosing The Old Chapel for your next holiday, and I'm going to show you some of those reasons here: 

2 bathrooms
Outdoor dining with a pizza oven and fire pit
Has a music room (an added small charge if you wish to use this)
Completely private and not overlooked
Easy to get to King's Lynn, Norwich, Ely and the coast
Electric car charger
Whether you're a music lover in need of a haven, a family looking for a peaceful getaway, or a couple in search of romance, Old Chapel Pentney has it all.
The Old Chapel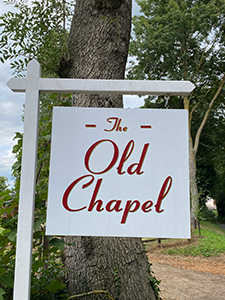 The Old Chapel is owned by Doug and Lynn Johnston who are the perfect owners.  They really want to give you an experience to remember and you'll understand what I mean when you stay here. 
This is a couple who want to make sure you have a fantastic time; from an amazing welcome hamper to up-to-date events in the area and much more.
The fact that they get very many returning visitors just proves the point about how considerate they are to guests, and how great The Old Chapel holiday cottage is.
The Bedrooms

The Old Chapel in Pentney has 3 bedrooms, 2 of which are double rooms and 1 of which is can be configured as a super king or 2 single beds.  So the whole house can sleep 6 people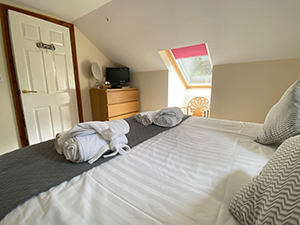 The house has an unusual layout upstairs. It has 2 bedrooms upstairs, and in order to get to them, you choose which staircase you want to walk up, right or left, depending on which room you've chosen!  And you even can engage with each other across the balcony!
The room downstairs has its own private bathroom across the hallway.
The Kitchen and Dining Room

The kitchen/dining room is open plan, lovely and light.
One wall has French windows which take you straight out onto the patio, dining area, hot tub and the Mediterranean garden, whilst the other wall has a window perfectly placed over the sink, meaning you can look out over the paddock and watch the birds whilst washing up!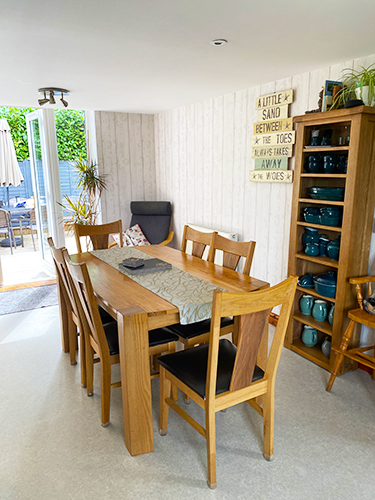 There is also a very good utility room adjacent to the kitchen with a washing machine and separate sink along with plenty of space for all your other holiday paraphernalia.

The Sitting Room

This is a lovely large and relaxing sitting room with a high vaulted ceiling and lots of comfy seating, a Smart TV, and books and games to keep you amused.
Take Advantage of the Hot Tub and Fire Pit

After a day of exploring a bit of Norfolk, what could be nicer than coming back to the cottage and unwinding in the hot tub (optional) or enjoying a bit of time in the infra-red sauna. This is total relaxation and hopefully a complete break away from the hustle and bustle of your everyday life.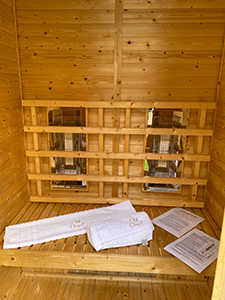 Enjoy the Pizza Oven and Outside Dining at The Old Chapel, Pentney

Then, once you're done with the hot tub and sauna (!), it's time to enjoy the pleasure of the outdoor dining area and the Mediterranean garden at The Old Chapel Pentney, where a pizza oven awaits your culinary creations!
You can spend an evening preparing delicious homemade pizzas, cooked to perfection in the outdoor oven, and with a wide range of local farm shops and markets nearby, you'll definitely be able to source fresh, seasonal ingredients, should you wish to.
It's always best to contact Doug and Lynn for availability and the best prices.  You can contact them here.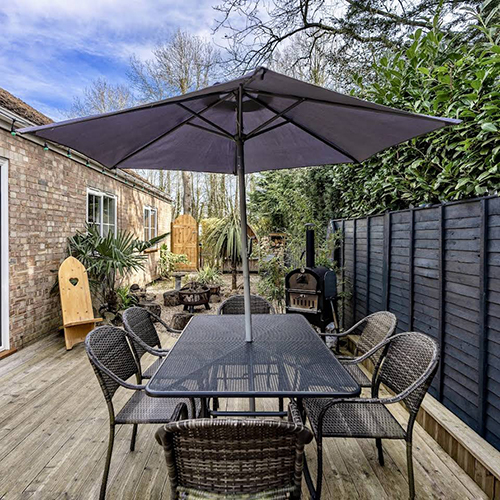 And whilst you're outside enjoying all of this, you'll be able to sit back with the peace and quiet, the only sound being the birds singing in the trees.  It really is a lovely secluded quiet holiday cottage.
As the sun sets, you can then set up the crackling fire pit and roast marshmallows (be prepared to be greeted with a fabulous welcome pack!). 
The Music Room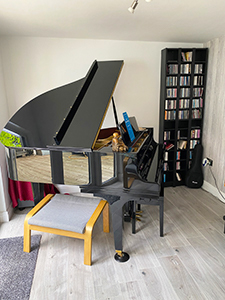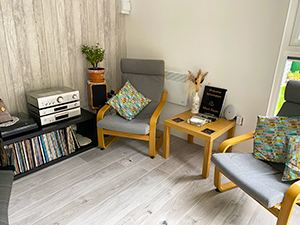 This is most unusual for a holiday cottage.  If you have a passion for music, the Music room at the Old Chapel Pentney is a place to really get away and relax. 
Equipped with a grand piano, a ukulele, a vintage hi-fi and speakers, and a large collection of vinyls, this room invites you to unleash your inner musician!  You can literally lose track of time as you play your favourite tunes over and over again. 
Dog friendly at The Old Chapel, Pentney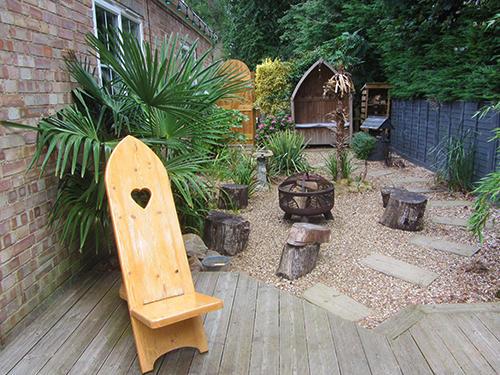 This is a really good dog friendly cottage, all completely secure which is always a relief to know.  One side of the house is laid out with astroturf, making it very easy to keep clean, whilst the other side of the house has gravel and decking, and all is fenced in, with gates to the front of the house.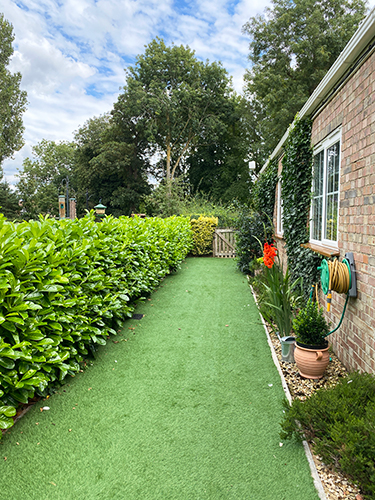 There is a convenient local circular walk you can take around Pentney village, but there are also lots of other lovely walks around about.  You'll find an excellent file full of information in the cottage, some of which will tell you where you can go for dog walks.
If you have an electric car, The Old Chapel also has a charging point.
Exploring Norfolk: Nearby Attractions and Activities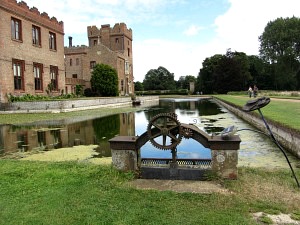 While The Old Chapel in Pentney offers a haven of relaxation, the house is conveniently located in Norfolk for an abundance of nearby attractions and activities. Visit the magnificent Oxburgh Hall, or take a short drive to the impressive Houghton Hall.

The Old Chapel is also close to the city of Norwich where you can have a bit of retail therapy alongside exploring some of the fascinating history such as Norwich Cathedral or Norwich Castle and Elm Street. You're also only an hour away from the closest Norfolk Broads where you could even take a day trip on one of the many cruising boats.
King's Lynn is a short drive away, and the coastal villages of Brancaster or Burnham Overy Staithe are also close enough to visit for the day.
The Old Chapel Pentney: The Perfect Holiday Cottage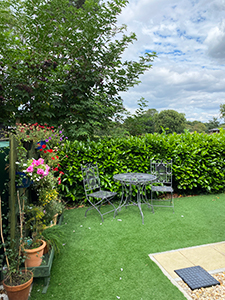 The Old Chapel in Pentney is a fantastic 3 bedroom holiday cottage that offers a truly unforgettable experience;
from the hot tub and fire pit to the inviting music room and the restorative infrared sauna, every aspect of The Old Chapel Pentney is designed by Doug and Lynn to provide you with the chance to relax, reinvigorate yourself and enjoy everything that Norfolk has to offer.
Don't wait, start planning your getaway now!
---