mYminiBreak
mYminiBreak has everything you might want from a holiday in Norfolk.
It's completely unusual in that it comprises the following versatile forms of accommodation for your special Norfolk break:
mYminiBreak is a private peaceful venue, secluded with fantastic rural views over the Norfolk countryside out towards Wild Ken Hill, and is just a 2 min walk to the golden sands of Heacham South beach. 
This is the perfect location for a countryside getaway, yet close enough to amenities, nature reserves, beaches and walks.
What more could you ask for from a campsite, B&B or self catering holiday in Norfolk?!

Owned by Nigel and Carol Marsh, mYminiBreak was a neglected dairy farm when they bought it.  And if you want to see photos of what it looked like when they purchased it, click here to read Nigel's blog - its fascinating! 
Nigel immediately started the process of setting up the campsite, converted one of the barns into a self-catering cottage, as well as renovating some of the old barns to make 3 B&B's.   Even a few of the old stone feeding troughs are being used as flower beds!
The rest of the farm is taking shape, with the added addition of shepherd's huts and glamping tents.  

The Ethos Of mYminiBreak

The whole ethos of mYminiBreak is a back to basics, relaxed campsite with nothing too over the top at all.  Nigel and Carol want you to "sit back and just enjoy the open air, surrounding peaceful countryside and sea breezes".  That can all be done here at this campsite.
This is good old-fashioned camping where campfires, firepits and BBQ's are allowed and conversation is definitely encouraged!  There is also room for motorhomes, campervans. caravans and all sizes of tent.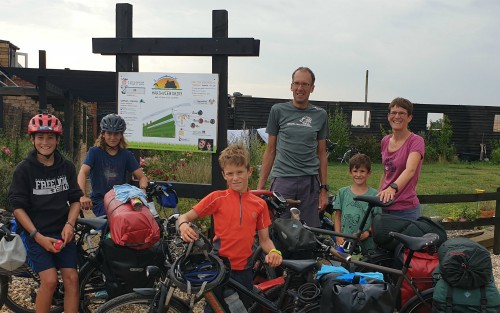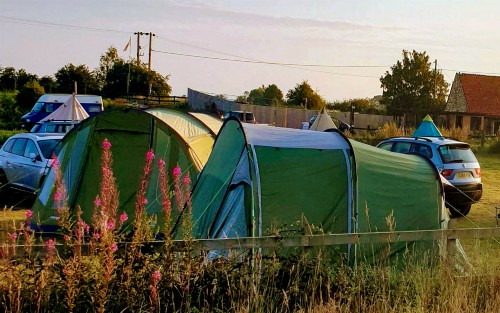 Turning up in your wellies is not going to be frowned upon!  And dogs are welcome (there is a small daily charge for dogs). 
Your stay here is going to be relaxed, flexible and enjoyable!
Although the site is adjacent to a static caravan park, you just wouldn't know it -  the surrounding peace and quiet really hits you when you arrive, and the whole area has a wonderful rural farm feel to it.  The reason for this is that the whole of the mYminiBreak site sits below the road so you are secluded and private from anything else around you. 
And it's delightfully peaceful too!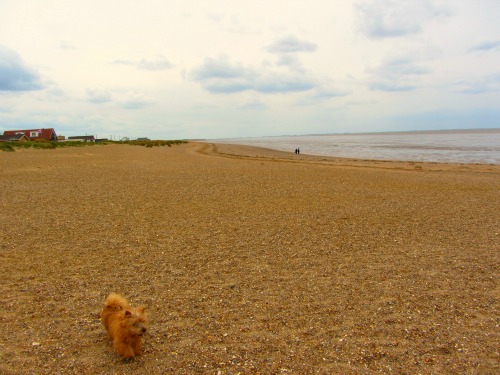 And even better, it's located just a 2 minute walk away from Heacham South Beach which is a lovely, remote and quiet dog friendly beach.

The Campsite

The campsite is on flat ground (always a bonus!), surrounded by open fields looking east over the marshland and towards Snettisham and the now well known Ken Hill Estate (thanks to the BBC's Springwatch).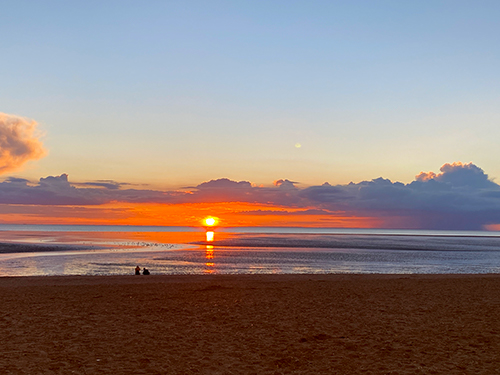 And because it faces east, and is on the west coast of Norfolk, you have the unusual occurrence of a sunrise in the morning and a sunset in the evening!
This is a lovely small hassle-free campsite where you can bring any size tent, pitch up in the flat field and just enjoy the far reaching views over the open meadows and quite countryside, and experience the "wild" feel.   
Nothing is complicated here and the character of the site is to keep it simple but connect back with nature and people! 
There is a wash up area besides the shower block with hot water taps and sinks, so everyone can get fully involved!  Great to get the kids helping too!
You can check prices and availability for your camping holiday here.
The Bed and Breakfast Accommodations

One of the great things about the B&B's here is that they don't insist on a 2 night minimum stay.  Sometimes you just want to get away for one night. 
mYminiBreak has a number of B&B rooms to choose from, all with their own unique charm and character.  The B&Bs retain their farmhouse appeal with exposed timbers and brick walls and a country decor.
All rooms have a large double bed along with an ensuite, and come with a lovely breakfast in the farmhouse kitchen.
Breakfast is continental here, again keeping it simple but good, and is taken in the separate Breakfast Room, a quick walk across the patio or shingle from the cottages. 
The intention at mYminiBreak is for you to relax, enjoy yourselves, chat to your neighbours and explore the surrounding Norfolk countryside.  It's not for you to be in your room all day!  This breakfast room really has that homely feel to it.
No need to dress up for breakfast either!
You can also enjoy the setting sun with a BBQ on the patio, or bring back a takeaway meal which you can eat in the Breakfast Room.  Each B&B has its own chairs and tables outside on the shingle.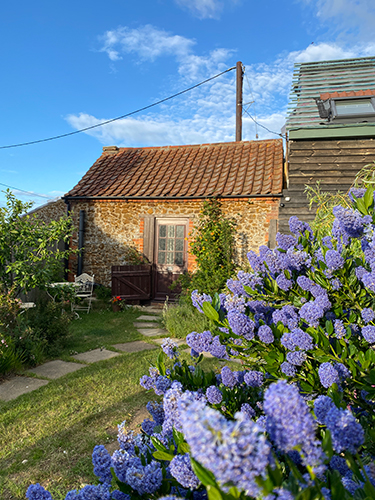 The Old Barn Self-Catering Cottage

Sleeps 4 – 2 adults and 2 children

The Old Barn is part of the converted barn which is a fantastic self-catering cottage showing off it's original carrstone exterior as well as some of the exposed brickwork on the inside too.
It has a really relaxed feel to it, and has everything you would need for self catering.  It has a lovely open plan kitchen with a separate living area with 2 sofas and double doors outside to a patio with garden furniture. 
Upstairs is a bathroom, one double room and one twin bedded room.
To check this out and to check availability, click over here to read more about The Old Barn.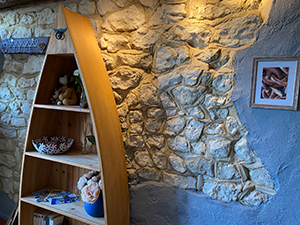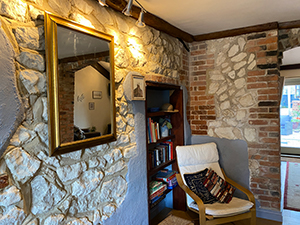 Alongside The Old Barn, you may also book an adjoining B&B room, fondly named The Churnery.  This is a double room suitable for 2 adults or 2 teenagers, expanding The Old Barn to accommodate 6 people.

You can contact mYminiBreak here.

The Dairy Self Catering Cottage
Suitable for up to 6 people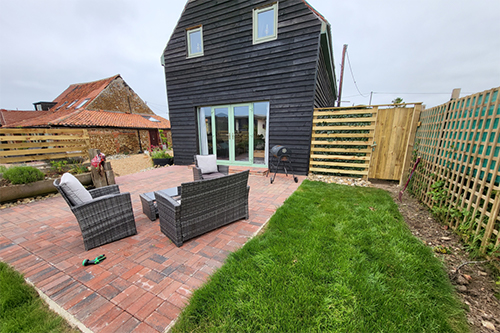 The Dairy offers a beautifully renovated farm cottage accommodation for large families, with 3 bedrooms, 2 bathrooms and a large open plan living and dining room.
There is space for everyone to relax here with mYminiBreak, especially as it's so close to the beach.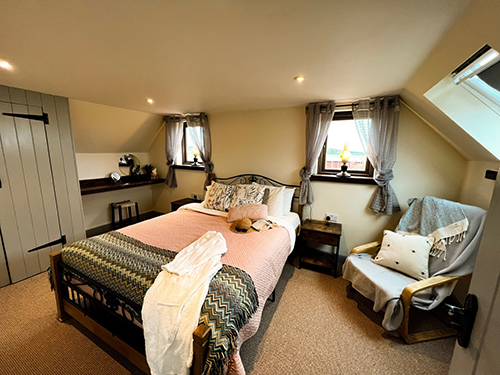 Outside you'll have a large garden area with a patio and seating to enjoy stunning sunset views over the Norfolk countryside.
Light up your firepit, and gather together to make memories with mYminiBreak on the Norfolk Coast!
Check out more details about The Dairy Self Catering cottage here.
Glamping, Shepherd's Huts and Bell Tents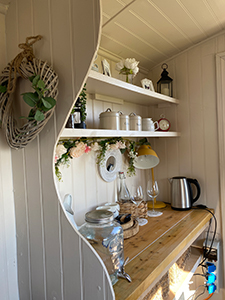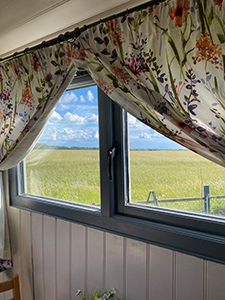 mYminiBreak has a number of Shepherd's Huts and Glamping Bell Tents that offer stunning views over the Norfolk countryside towards the Ken Hill Estate. Here you've got camping in the great outdoors, yet you've also got your creature comforts at hand.  
You have your own outside firepit/BBQ, hammocks for relaxing and a kitchen for preparing meals.
The Stables
mYminiBreak has more!  It also offers 4 self catering chalets which is studio accommodation with ensuite facilities.  
Each has a double bed, ensuite shower room, kitchenette, as well as a skylight so you can while away the night watching the stars whilst lying in bed.
Each comes with its own table and chairs to sit outside and enjoy the evening peace and quiet.
Read more about the 4 chalets on the mYminiBreak website here.
How to check in at mYminiBreak
Please report to Reception on arrival between 3pm - 8pm where you will be shown to your accommodation. Alternatively you can Self Check in, your booking hub will show you an image of your front door and using what3words will give you the exact location of the front door of your accommodation. Access to the key will be via SECURE SMS sent to the mobile number you supplied at the time of booking - Please make sure that mYminiBreak have the correct mobile number for you.
Sunsets at Heacham and Hunstanton

Heacham and Hunstanton are most well-known for incredible sunsets and if you're lucky enough to have some excellent British weather, you'll absolutely love sitting on the beach watching the sun go down.  Heacham beach is one of the best places to be when this happens, and with only a few minutes' walk to the beach, you have absolutely no excuse!
Birdwatching at Snettisham

Any of the accommodation set up's here are an excellent place to base yourself for a bird watching holiday where you can see some incredible wader spectaculars and the early morning flight of the pink footed geese just a short walk or drive along the coast at Snettisham.
And it would be an excellent idea to bring some binoculars as you never know what you'll see soaring over the open fields here at mYminiBreak as you sit and relax whilst overlooking the meadows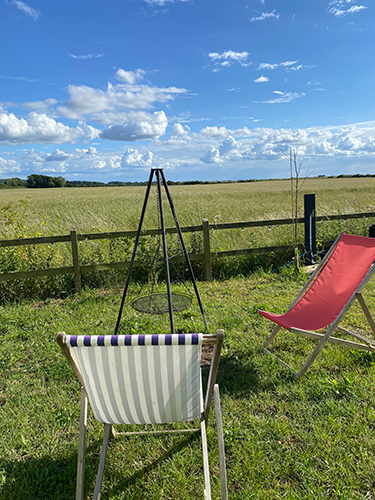 If you're not a bird watcher, why not use this campsite as the perfect place to gain a new experience?  Try the wader spectacular or the flight of the pink footed geese which you can read more about here.

Snettisham beach and the RSPB site is just a short distance away and if you're staying at mYminiBreak and catch the right tide times, you really will get the most spectacular show of wildlife, along with the magical sunrises.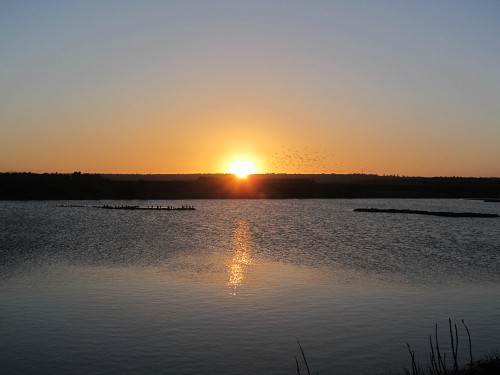 This really is an ideal place to base yourself if you're coming to Norfolk for some birdwatching, and it's also very close to Holme Dunes Nature Reserve and RSPB Titchwell.
mYminiBreak
You'll have a great holiday here due to the proximity to the beach and  the rural surrounding countryside, so why not can check availability for here