Brockdish Holiday Cottages
Brockdish Holiday Cottages
Discover the Ultimate Relaxation
Recently, I discovered Brockdish Holiday Cottages in the quiet village of Brockdish, to the east side of Norfolk.
I have always been on the lookout for peaceful, tranquil getaways and particularly ones that offer the ultimate relaxation. These 17th century cottages and the surrounding woodland, gardens and river do just that.
And they're both dog friendly as well.

Situated in the heart of the Waveney Valley, Brockdish Holiday Cottages comprise two 400 year old cottages (one sleeping 4 and the other sleeping 2) and both sit on the edge of an idyllic and very peaceful private woodland which leads down to the banks of the River Waveney, all of which you can enjoy to your hearts content whilst staying here!

Location and Surroundings - the Woodland and Waveney Valley
Brockdish Holiday Cottages are unusual in that they are located in the Waveney Valley which borders Norfolk and Suffolk, a different area to other cottages on this website.
The joy of these cottages is as follows:
they are right on the edge of an extremely tranquil garden
have a beautiful 2 acre woodland to enjoy
and have private use of a stretch of a bank on the River Waveney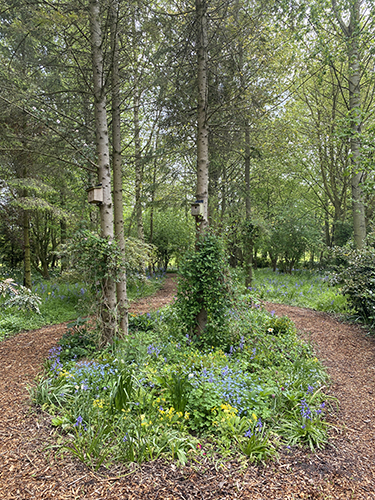 If you're a nature lover, you'll love your holiday here!
Due to the proximity of the river, as well as the woodland, this area is home to a wide range of wildlife which you're bound to see, such as otters, kingfishers, and many other bird species.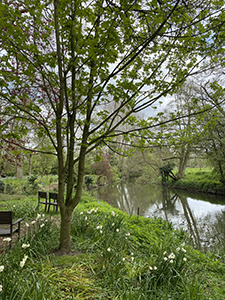 Even just sitting outside the cottages you'll hear birds galore.
Both John and Jackie (the owners) are great nature lovers as well as having a passion for plants, and they spend hours in the woods and their garden.
They even created the woodland from scratch – it used to be just a meadow but is now full of an array of flora and fauna!

The Holiday Cottages
Owned by Jackie and John Spooner, Brockdish Holiday Cottages offer two self catering cottages which each have their own character, and both are very dog friendly.
Built in the 17th century, you'll be able to enjoy the original features which are still very evident.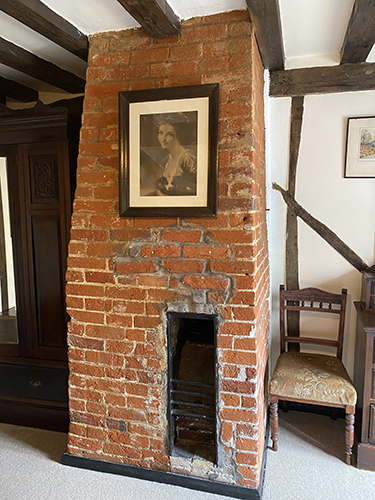 What I like about these cottages is that there's nothing fancy here, it's all very down to earth, with lots of wonderful old beams and wooden doors along with very friendly owners who live in the main house!  Now that's always a bonus!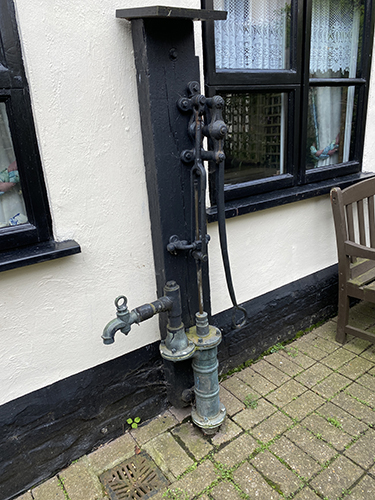 The Pump House
This 2 bedroom cottage is full of beams, and has been lovingly restored by the couple over the many years they have been here.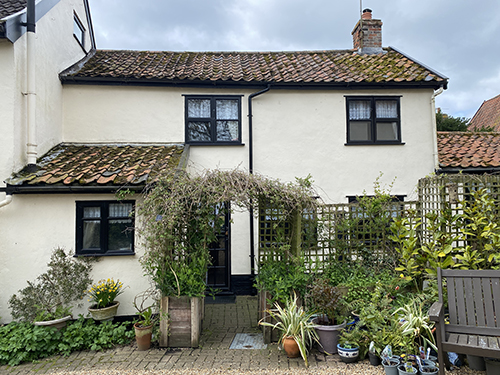 It has an open plan kitchen, the floor of which is tiled, and opens up into the dining room and then goes through to a cosy sitting room. There are also a couple of log burning stoves in case you happen to get a bit chilly at any time!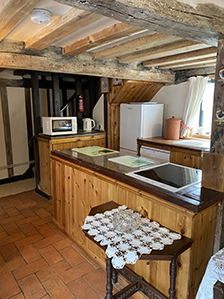 It comprises 2 bedrooms upstairs, one bedroom which has a four poster bed and the other bedroom which is a twin room.  Both share a bathroom which has a shower over the bath.

You can find the rates for The Pump House here.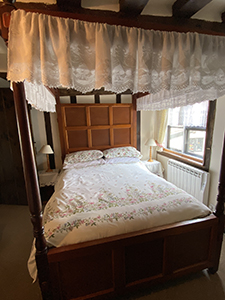 The Pump House also has its own enclosed patio with a table and chairs located right by the original pump, should you want to eat outside. Although you'll probably want to sit in the garden where there is a gazebo for your use, or even by the river if the weather is good.

You can check availability for The Pump House here.
The Old Laundry
The Old Laundry is on the ground floor of the building and has one twin room and bathroom, with shower over the bath.  It sleeps 2 plus a cot.
This is particularly good if you wanted to come with elderly parents, or if you are unable to walk upstairs.
You could even take the Pump House at the same time as the Old Laundry, giving you a lovely family holiday.
To check availability for The Old Laundry house, click here.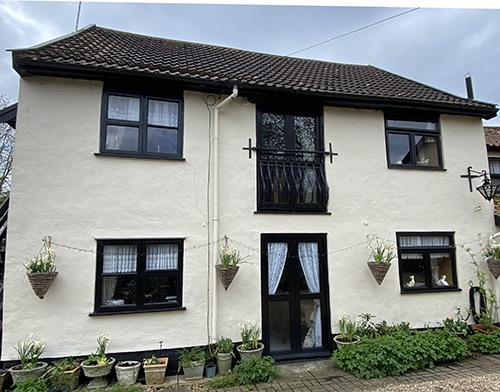 The Old Laundry has patio doors that open out onto the courtyard and then you're free to wander around the garden and woods and just contemplate life sitting on one of the benches overlooking the slow flowing river, hoping to catch site of the otter!
Both cottages have use of the washing machine in a communal room just to the side of the cottages.
You can find the rates for The Old Laundry here.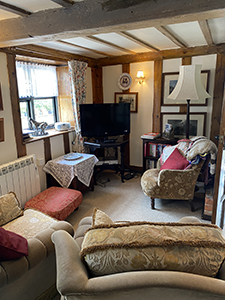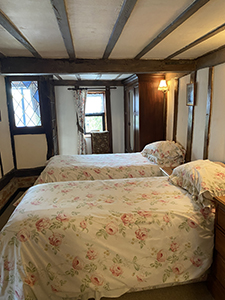 Dog friendly Brockdish Holiday Cottage
One of the stand out features of Brockdish Holiday Cottages is its pet-friendly environment.

The owners of the cottages have their own dogs and know that pets are a part of the family. The cottages are secure, there is a gate that is kept closed so you can rest assured that your pets will be safe.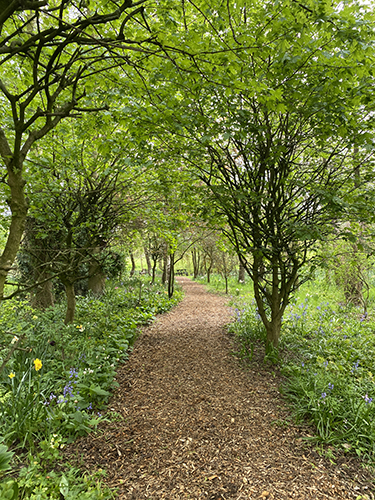 The woodland setting is just perfect for walks with your furry friends, and the nearby countryside also has a variety of walks within walking distance from the cottages.

Wildlife Sightings - Birdsong, Otters, and More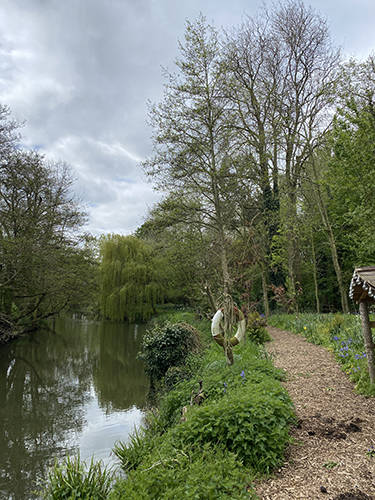 The Waveney Valley is home to an array of wildlife, and Brockdish Holiday Cottages really is the ideal location if you love nature and being outside.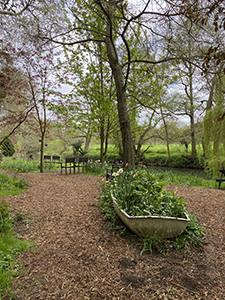 You'll have the opportunity to wake up to the sound of birdsong, something which I think is very special. And because Jackie loves feeding the birds, you won't be short of hearing and seeing many different species!

There are birds nesting in the woodland and the nearby river, and hopefully you'll catch sight of the kingfisher, and possibly the otter too.
If fishing is your thing, you can coarse fish from here, but obviously you would need a fishing license.
Self-Catering Options and Nearby Dining
Brockdish Holiday Cottages are self catering cottages, with equipped kitchens in each of the cottages. The nearby town of Diss offers a range of supermarkets and local shops, and if you prefer dining out you won't be disappointed as the area has a selection of pubs and restaurants that serve delicious local cuisine. There's even a pub within a 2 minute walk of the cottages.

Nearby Attractions and Activities
Unlike a lot of the other holiday cottages on this website, Brockdish is a village on the east side of Norfolk, almost bordering Suffolk, so there is plenty of opportunity to visit some of the Suffolk coastal villages such as Southwold and Walberswick, as well as Norfolk – you have the best of both worlds here! Lowestoft is also a short drive away.

The town of Diss is close by, and you may or may not know, but Norfolk is also famous for its historic churches, particularly some of the round tower churches. There are 124 round tower churches in Norfolk, and you'll find one within about a 5 minute drive, at Thorpe Abbots.
Other nearby attractions include Bressingham Steam Museum and Gardens, the city of Norwich, the market towns of Bungay and Beccles, Snetterton race track, Knettishall Heath Nature Reserve and the Dad's Army Museum at Thetford!
If you prefer to do a bit of walking, The Angles Way is a long distance trail which again is close by.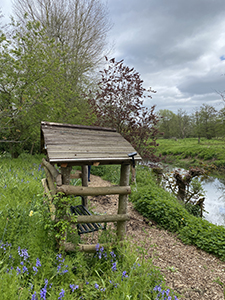 Canoeing – as these holiday cottages are right on the River Waveney, you have the opportunity to come with your canoes and launch them from the bank, and discover more of Norfolk that way.
It's testament to how much people enjoy staying at the cottages here in that they keep coming back year after year. I think that says it all.
Booking Information
Brockdish Holiday Cottages really does offer the ultimate relaxation with 2 acres of wonderful woodland, garden and situated on banks of the River Waveney.
Whether you're looking for a family-friendly holiday, or a pet-friendly destination, Brockdish Holiday Cottages has something for everyone.

So why wait?
Book your stay today by clicking over to their website and checking out their rates, availability and some more photos.