Horsey Holiday House

Horsey Holiday House, otherwise known as Sea Haven is a fantastic dog friendly cottage that sleeps 4.  It's perfect for a family with 2 children, or 2 adult couples and up to 2 dogs (although if you have small dogs such as Yorkie's or Dachshunds, you can bring up to 3).
Horsey Holiday House
What I love about this cottage is its location.  Situated right on the edge of Horsey village, it is superb for Horsey beach and the seals, particularly in the winter months when this is a major attraction.  It is literally a 1 minute drive to the beach or a 10-15 minute walk which is incredible.  As well as the beach, there is also another great walk from right outside the door of the cottage along the river to Horsey Windpump, passing Brograve Drainage Mill on your way.
Summary of Horsey Holiday Cottage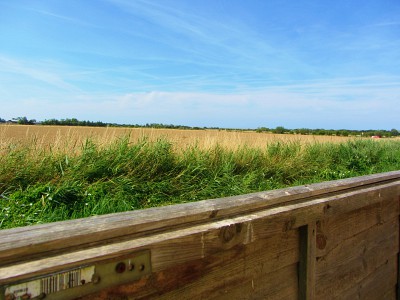 The history of the house is that the local farmer built 4 cottages in a row for his 4 children! 
Horsey Holiday House (Sea Haven) is the end cottage which comes with the huge advantage of views overlooking the wide open expanse of fields and across to the dunes in the distance. 
You also have the added benefit of being able to see over to the old Brograve Drainage Mill, a typical iconic Norfolk derelict mill, and something which you can easily walk to from Horsey Holiday House. 
At night, the sky is black, (no orange lights that you get from the towns and cities), and it's totally quiet, both in the day and at night time.
Brograve Drainage Mill
Staying here, you really get a feel for being on holiday. Imagine being able to walk to this fabulous old drainage mill - well you can if you stay here as it's about a 5 minute walk to reach this!
The whole cottage has been done up beautifully, with the holiday visitor very much in mind. 
It's wonderfully light and airy, with blue and white blinds, white walls, blue and white furnishings and sea side ornaments and mirrors etc dotted around the house – a real loving attention to detail. 
This cottage is all about you, the visitor, being able to enjoy yourself in this lovely holiday house.  Zuzanna, the owner, is a wonderfully bubbly lady who wants you to really relax and unwind on your holiday.
The Sitting Room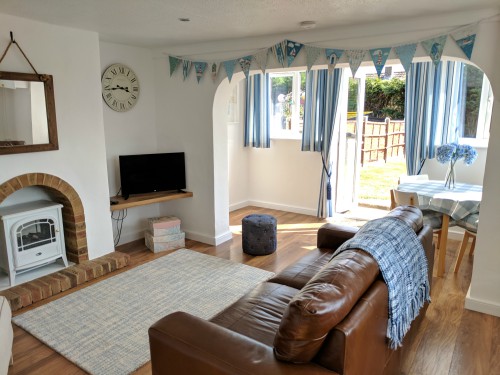 I love this room, it gets you into the real holiday mood.  You wander into the sitting room from the kitchen and you're immediately hit by the wonderfully light and airy ambience, with fantastic views over the fields.  French windows open out onto the fully secured garden.  
If you stay in the winter months to come and see the seals, Horsey Holiday House has an excellent little electric wood burning stove;  no messing around with logs, just switch it on!   It goes to say that the cottage also has storage heaters as well!
Colour co-ordination of the furniture and décor just make for a very relaxing time.
WIFI is also available and the area also has improved signal which is always a blessing!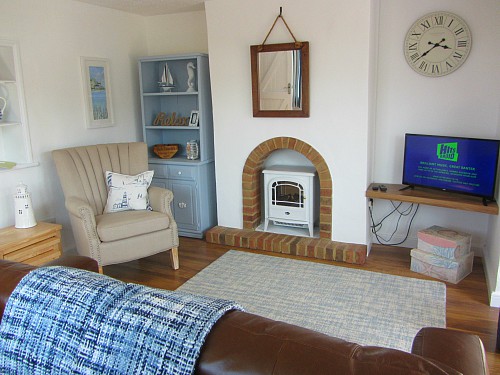 Handmade bunting beckons you through the arch to where you can enjoy your meals from the table which seats four and which again has a window overlooking the marshes and fields.
You can check availability for Horsey Holiday House here
The Kitchen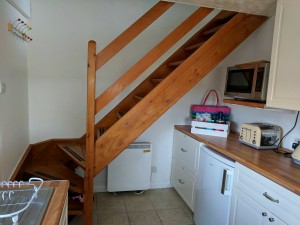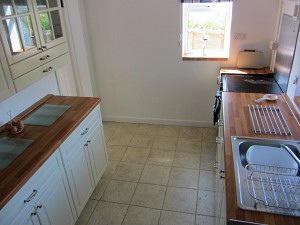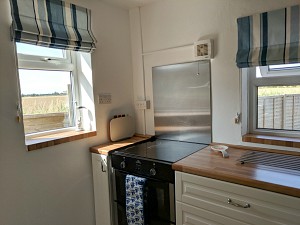 The kitchen is the first room you come into.  It has everything you want (apart from a dishwasher, but being a small cottage, there shouldn't be too much washing up. And, if it is you that has to do the dishes, you're in for a treat because the view across the fields and dunes will make it worthwhile!).   In fact, you'll probably find you WANT to do the washing up just to gaze out of the window.
There are all the usual pots and pans, utensils, washing maching, microwave and cooker, and the cabinets and work surfaces are high quality with soft closing draws etc.  You won't need to be looking for anything as it's all there.   You can just unwind without wishing you had brought this or that.
You can also use the picnic blanket and flask for your trip to the beach, as well as enjoying outside dining using the garden table and tablecloth.
The Bathroom

This is a small, compact downstairs shower room but fits the bill perfectly for this size of cottage.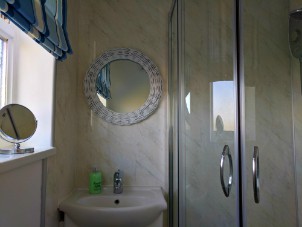 Bedrooms

There are 2 lovely bedrooms upstairs. 
The first is a double bedroom with a double bed, a built-in wardrobe and a chest of drawers so some good space for storage. This room also has a hairdryer in the drawer.
The other bedroom is a twin room, two beds separated by a bedside table, and perfect for 2 children, or 2 adults wanting twin beds.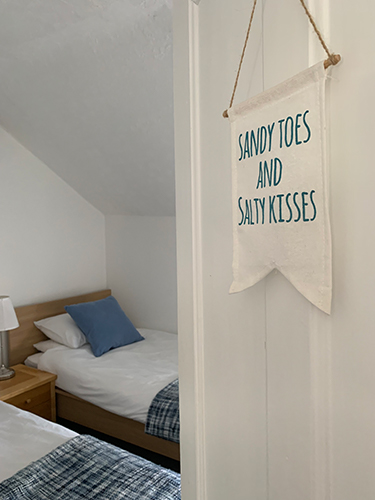 The Garden

You'll be pleased to hear that the garden is very secure and is enclosed either side by a wooden fence and an iron gate which has a combination padlock on it, making it very safe for children and for dogs.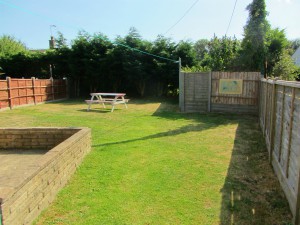 And the wonderful thing about the garden is that because it's the end cottage it has the advantage of the amazing far reaching views.
Tables and chairs are available which you just take out of a storage box, and the picnic table is a permanent feature in the garden.  On a warm summer's night, why not take the table cloth and enjoy a meal or drink in the garden in the peaceful surroundings.

Dog Friendly Horsey Holiday House
Horsey Holiday Cottage (Sea Haven) is very dog friendly.  You can bring up to 2 or 3 dogs with you, depending on the size of the dog.   If you have small dogs such as Yorkie's or Dachshunds, you can bring up to 3 dogs!
The floors in the kitchen and sitting room are stone flagged and wooden, so no carpet to worry about.  Upstairs, though, is fully carpeted.
The garden is also very secure which is always a great relief.  No need to spend time watching to see where your dog has got to!  
And best of all, the beaches around Horsey are dog friendly.  There is Horsey beach (although in the winter it is sealed off (excuse the pun!) for the seals but you can still walk along the landward side of the dunes.  Waxham beach is also a lovely dog friendly walking beach as is Winterton beach, which goes for miles, again with lovely dunes to walk in as well.  
Horsey Beach
There is ample walking to exercise you and your pets!  The cottage itself has a great walk from straight outside the door.  It's a circular walk around Horsey Windpump, the beach and the fields.   I call it the Horsey Windpump Circular Walk
What Else Would You Like To Know?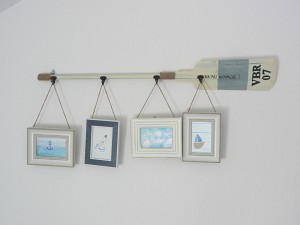 All linen and towels are included.
There is parking for 2 cars
My personal thoughts on this holiday house are:
The thing that really struck me about Horsey Holiday House (Sea Haven) was the open space surrounding the house.  The views over the fields and  towards the dunes really give a very relaxing and peaceful feel to it
The house is extremely nicely decorated, again giving it a great holiday atmosphere.
The secure garden for dogs and children is a real plus as you can let them all (!) outside and not worry, they won't be able to escape
Zuzanna, the owner, gave me the impression that this house has been done up for you, the visitor, to really enjoy.  Everything she's done has been done with you in mind
You can read more about Horsey Holiday House and booking this cottage here
What To Do Locally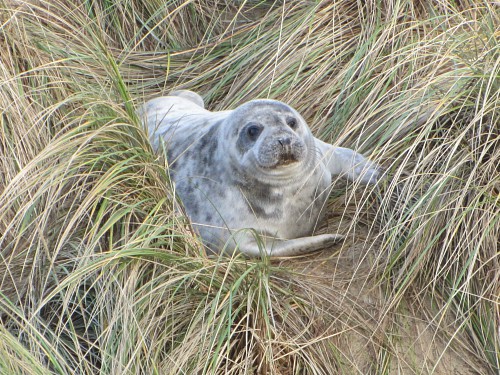 Definitely visit the seals in the winter months.  This is a fantastic cottage to base yourself at for this amazing spectacle.  
And right on the doorstep is the National Trust Horsey Windpump and tea room.
And if you feel like someone else making you lunch or a cup of tea, why not pop along to the Poppylands Tearoom which is literally a few minutes' walk away or drop off at the village pub – both of which are dog friendly.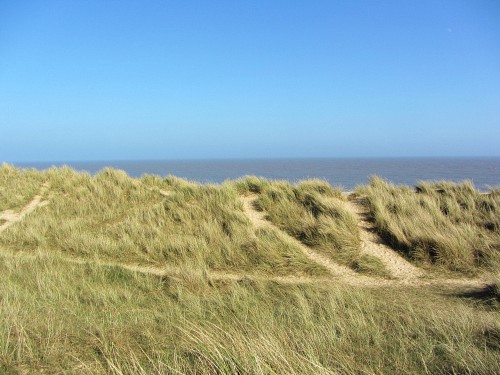 Winterton beach and dunes makes for a wonderful day out.  There is a vast expanse of dunes here, lovely for walks and just sheltering from the wind on a windy day.  
All of this coastline is on the Norfolk Coast Path National walking trail, so you'll never be short for a walk!  You can enjoy long coastal walks in both directions from Horsey.
Horsey Holiday House is also close to Hickling Broad where there are lots of activities that you can do there, or go to Sea Palling beach which has lovely soft golden sand around the purpose-built reefs.  
This really is a fantastic holiday house which you'll definitely enjoy at any time of year.
Contact Zuzanna now to find out availability, prices and start to plan your holiday in Horsey