BugzUK

A Real Critter Attraction

BugzUK is an awe-inspiring invertebrate zoo nestled in the heart of Norfolk, with over 200 different species of invertebrates from all over the world.  You won't have seen anything like this before!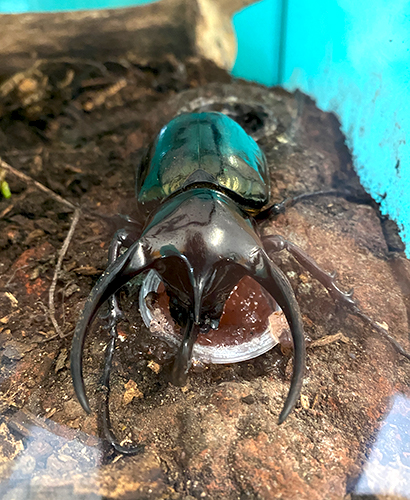 This is a brilliant, unusual and at the same time educational attraction for both young and old; there's definitely something for everyone.  And be prepared to see the unexpected!  
You don't have to be interested in bugs, spiders, locusts, entimology in general or anything concerning small creatures (!), AND you don't have to worry if you're frightened of them either!  BugzUK takes care of it all!  And you can even bypass the spider house if you really don't want to see them!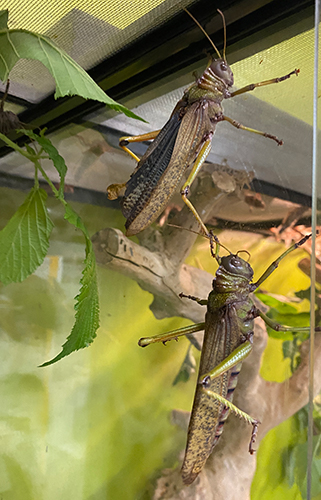 What is BugzUK?

BugzUK has actually been around for a long time, but the BugzUK Parc in Lenwade, Norfolk, was opened in May 2022.  
It's owned by Martin French, an enthusiast and collector of all things bugs! He's been collecting bugs for as long as he can remember and in 2021 he decided to expand his collection from his back garden to this fantastic 5 acre site complete with modern visitor buildings showcasing some incredible critters.  It really is worth coming to see.  And I'm pretty sure you'll go away saying "wow, I didn't expect that at all".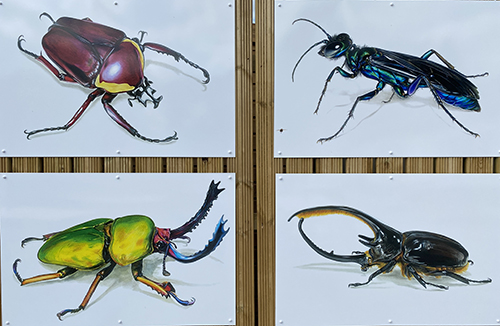 Over the next few years it will be expanding to have some exciting additions:
A children's play area (this has now just been erected – July 2022)
A butterfly walk through area
A bee garden
Ponds to attract dragonflies and damsel flies
A sculpture trail
More visitor centre buildings for yet more invertebrates
What will you see at the BugzUK Parc?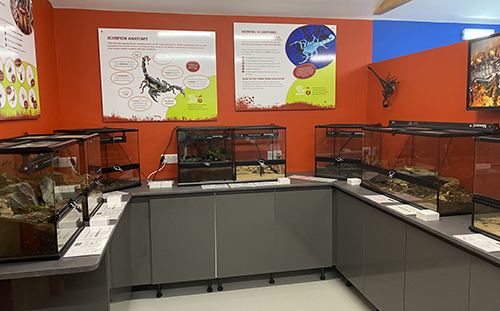 You'll have the opportunity to see a huge collection of some of the most fascinating, mesmerising and sometimes creepy bugs! 
The majority of these bugs are enclosed in padlocked (!) glass cages, or vivariums, so you can be sure that you'll be safe at all times!   There is one cage which is open-topped, but you can rest assured that the bugs in this cage don't escape!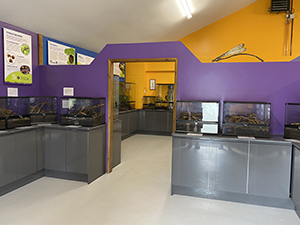 All the rooms are set at an ambient temperature to mimic the natural surroundings of each class of bug, and you walk around systematically going from one room to another, so you get a chance to see everything in as quick or slow time as you want.  If you miss anything, or want to see something again, you can go round again, all day if you wanted! 
You start off with an introduction room where you can get brief information about invertebrates and see some exhibits, and then you move into the live bug areas. 
There is also one zone with an amazing collection of pinned butterflies from around the world.  It's worth just spending a little time here to take in the pure beauty of these fragile insects.
One thing to bear in mind is that the invertebrates that you'll see are live creatures, and they don't always want to be on view!  But there are so many species here that you'll definitely have plenty to look at, that's for sure!
The Bugs at BugzUK
Tarantulas

Oooh, wouldn't you love to see a tarantula – even if you don't like spiders, I'll almost guarantee that you'll be curious enough to walk past these incredibly hairy spiders, safe in the knowledge that they can't get out – and most of them don't bite anyway apparently!!  Even if you shiver as you walk past, you'll still be glad you saw them!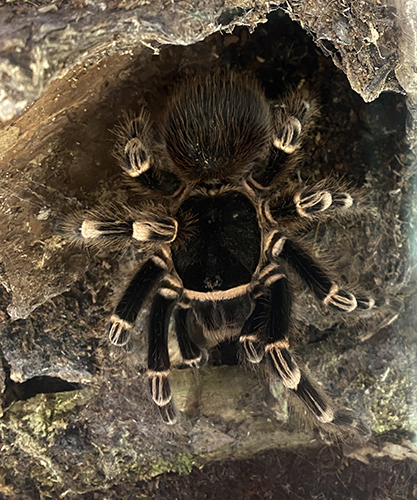 Scorpions

The scorpions are in the reverse day and night room lit by red light so that they think they are in the dark.  These invertebrates are active at night so this reverse day and night room mimics that. This particular room is fascinating as you can press buttons which light up the scorpions, a bit like an infrared light – it's their shell that does it though.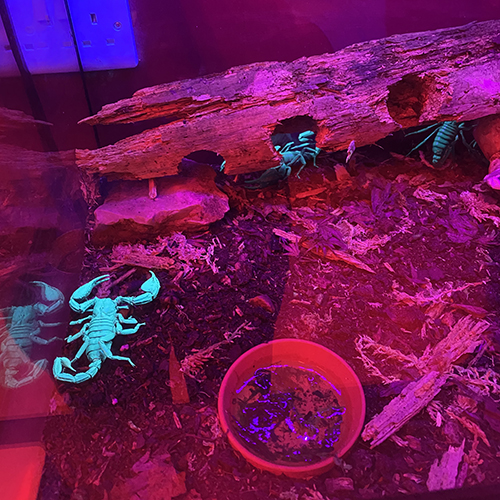 Locusts

I'm sure you've probably seen the programme by David Attenborough on the swarm of the locusts – well here's your chance to get up close and personal to locusts.  And yes, Martin has actually done some work with David Attenborough too!
To check out some of the bugs, click over to the BugzUK website here and read about more of what you'll see.
Stick Insects

These are extraordinary bugs, and so camouflaged you might have difficulty seeing some of them. You really can see why they're called stick insects!  But once you get your eye in for all of these bugs, you begin to see them more easily as you make your way around.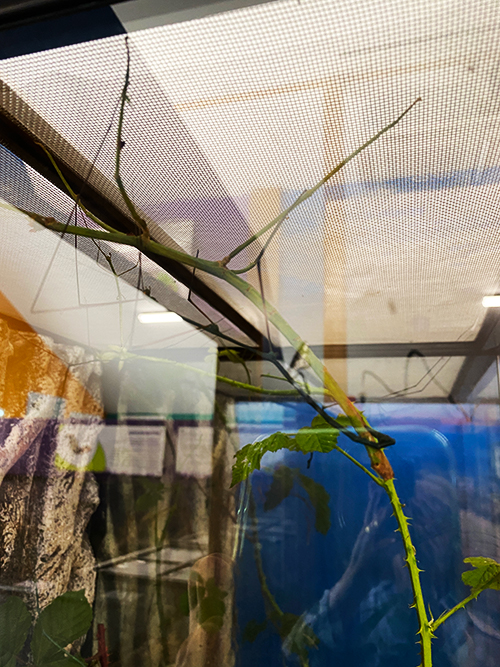 Praying Mantis, cockroaches, assassin bugs and leeches are all in one building together with the locusts, snails and crabs, and more spiders and tarantulas.  In fact there are 7 zones in this particular building.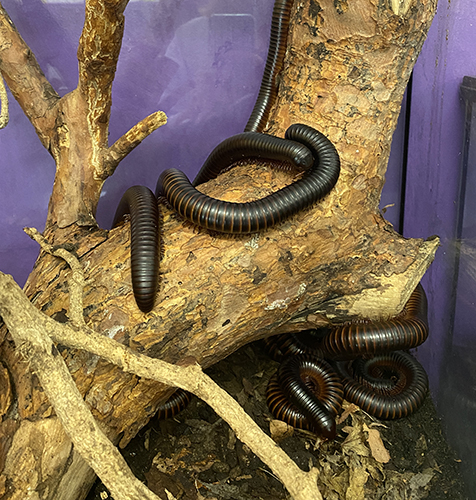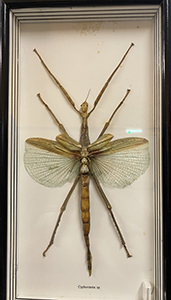 In the third building you have some incredible beetles – scarab beetles and fruit beetles as well as the stick insects, small and massive millipedes (!) and the leaf cutting ants.  
If you are there at the right time, the ants are set up so that they march from one area to another via a rope and plastic tunnels as you can see in the photo below.  The leaves that they eat can be moved from one house to another and they know exactly how to get to each of these separate areas via this "obstacle course" – it's brilliant what nature has provided!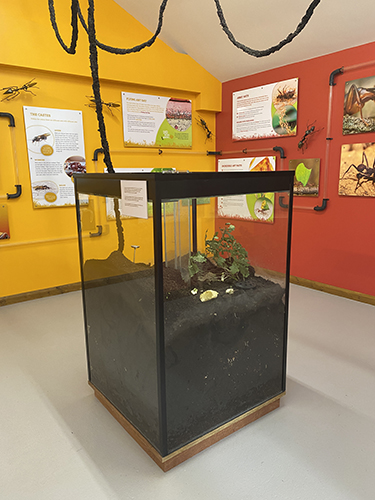 There is also one wonderful zone with some incredibly unusual shells and some beautiful coral from around the world.

Handling Sessions

This is an excellent chance to handle some of these exotic creatures!  You can book a 45 minute handling session (either in advance or when you get there) at a small extra charge, but what an opportunity this is to touch some of these creepy crawlies and to actually experience these creatures which are so important to our eco system.  It's also a brilliant opportunity for children to become interested and excited about bugs.
You can read more about the handling experience here
The Chrysalis Café and Gift Shop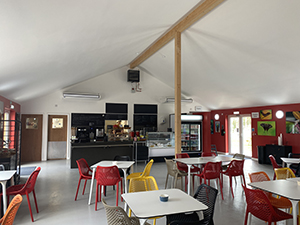 On site there is a café called The Chrysalis Café which is open to everyone, not just those visiting the BugzUK Invertebrate Parc.  So even if you're just passing by, why not stop in and enjoy the posters on the walls with something to eat at the same time! 
This is a light and airy café serving lots of different food and drinks from full English breakfast to lunch, coffee and cake.
There is also seating outside.
For more questions, you can visit their FAQ page here.
The gift shop is the perfect chance to decide whether you'd like to actually purchase some of these bugs and to learn how to look after them.  You can look up what you'd like in the shop on a computer, find out what equipment you need and what to do with them and get the right knowledge and relevant information that you need for these to become part of your family!  
You can also find some good books for all ages, hand made sculptures made from drill pieces and other reused metal as well as other bug related bits and bobs.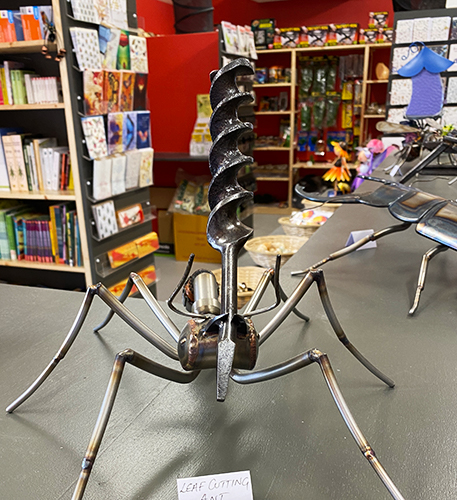 To buy your tickets and pick a time to visit, you can look at the BugzUK website here
This BugzUK Parc really is an excellent addition to Norfolk's attractions, and I defy you not to be fascinated by visiting here and seeing something that is really quite unusual.