Binham Priory
Spectacular Benedictine Priory Ruins

Binham Priory is a truly magical place to visit.  It's a ruined Benedictine Priory steeped in history, and like many castles, abbeys and medieval buildings in Norfolk, this one dates back to Norman times, to about 1091.

However, what I really love about this Priory is that it brings together the ancient and modern as the Priory Church is still in use today.  It holds numerous musical concerts and recitals during the summer months which prove to be very popular.  If you're looking for more information on the concerts you can visit the Priory of St Mary and the Holy Cross website.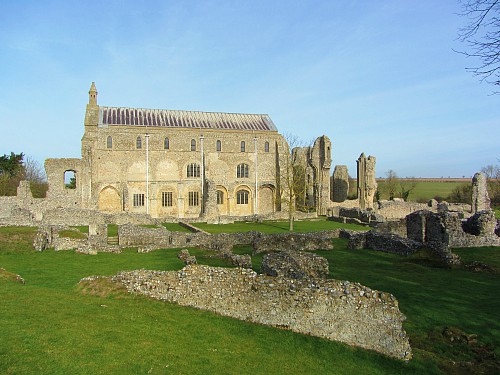 Binham Priory History
Binham Priory was originally founded as a cell of St Albans Abbey.  It took about 150 years to build, and because it took so long to build, you can visibly see the change in styles from Norman to Early English within the Priory church.  One of the arches on the north side is thought to be unique, and the masonry work on these outside pillars within the monastic priory ruins is also pretty spectacular.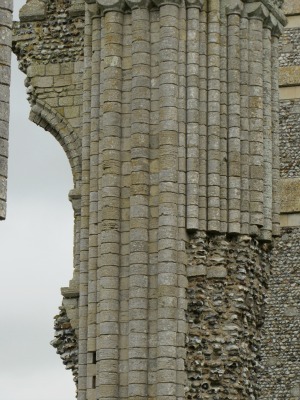 Binham Priory was home to the monks for about 400 years, however only 14 monks were housed here, so it wasn't a big priory by any means.  It was eventually closed down in 1539 when King Henry VIII dissolved the monasteries.  After this, it was given to Sir Thomas Paston who consequently dismantled most of the buildings.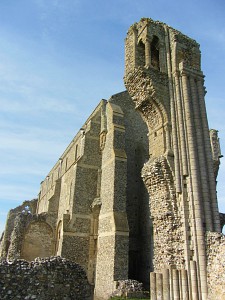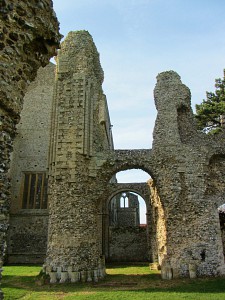 He did however leave the church, and this is what you can see today, and you can feel free to wander inside and have a look at the fantastic three tiered arched windows and wonderfully carved pews.  Binham Priory Church is very beautiful inside, and also houses many fascinating archaeological finds that were discovered on the site, in purpose-built cabinets.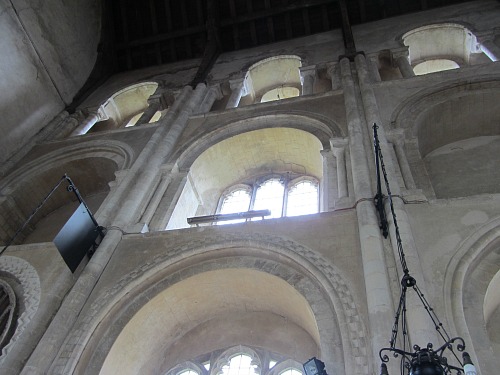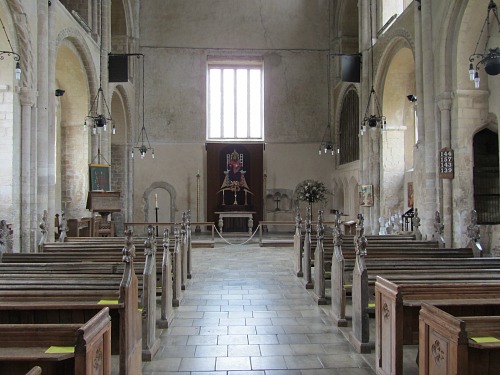 The Benedictine Priory ruins are not huge, especially in comparison to somewhere like Castle Acre Priory, but you can really get a feel for what it must have been like to be a monk in this priory, whether it is in the parlour, the refectory or even walking slowly around the cloisters going to prayer. 
Thanks to the boards dotted around the site by English Heritage as well as the signs letting you know which room you are standing in, you can see how the priory would have stood when intact.  It's pretty amazing.

It is definitely well worth a visit for its splendour alone, and I would highly recommend it.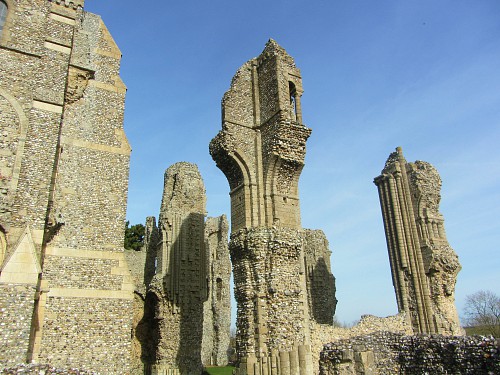 Binham village
The Priory sits resplendent on the hill overlooking Binham village, which is a very traditional Norfolk village with flint stone cottages, a pub, butcher and local shop where you can grab a bite to eat.   If you're staying on the North Norfolk Coast, then this is just over 5 miles from Wells next the Sea, about 4 miles from Blakeney and 16 miles from Cromer beach, and the visit to the priory would probably take you an hour at the most - so it's definitely within striking distance from the Coast.
This little part of English history, with its priory ruins still intact, hidden within the Norfolk countryside is definitely a little gem. The fact that you can walk around uninhibited, in the beautiful tranquil surroundings, really make it an enjoyable trip.

And if you're interested in seeing more fascinating and spectacular architecture, then why not visit some of the historic stately homes that are close by to Binham Priory?

Other castles and priory's nearby
However, if you're thinking about a day out with the children and you want to visit more castles in Norfolk, I would highly recommend Castle Acre as the better choice.  As a whole, Castle Acre has more to see and do for all ages, the castle, Castle Acre Priory and the village of Castle Acre with its tea rooms, pub and, if you are so inclined, a little paddle in the River Nar at the bottom of the village. 
Castle Rising is also another great castle to visit and much more intact that Castle Acre.

Having said that, Binham Priory is still an exceptional historical ruin to visit, whether you're young or old.