Winter's End: Discover Snowdrops & Priories in Norfolk
February is the perfect time to explore the wonders of nature and there is no better place to start than with snowdrops. These delightful little flowers are a sure sign that winter has come to an end and spring is on its way. There are some amazing places to see them, but one particularly stunning place is Walsingham Priory. There will literally be a carpet of snowdrops all around you.
And if you like priories, then you can also read about another Norfolk heritage sight, Thetford Priory. A new walk is also up on the website, in Mid Norfolk, and you can take a look at a hotel that overlooks the sea. So in this edition you can read about:

- Walsingham Priory snowdrops
- Thetford Priory
- North Pickenham Circular Walk
- Le Strange Arms hotel overlooking the sea


---
Walsingham Priory Snowdrops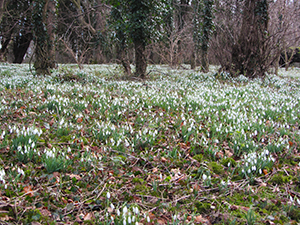 Walsingham Priory is a pretty spectacular place to explore at the best of times, but during February and March when the snowdrops appear, it is somewhere very special. Snowdrops cover the 18 acres of woodland and you can take a lovely stroll around the grounds. Make a note in your diary to visit here. You can read all about Walsingham Priory and the snowdrops here. .
---
Norfolk is a county of diverse and beautiful landscapes, offering an abundance of heritage and culture for all to explore and Thetford Priory is a particular highlight, and a must-see for any heritage enthusiast. Dating back to the 12th century, it is one of the oldest and largest monastic sites in the country and well worth a visit.
---
North Pickenham circular walk
Here is a perfect short 3.4 mile circular country walk in the middle of Norfolk. However, you may want to just note this one down at the moment as it could well be flooded in the meadow below the village. It was flooded when I went, but it still doesn't stop you doing the walk as you can finish back along the road. It's also dog friendly. The joy of this walk if you time it at a weekend between 2-4pm is you can stop at an historic church and have a look at the original paintings on the walls which were discovered during restoration. Check out the North Pickenham circular walk here.
---
There aren't too many hotels in Norfolk that actually have a sea view, but the Le Strange Arms is one such hotel. It overlooks the wonderful Old Hustanton beach which is a mecca for kite surfing and dog walking. It also has some fabulous new self catering lodges, which again overlook the sea. Take a look at the Le Strange Arms in more detail here .
---
Thank you for reading this newsletter, and if you know anyone who may be interested to receive this, please feel free to forward it on to them.
Best wishes,
Suzy